The three sinners
Fr Jim Carty's homily locates sending the children back...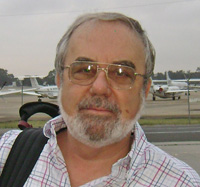 Fr Jim Carty SM
Fr Jim's homily given at St Patrick's, Church Hill, NSW. Mass, 5th Sunday of the Year, 2016isia
We are familiar with these threes: the three tenors, the three amigos, the three sisters, the three Musketeers, the stooges.
Today in the three readings we meet the three sinners.
Isaiah: "I am a man of unclean lips"

St Paul " I persecuted the Church of God."

St Peter "I am a sinful man."

They acknowledged their sins, received forgiveness and responded with faithfulness and paid the consequence.
We can all relate to the three sinners- we are conscious of our own personal failings and acknowledge them each time we attend mass-at the beginning we ask for forgiveness and promise a firm purpose of amendment, to try and do better.

When we can, we avail ourselves of the sacrament of Reconciliation.
Each refers to his personal sin-
But, what about the idea of Social sin or in other words the collective responsibility or guilt of a community or a Nation in some action that is immoral? Like slavery, like the Jewish Holocaust, like torture?
Sending children back...
It is timely to consider this question in the light of the High Court decision handed down last Wednesday about the legality of sending children back to Nauru island detention centre.
On Wednesday the High Court made clear that it is in no position to question the retrospective law passed by the Commonwealth Parliament on 30 June 2015, authorising the Australian Government to do whatever it takes to assist countries like Nauru with the detention of asylum seekers sent there by Australia as of 18 August 2012.
It should be noted that up until the 30th June 2015 (last year) it was illegal under Australia law- the Supreme Court said that the Commonwealth acted beyond its executive power by enforcing the case of M68, the lead case taken to the Court on behalf of the 267 Asylum seeker including 37 babies, to return to Nauru.
Now with the stroke of a pen and a retrospective law it makes it legal- once we send them there they are under the law of a virtually bankrupt state with no proper functioning judiciary.

Technically/legally we have no responsibility under their law for their well being except that we pick up the enormous tab for all the costs. It is indeed a legal fiction-
Until last Wednesday it was unlawful, now its lawful, but the question remains is it moral?
One of our well-regarded secular prophets in Australia, Hugh McKay, had this to say:
"Moral blindness is, of course, a very contemporary problem as well.

With the encouragement of leaders on both sides of politics, we risk becoming morally blind to our responsibilities towards those who have come here as refugees seeking asylum.

We can tiptoe around this and speak of human rights abuses, or a failure to honour our international treaty obligations.

But why mince words in the face of the intentional brutality – psychological and physical – being inflicted by Australia on asylum-seekers, including children, imprisoned in our offshore detention centres?

Why not call our asylum-seeker detention policy what it is: immoral."
Fr Frank Brennan, highly regarded legal professor wrote
"The moral depravity of Australian funded and orchestrated holding of asylum seekers, including children, on Nauru and Manus Island is to continue."
We return to the question of Social Sin- sinful actions of a group, a community a nation:
In his encyclical on social justice, Sollicitudo Rei Socialis, Pope John Paul II says "social sin" or "structural sin" proceeds from the accumulation of personal sins. It is, says the Pope, "a question of a moral evil, the fruit of many sins which lead to 'structures of sin.'"
In countries and societies where the demands of social justice are recognised, there is also a growing consciousness of political, economic and social elements in society, and even sometimes in religious institutions, that oppress the poor, aid and abet racism and intolerance, treat asylum seekers and other members of society harshly and in- humanely; endorse a free market that operates on effective demand and not on human need, do grave damage to the environment, and so on.

Such unjust social structures and institutions are what is called 'social sin'.

(Gap between the rich and the poor-Oxfam survey: 64 Individuals have the equivalent wealth of over half of the total population of the world.)

The notion of social sin, therefore, must not lead to underestimating the responsibility of individuals involved. Social sin, as the Pope puts it, thus makes an appeal to the consciences of us all.


There are two very uncomfortable questions we must answer, because truthful answers are will be very uncomfortable:
Is it ever justified to torture a child? No ifs or buts; is it ever justifiable to torture a child? Whatever the reason- does the end ever justify the means?
A possible scenario:
For a moment I invite you to imagine that you are a guard on Nauru and a small 6 year-old child approaches and asks why she with her family are being locked up in this terrible place? She tells you that her mother is so depressed that she tried to harm herself by drinking detergent, her father had to be restrained by the guards because after more than two years on Nauru he had lost all hope for us and our future.
The little girl continues – I have not committed any crime nor has my family. I have done nothing to deserve to be punished like this. The psychiatrists, the doctors and counsellors who have been here all report that what is being done to my family and me amounts to emotional and physical torture. So please Mr Guard, could you tell me is it ever justifiable to torture a child? What are the circumstances that would justify torturing me and all the other children here on Nauru?
You reply with avuncular concern:
My Government wants to stop the boats like the one that brought you to Australia; it wants to stop the evil people smugglers bringing any more people to Australia like those to whom your parents payed their savings; and thirdly my Government has put in place rigorous defence systems to protect our Sovereign Boarders from people like you. In a word it's called "deterrence".

It means that no more people especially children like you will drown at sea and that's good for them.

Unfortunately not so good for children like you- but think of it this way, we are being cruel to be kind. While you and other children here in Nauru suffer, self-harm and despair, we are saving others including children from drowning. And that's good.
As the little child turns to go back to her family sweltering in the 55 degree heat of their shared military tent – she says, but you haven't answered my question; "is it ever justified to torture a child?"
Are we as Australians complicit in what our Government is imposing on the children- are we morally responsible for what is happening on Nauru?
To the extent that we contribute by support or inaction we are complicit in what is clearly immoral- the torture of children- it is never justified to torture a child.
Since the source of "social sin" or "structural sin" is personal sin, the solution to it rests with our personal actions.

We must do more than change "the system," as important as that may be.

We must change ourselves.
(Homily given at St Patrick's, Church Hill, NSW. 3 pm Mass, 5th Sunday of the Year, 2016)
[Posted: Feb 10]