---
Click here for News 2008 to 2017 | Click here for News 2018 then go to News tab above
---
Passing of Fr Jack Soulsby
Marists and myriads of laity in over ninety countries will mourn the passing of Fr Jack Soulsby SM, who died peacefully at St Vincent's Hospital, Brisbane, on Easter Monday, Apr 22.
In the world of Charismatic Renewal, Cornish-born, energetic and faith-filled Fr Jack ministered on most continents of the globe. He died just four days short of his golden jubilee of priesthood.
For a profile of Fr Jack's life, click here. May he rest in well-deserved peace. [Apr 22]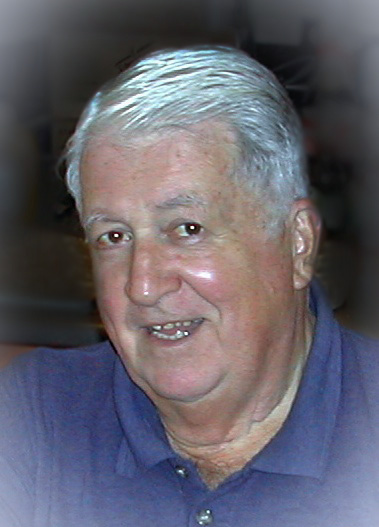 ---
Way of the Cross
Good Friday saw the now well-established combined churches' Way of the Cross concluding in the grounds of Villa Maria monastery, Hunters Hill.
A final station, the burial of Jesus, was enacted at the chapel of St Peter Chanel, and followed by morning tea on the monastery steps. [Apr 19]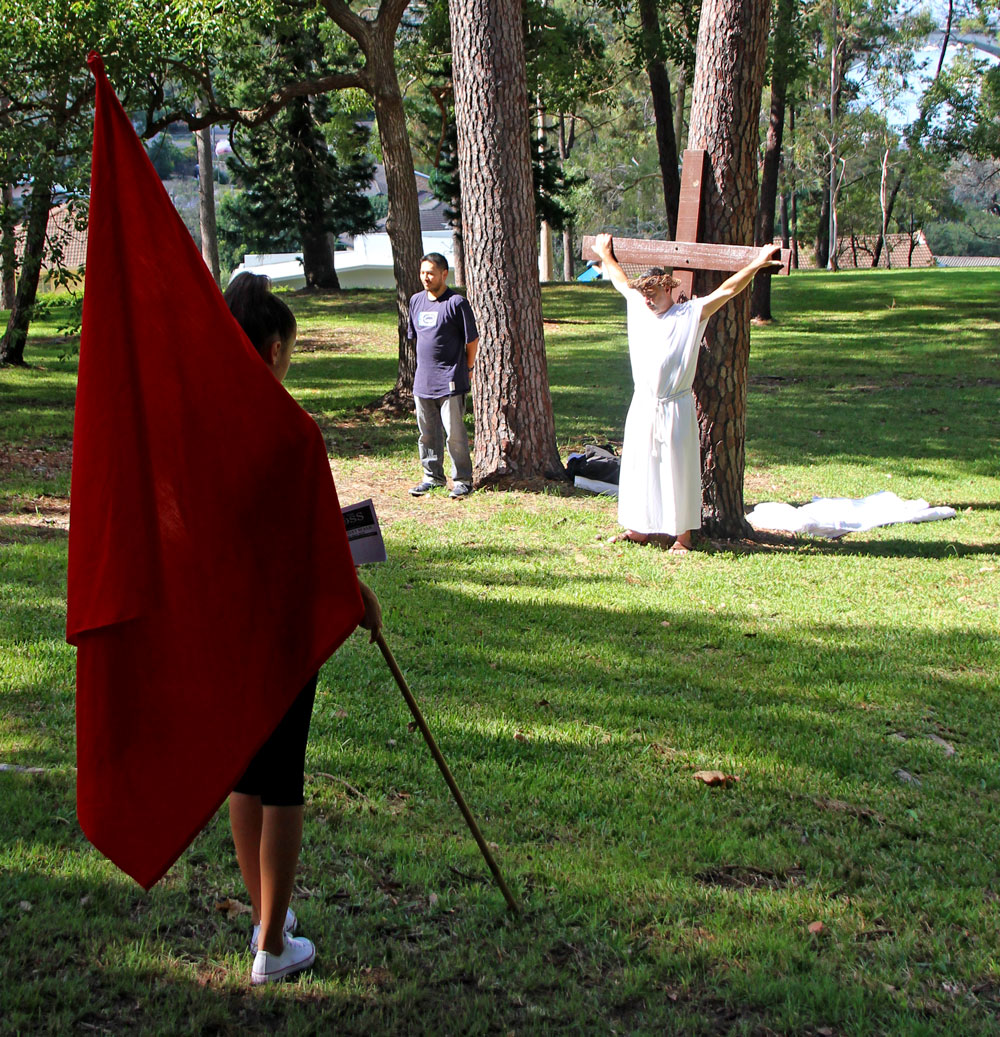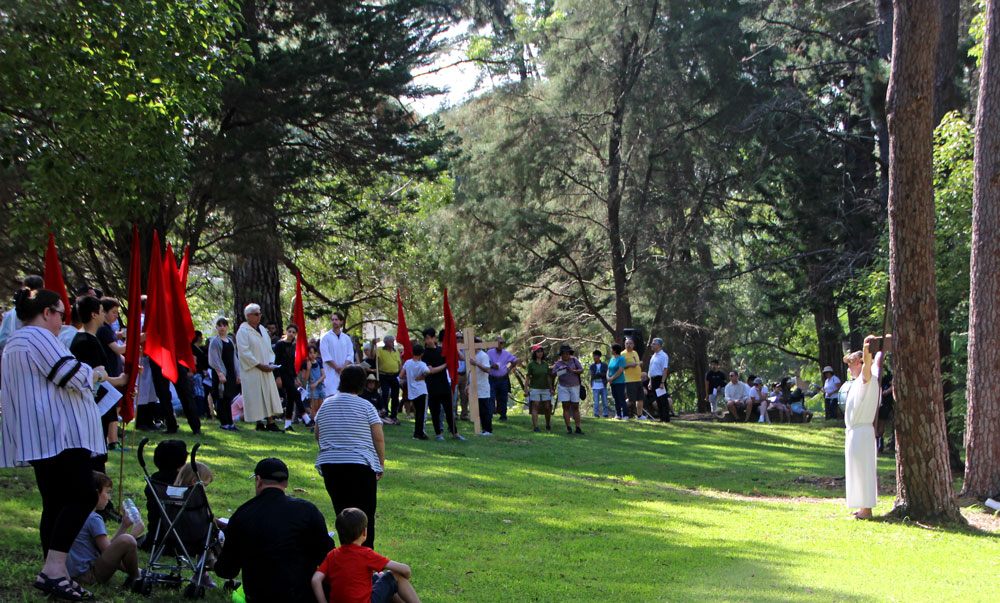 ---
St Peter Chanel novena
From Rome, Marist Youth International has provided this year's novena for vocations leading up to the Feast of St Peter Chanel SM (Apr 28).
For the novena, click here [Apr 19]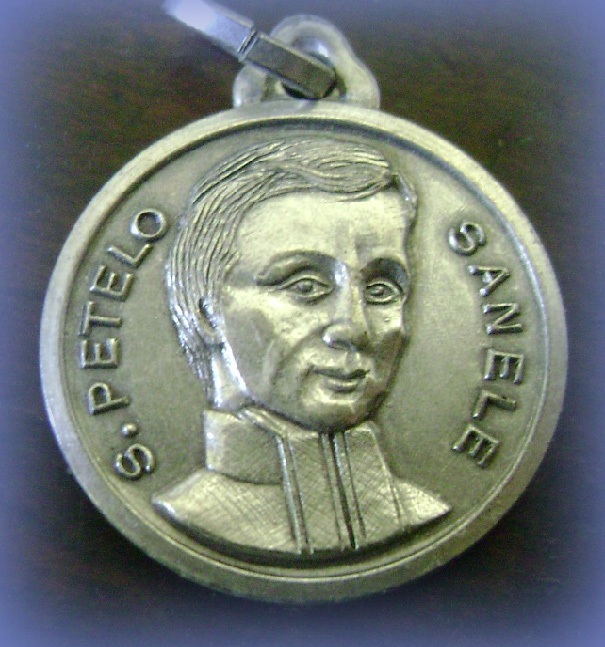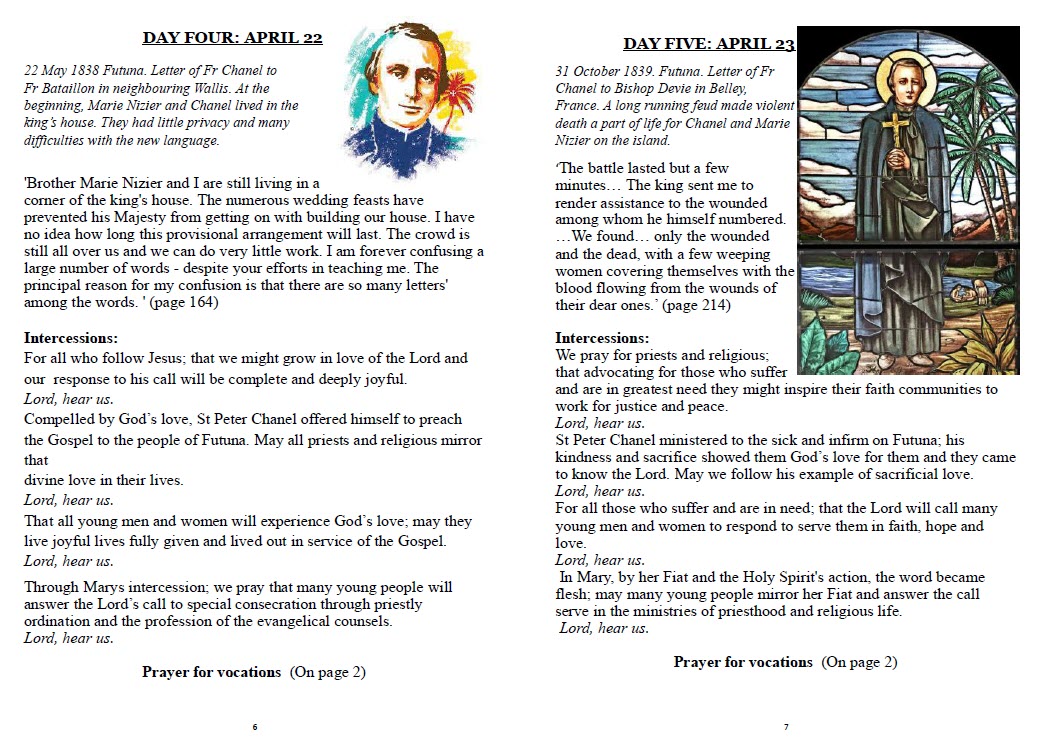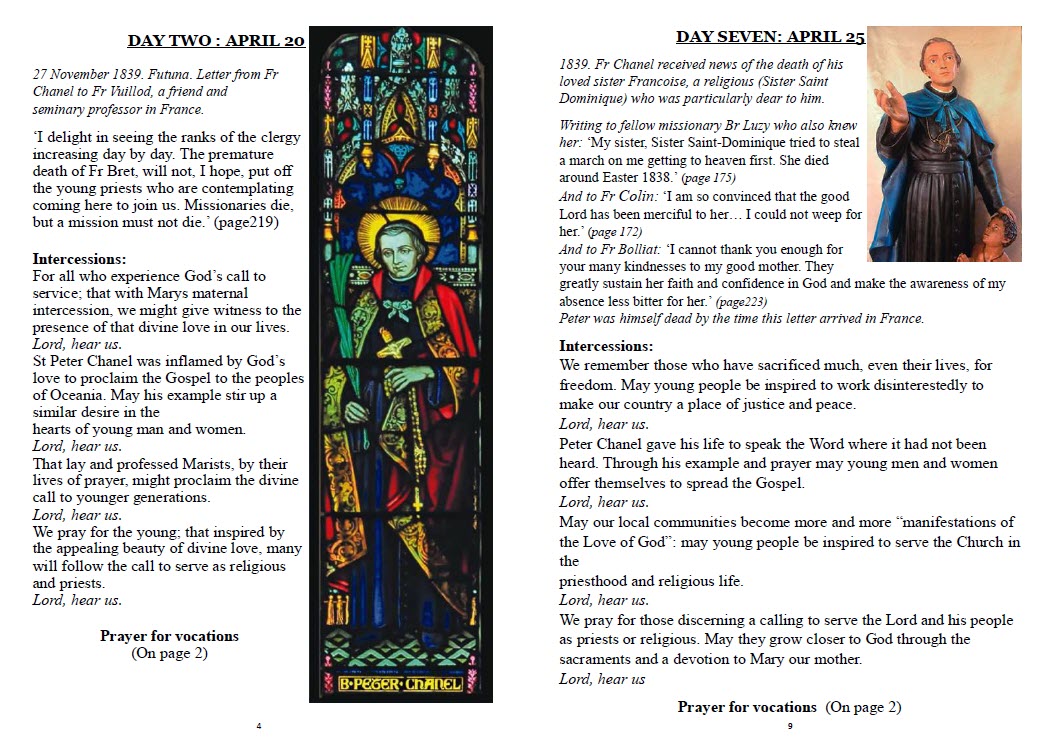 ---
Now you see it...
..and now you don't. The wounded eucalypt (see January news) in the grounds of Villa Maria monastery has been removed.
A giant limb from the ageing gum outside Woodbury Hall mysteriously fell on Australia Day. Only the stump remains. Visitors, mind your toes. [Apr 17]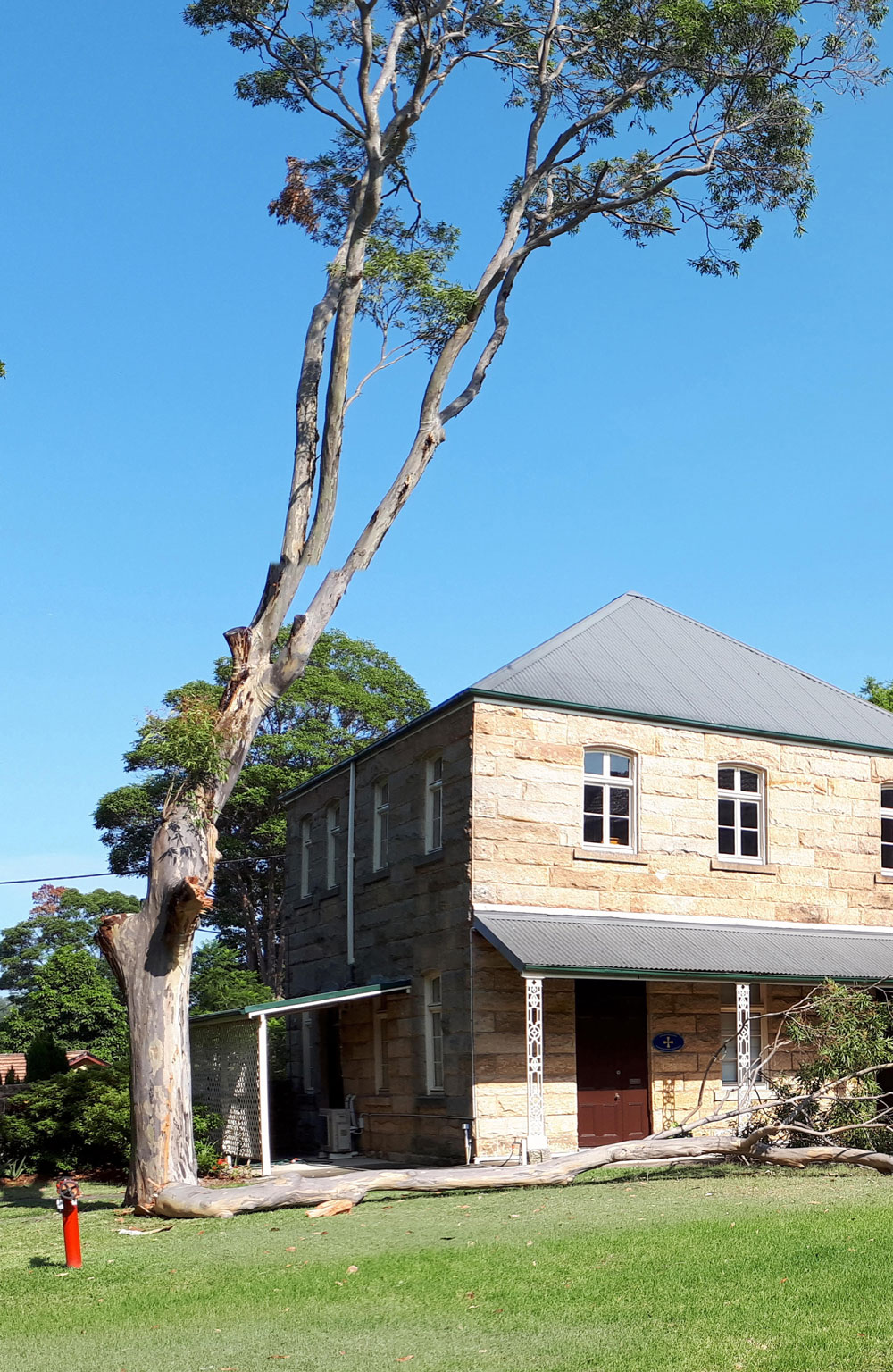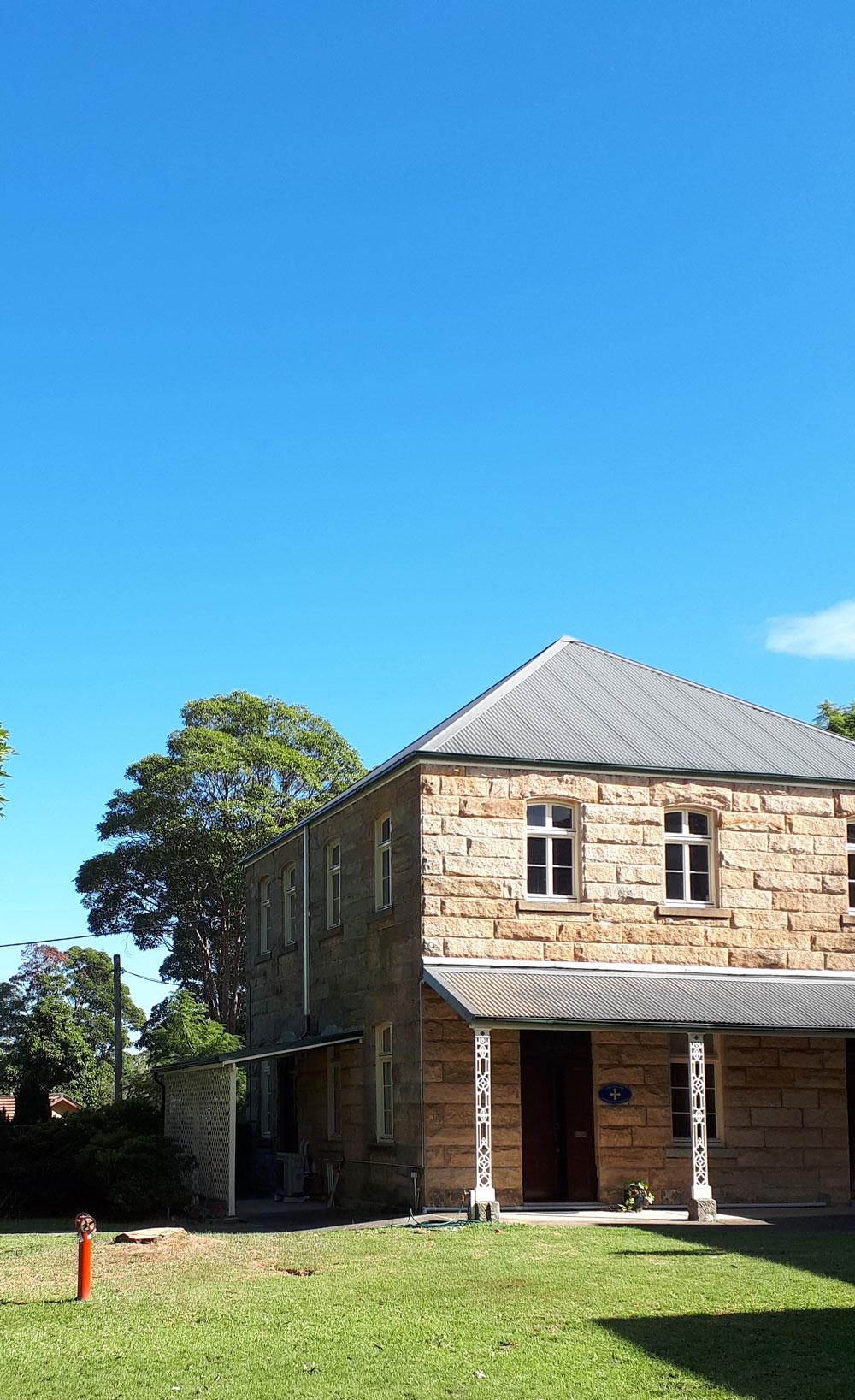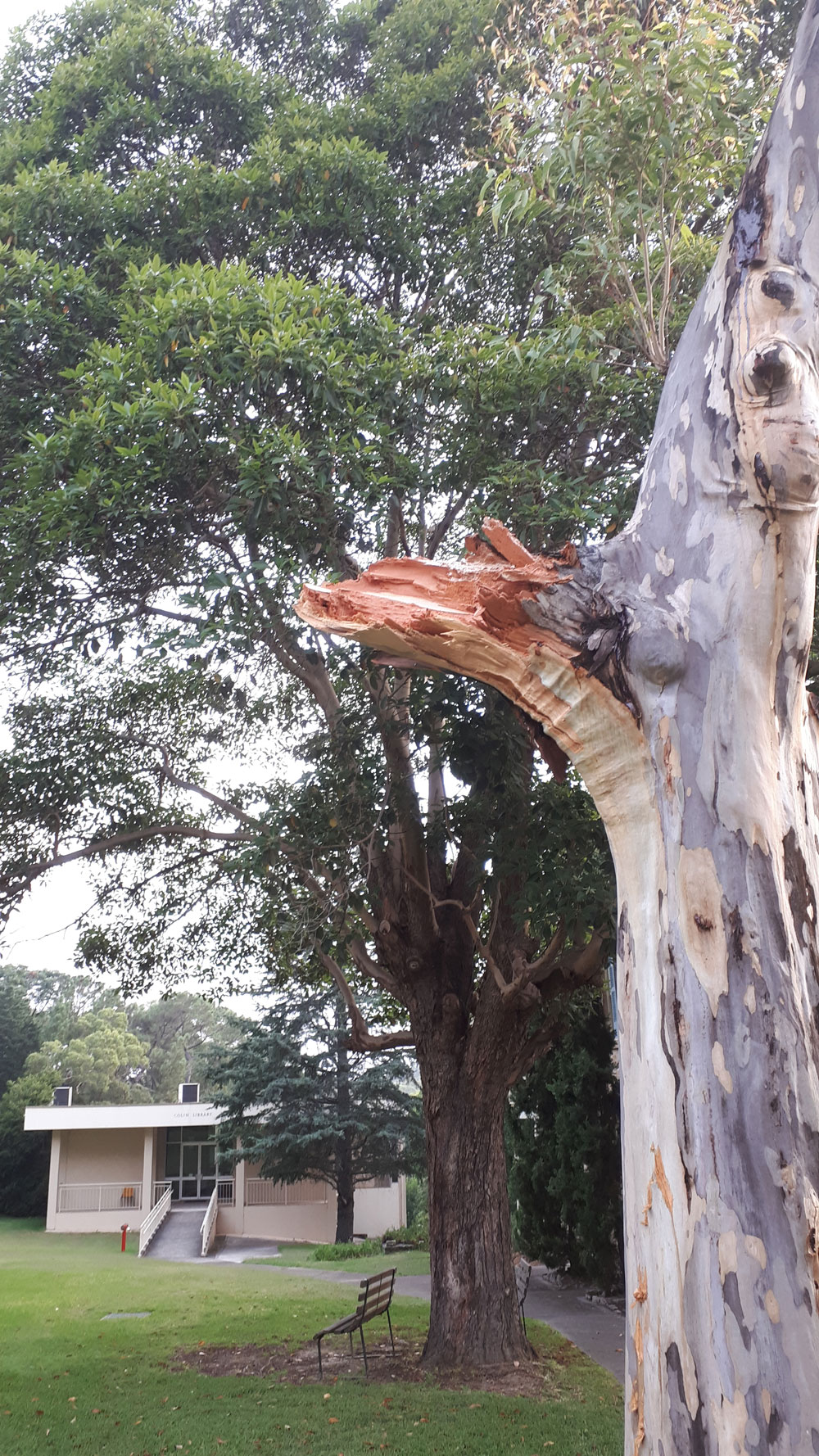 ---
Shopping for good
From Sydney Archdiocese's Justice & Peace Office, comes this reminder:
It's time to start thinking about where to source your ethical Easter eggs for 2019!
Fortunately, there are a bunch of different options fair trade options which means they are made without modern slavery in their supply chains. For example, the Moser Roth mini Easter eggs (available from ALDI) are fair trade. Alternatively Oxfam stocks fair trade Easter eggs as well as a range of fair trade chocolate products. The Fairtrade website has a list of several brands that sell certified fair trade chocolate available from a range of online and in-store retailers—however pay attention while buying as not necessarily all products from the listed brands are fair trade. To be sure look for the fair trade mark! For more ways that you can shop ethically visit the Sydney Archdiocese Anti-Slavery Taskforce's "Shop for Good" website. You can also check out our printable poster here.
Please spread the word about purchasing ethical Easter eggs among your family, friends, parish and community. [Apr 16]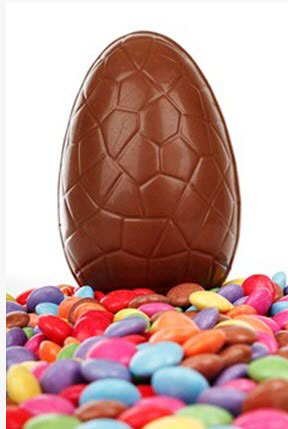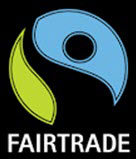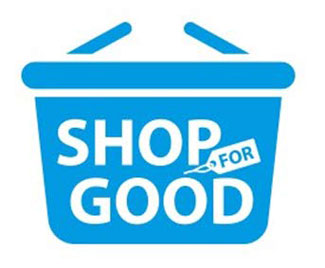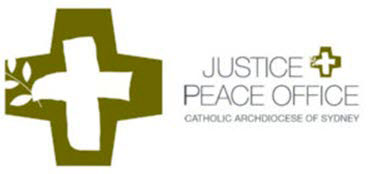 ---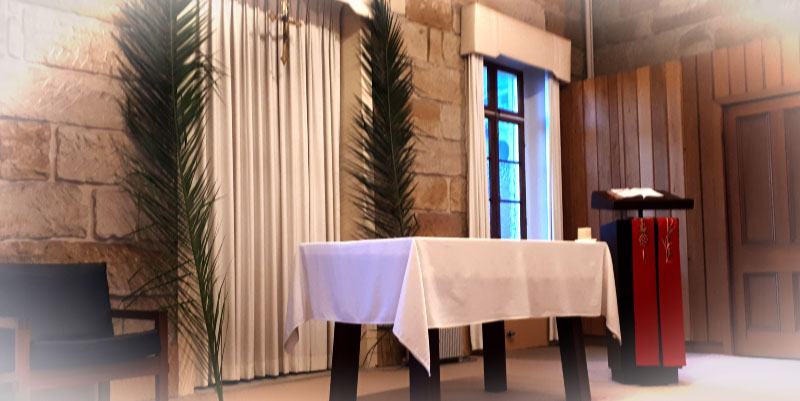 ---
---
Joeys' boys in Davao
A dozen students of St Joseph's College, Hunters Hill, NSW, have commenced a two-week immersion experience in Mindanao, southern Philippines.
Accompanied by College staff including chaplain, Fr Gavin Foster SM, the lads were welcomed at Davao airport by youngsters of Balay Pasilungan Centre for street kids whose director, Fr Lionel ('Long') Mechavez SM, will be in Sydney next month for the 70th anniversary celebrations of the Marist Mission Centre.
Meanwhile, the Joeys' students have already commenced work constructing a concrete basketball court for Balay Pasilungan. [Apr 10]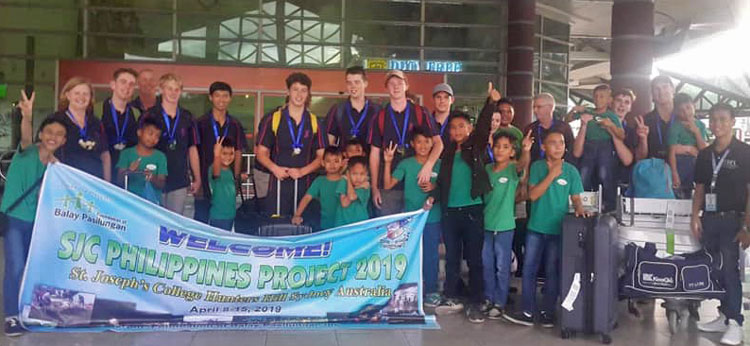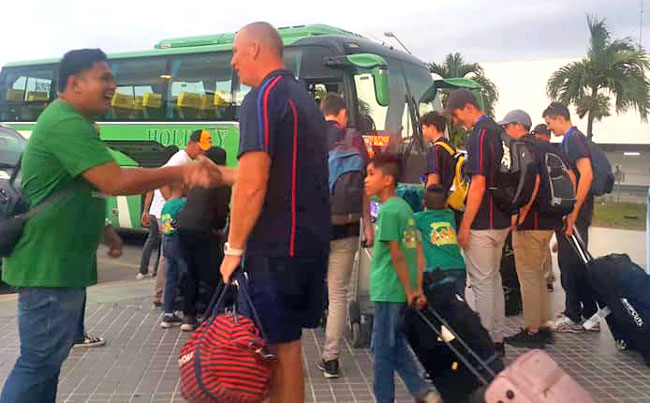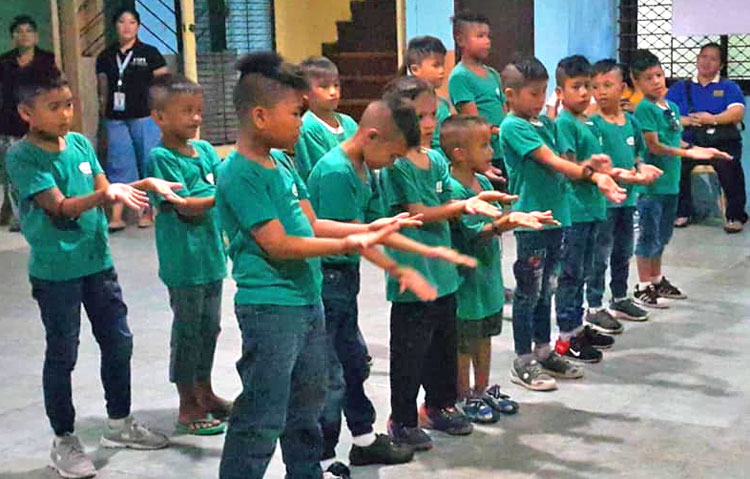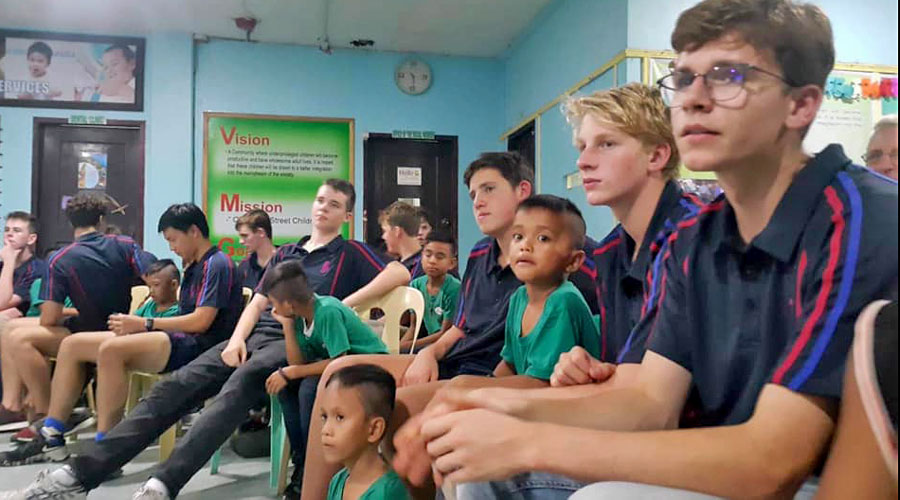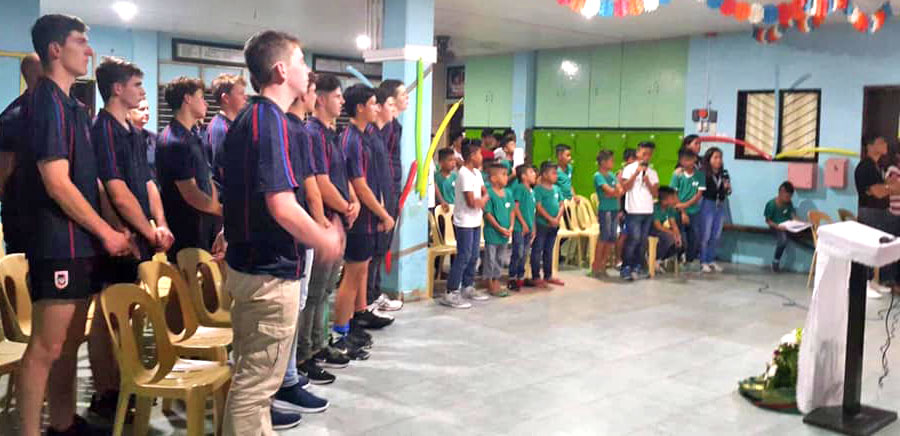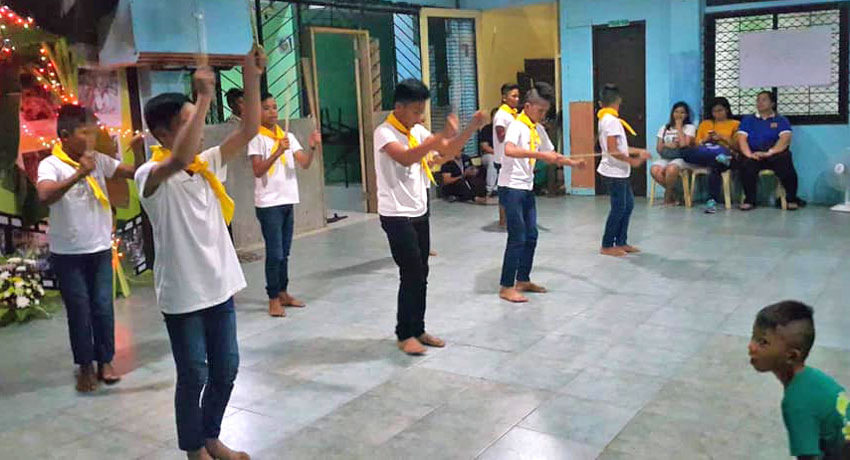 ---
Bishop Tino
In a colourful ceremony on Mar 24 in the cathedral of Mata'Utu, Bishop Susitino Sionepoe SM, was ordained to become the bishop of Wallis-Futuna.
The main celebrant was Noumea's Archbishop Michel Calvet SM assisted by Bishop John Bosco Baremes SM (Port-Vila), Bishop Ghislain de Rasilly SM (Bishop emeritus of Wallis-Futuna) and several other bishops.
SM Bulletin reports: 'A special delegation of two hundred people came from New Caledonia, where Bishop Tino served for more than fifteen years in the parish and where he left a big impact on the local community. The solemn Mass was followed by a great feast, showing the Polynesian way of hosting guests, celebrating and rejoicing. On Monday 25 March, on the feast of the Annunciation, bishop Tino gave his thanksgiving mass at Hihifo.'
In 2014, Bishop Tino was part of the 'Spirituality and Lifestyle' program at Villa Maria, Sydney. [Photos, courtesy Fr François Grossin SM] [Apr 06]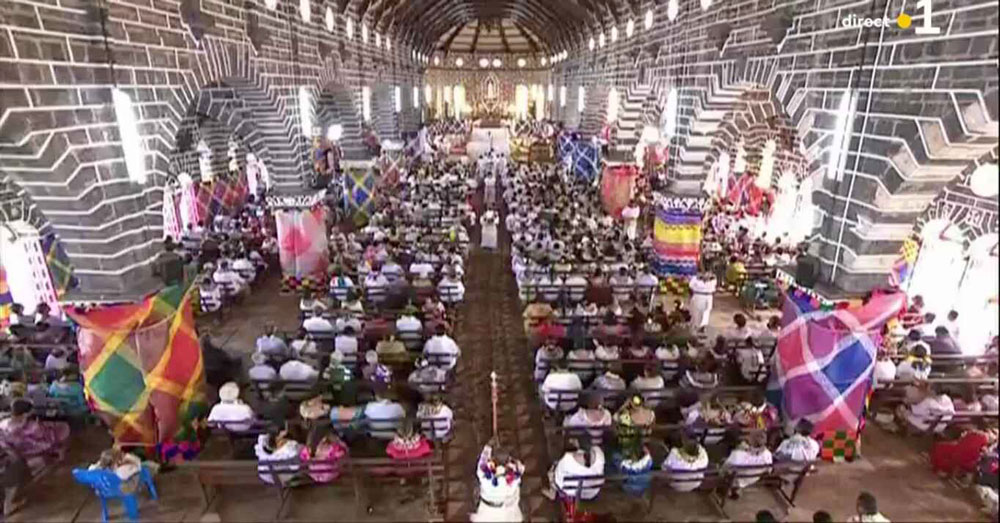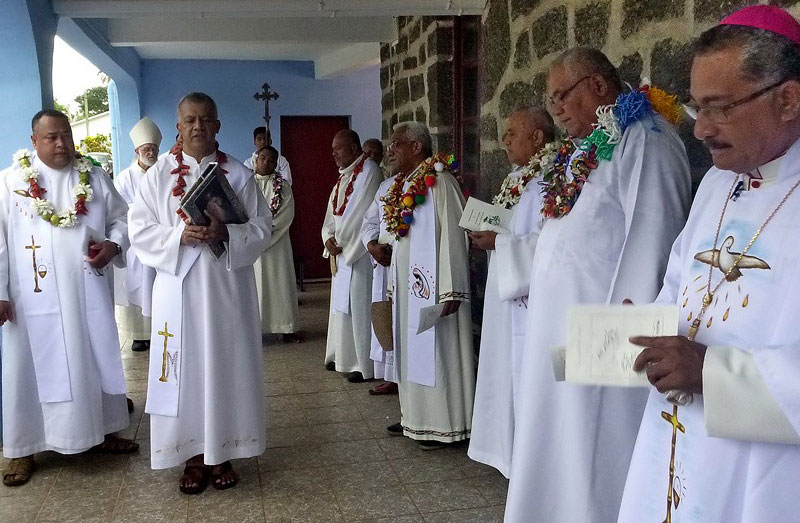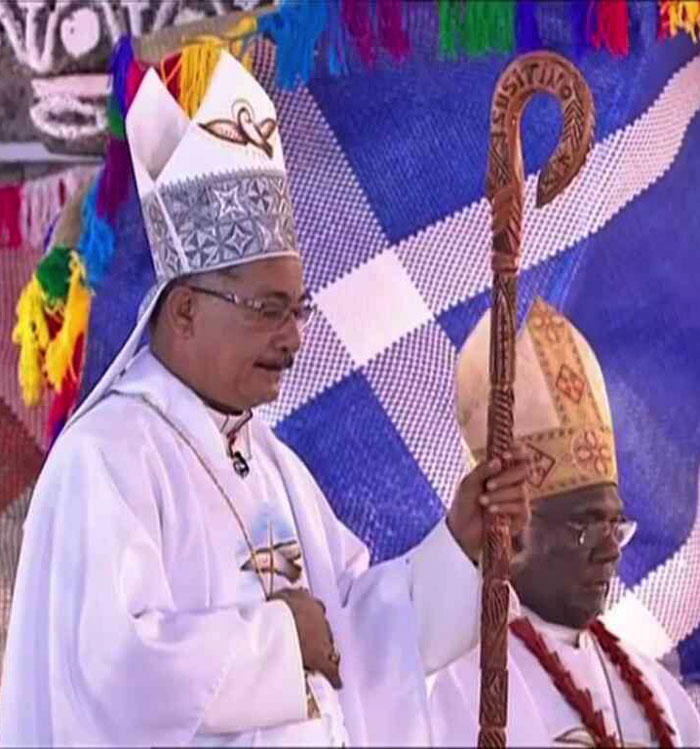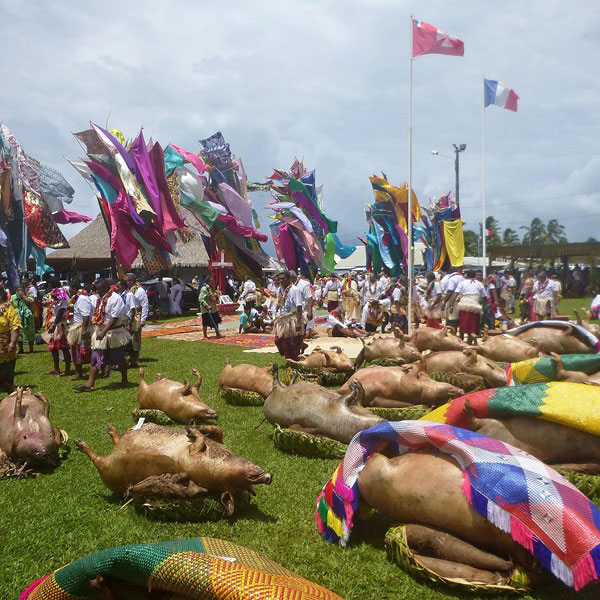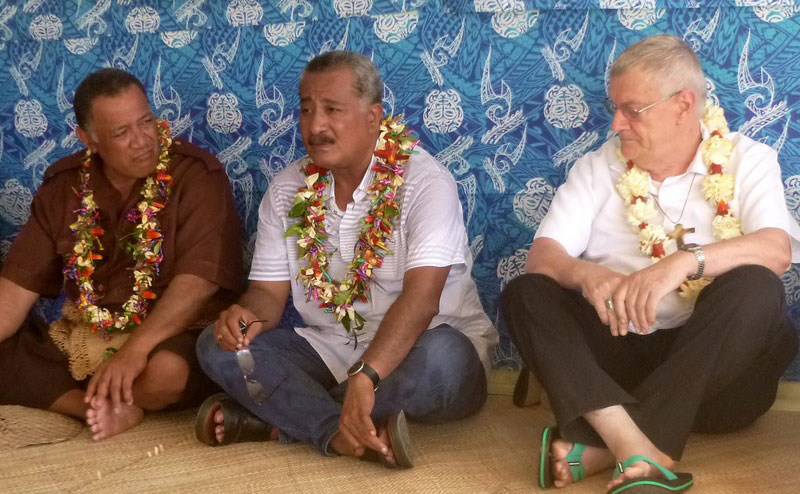 ---
Superior-General's reflection
This month's reflection from Fr John Larsen.... See Members page. [Apr 04].