Religious leaders unite on climate change
Australian Marist provincial and chairman of the NSW Conference of Religious Leaders, Fr Paul Cooney, reports that CLRI (NSW) is being well represented at the Jun 02 meeting with Prime Minister Gillard on climate change.
Sr Jill Finnane and other members of the CLRI Social Justice Committee are among the representatives of religious leaders of many different faith backgrounds converging on Canberra to push for action on climate change.
They will be meeting with Julia Gillard, Greg Hunt, Andrew Wilkie and around twenty other MPs.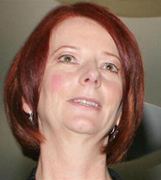 The leaders are from Hindu, Uniting Church, Jewish, Baha'i, Buddhist, Catholic, Moslem, Jain, and Anglican religions are uniting to share their concerns.
Spokesperson for the delegation, Bishop George Browning, said the group will lobby the government on behalf of the many people of faith who believe urgent action is needed to curb climate change.
Their unity is noteworthy amid the confusion in the carbon tax debate today. "Let's remember what all the fuss is about," says Bishop Browning.
"Our generation has been given humanity's last chance to avert a climate emergency. Our grandchildren will just have to bear with the results of what we decide to do now."
They advocate for public investment and incentives for the creation of renewable energy, stronger mandatory energy efficiency standards and substantial adaptation funding for developing countries.
The religious leaders are urging the Government to carefully consider the structure of a tax on carbon, and to think more broadly about options for reducing carbon emissions.

Bishop Browning, who was the ninth bishop of the Diocese of Canberra and Goulburn, is the Chair of the Anglican Communion Environmental Network. He and the other delegates are uniting through the multi-faith network Australian Religious Response to Climate Change (ARRCC).

"Taking the long view, the costs of acting now are bearable for a comparatively wealthy country like Australia. If we don't act, the costs to our grandchildren, to people in the developing world and to biodiversity are unthinkable," Bishop Browning said today.

"The naysayers are holding Australia back from taking responsible action with their fear-mongering and misinformation. Not only can we act, we must act."