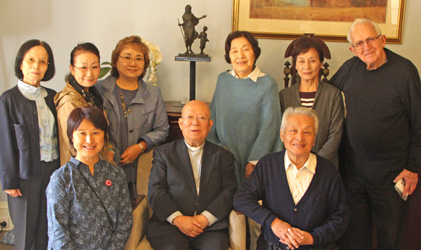 Mackillop pilgrimage
Aug 31-Sep 03 saw eight Japanese Catholics in Australia for a Mary Mackillop pilgrimage.
The pilgrims, from Nara Ken, Sendai City and Hokkaido, visited the North Sydney shrine of St Mary Mackillop and were hosted by Fr Paul Glynn SM at Villa Maria, Hunters Hill.
With their priest, Fr Takahashi, they are pictured, left, at Villa Maria with the statue of Our Lady of the Journey, gift ot the Nara Catholic community, and with Fr Paul Glynn (far right).
[Sep 04]