---
---
The two thousandth anniversary of the birth of St Paul was celebrated at the Marist parish of St Paul's, West Sunshine, Vic. (Feb 21-22).

With flags, band music and colourful costumes St Paul was honoured in a way echoing feast day celebrations in many parts of the world.

Marist Provincial, Fr Paul Cooney SM, himself a former pastor of St Paul's, presided at the major liturgical events arranged by an enthusiastic committee and present parish priest, Fr Pius Jones SM.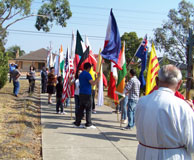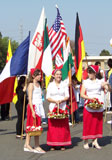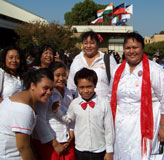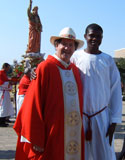 St Paul's parish has a huge mix of ethnic groups.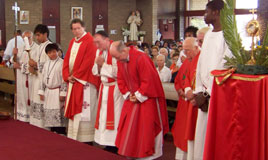 Marist Provincial, Fr Paul Cooney SM, leads the celebratory liturgy at St Paul's.
Marist College 50th anniversary

In a series of celebrations (Feb 13-17) Marist Regional College, Burnie, marks fifty years of educational service to the youth and families of north-west Tasmania.

An anniversary Mass was celebrated by Hobart's Archbishop Adrian Doyle and followed by the blessing of the Geoffrey Coombs memorial garden in the imposing grounds of the college overlooking the Bass Strait.

Geoffrey Coombs was a student on the first day of the college in 1959. At 22 yrs of age he was killed by a land mine while serving in Vietnam in 1968.

Pipers lead the procession for the blessing of the memorial garden by Archbishop Doyle.



Eight Marists join Archbishop Doyle for the anniversary Mass in the College's Harcombe Centre.
For more on the College: www.mrc.tas.edu.au
The beginning of Lent is anticipated by several days with the tiny communities of Angeldool and Goodooga in far north-western NSW.

Based in Walgett (Armidale diocese) Fr Paul Mahony SM cares for the people of remote centres in the Wilcannia-Forbes diocese.

'Ash Saturday' at Angledool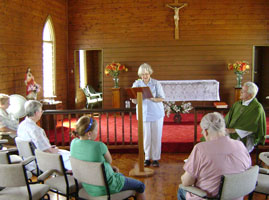 From left: 'Ash Saturday' congregations at Goodooga and Angledool; the Angledool church;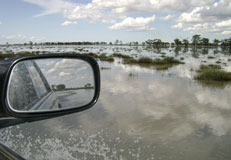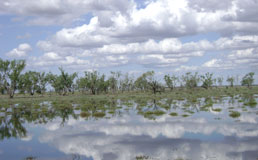 Recent rains transform the surrounding countryside.
Standing, from left: Fr Lauro Arcede (Philippines), Fr Kevin Redmond (Australia), Seminarian Matthew Crawford (New Zealand), Frs Cornelius Giris and Denis Revi (Oceania).
Sitting: Fr Lionel Mechavez (Philippines), Fr Oscar Ichiba (Australia-Japan) and Fr Frank Bird (New Zealand).

Young Marists in Auckland

Eight young Marists gather in Auckland, NZ, for a period of reflection and sharing. They come from the Marist provinces of Australia, Oceania and New Zealand and the Marist Mission District of the Philippines.

The gathering is part of the vision of 'MAP' (Marist Asia-Pacific) to provide mutual support and development within the Asia-Pacific region.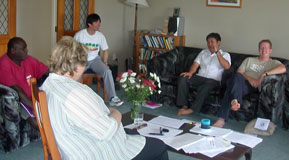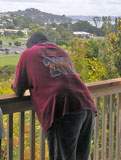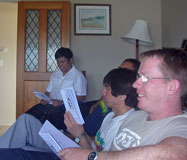 The young Marists combine group and personal reflection with prayer and domestic activities.
Marist Sisters' profession in Davao

On Feb 04 three novices of the Marist Sisters took religious vows in Davao, Philippines. They are Sisters Lilibeth Cajes, April Anne Acero and Ranata Edwards.

Superior-General of the Sisters, Sr Jane Frances O'Carroll SM, received the vows while Marist District Superior, Fr Larry Sabud SM, presided at the liturgy of religious profession.

Sr Lilibeth (Philippines) will continue to teach Filipino language in the educational facility of the Davao City Jail while preparing for the two-year program on Pastoral Theology at the Ignatian Institute of Religious Education (IIREF).

Sr April (Philippines) will continue to minister at the Davao City Jail teaching basic computer skills to male inmates and in June will commence the IIREF program.

Sr Ranata (Fiji) has also been teaching computer skills. She is now in Suva, Fiji, studying at the Corpus Christi Teachers College.


Sr April professing her vows


Sr Lilibeth signs the
profession document.

The newly-professed Sisters with Fr Larry Sabud SM,
Sisters Vero, Jane Frances and Torika.
Pictured, from left: Fr Boniface Besco SM (Marist novitiate, Tutu, Fiji), Sr Teresia Raione SM (Wairiki, Taveuni, Fiji), Sr Noelene Simmons SM (Vocations ministry, Sydney), Fr Peter McAfee SM (Marist novitiate, Mexico), Fr Chris Ganzon SM (postulant director, Davao, Philippines), Fr Kevin Conroy SM (Rector, Marist seminary, Auckland, NZ), Sr Julienne Hayes-Smith SMSM (Dhaka, Bangladesh) and Sr Joan Bernion SMSM (Manurewa, Auckland, NZ).

Marists at Marymount
formators' program

Eight Marists are participating in formators' program recently commenced at the Marymount Centre, Castle Hill, NSW.

The six-month program offers specialised course components for formators and vocation ministers and runs concurrently with Marymount's 'New Life' program. The two courses have attracted thirty-five participants from fifteen countries mostly from the Asia-Pacific rim.

A ninth Marist, Sr Makalita Finau SMSM (Tonga) is expected to join the group shortly.

Feb 16
Visiting from the Marist community of Nara, Japan, Fr Oscar Ichiba SM, celebrates Japanese National Foundation Day (Feb 11) with pre-novitiate candidate, Yoshitake Shiragami, at Villa Maria, Hunters Hill, NSW.

Fr Oscar joins fellow Australian province member, Fr Kevin Redmond, and a group of younger Marists from the Philippines, New Zealand and Oceania at Auckland, NZ, for a review program in coming weeks.
'Nazareth' development

In a picturesque woodland setting on the banks of the Colo River north-west of Sydney, 'Nazareth' is a place of quiet and reflection being developed by the Marist Fathers.
Filipino Marist for formators' program

Fr Chris Ganzon SM has arrived in Sydney for a six-month training program for formators. He will attend the course at 'Marymount', Castle Hill, NSW, before returning to the Marist Mission District of the Philippines to oversee the postulancy program in Davao.

Feb 03

Novitiate staff: Frs Pat Breeze, Joe Rooney and Fernando Ingente

International novitiate
class="style29">begins soon

Six young men will soon begin their novitiate experience at the Marist Fathers' international novitiate, Davao, in the Philippines region of Mindanao.

Pictured left to right: Roque Rebito (Filipino), John Guo Wang (Chinese), Philip Bennenbroek ( New Zealand), Thilo Saft (German), Daniel Fernandez Alearaz (Spanish) and Nino Memorial (Filipino). hey are presently experiencing a two-month cultural orientation program.

Situated near the poor bayside district of Dumalag the novitiate will be led by New Zealand Marist, Fr Pat Breeze, assisted by Fr Joe Rooney (Ireland) and Fr Fernando (Anggong) Ingente (Philippines).

Feb 03
Montbel' construction continues

Work continues on 'Montbel', the new retirement facility being constructed at Hunters Hill, NSW.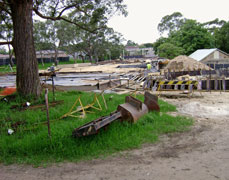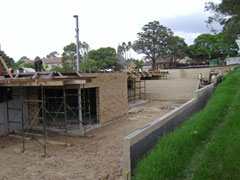 Feb 26
Feb 10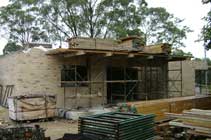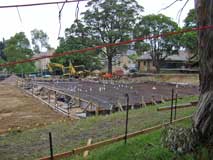 Feb 10
Feb 04