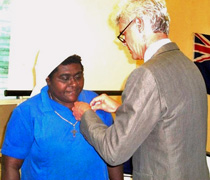 Australian High Commissioner to PNG, Ianm Kemish, pins the Order of Australia medal to Sr Lorraine Garasu CSN
Marist co-worker receives Order of Australia
In a ceremony on Aug 03, Bougainvillean Sister Lorraine Garasu CSN was awarded the Order of Australia by Australia's High Commissioner to PNG.
The award follows years of post-crisis work amongst her native Bougainvilleans assisting displaced families, sexually abused youths and young women victims of domestic violence, as well as trauma counselling rehabilitation, agricultural youth programs, and safety for those in trouble, especially women and children.
Sr Lorraine acknowledges the part that Marists have played in her life, saying: "There were many things that gave support to this award. It all started with the work done with Marist Mission Centre, and their handling of AUSAID funding... and their encouragement and support, their wisdom and knowledge." Congratulations, Sister Lorraine!