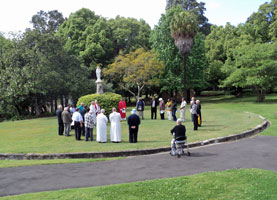 The S&L program begins around the statue of Mary in the grounds of historic Villa Maria monastery.
S & L program begins at Villa Maria
Indigenous elder, John Marshall, (Macksville NSW) welcomed participants in the Marist Asia-Pacific 'Spirituality & Lifestyle' program at a moving opening ceremony at Villa Maria, Hunters Hill, NSW, on Oct 10.
After a traditonal smoking ceremony, participants moved to nearby Villa Mary church for a Eucharist led by Assistant-General, Fr Lote Raiwalui. Australian provincial, Fr Paul Cooney, preached the homily and, with St Paul, encouraged the S&L group to be the saints that we are all called to be.
Participants prayed the intercessions in their native tongue and brought to the altar a symbol of their particular culture before .