---
---
From the General House of the Marist Fathers in Rome Fr John Hannan SM has distributed a letter to Marists across the globe calling each 'to embrace wholeheartedly our Marist identity'.

In the context of an international renewal and reconfiguration of the Society of Mary and following its General Chapter in Sep 2009, Fr Hannan points to three key areas for reflection and action on the part of all Marists:
-- deepening our Marist identity
-- recruitment and formation
-- governance and the re-alignment of ministries
Five new deacons




The five Marists who took final vows last month (see March 2010 news) were ordained to the diaconate on Apr 18 in Fiji. In a ceremony iin the packed Sacred Heart cathedral, Suva, Archbishop Petero Mataca took the young men a step closer to the Marist priesthood.

Pictured, left to right: Christian Abongbung (Marist African Mission District), Ashton Koleman (Bougainville), Raymond Raupépé (Vanuatu), Emeri Ratucoku (Fiji), and Christopher Ketsore (Bougainville).

In January Christian Abongbung came to Sydney to visit his Australian mentor in Cameroon, Fr Bob Barber (see January 2010 news).

From left: Deacon Christian Abongbung Presentation of the Gospels Deacons with Fr Larry Hannan



Co-director of the Refounding and Pastoral Development Unit, Fr Gerald Arbuckle SM, returned from the UK on Apr 04 after a two-month sabbatical period at Oxford University where he concentrated on reform policies for healthcare institutions.

He comments: 'I found the atmosphere intellectually stimulating and the people particularly welcoming. They were most willing to provide the best possible research facilities'.

Fr Gerry has been invited to present the Martin D'Arcy Lectures at Oxford in early 2011. The theme will be 'Healthcare in Chaos: Models in Conflict?'

| | | |
| --- | --- | --- |
| Holy Week and Easter are celebrated in many ways and places by Marists throughout the Australian province... | Twelfth station of the combined churches' Way of the Cross, , Villa Maria, Hunters Hill | Simple images of Good Friday and Easter by Sr Marie-Pat SM, Woolwich NSW. |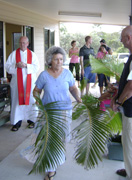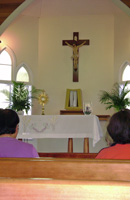 Palms at Agnes Waters / Calliope, Qld Second Rite of Reconciliation / blessing of palms, Star of the Sea, Gladstone
Eucharistic veneration, Gladstone / Easter candle, Montbel, Hunters Hill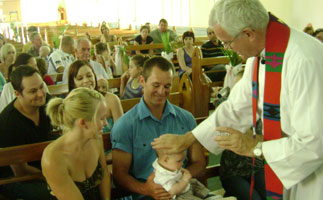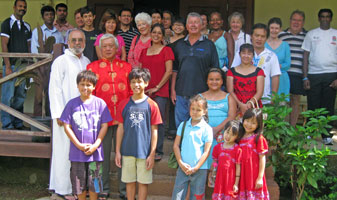 Baptismal anointing, Star of the Sea, Gladstone / RCIA retreat, Calliope. Fr Jim Carty with Christmas Island residents / ...and new arrivals
| | | |
| --- | --- | --- |
| From the Marist novitiate at Tutu on Fiji's Taveuni island, Australian Marist, Fr Ben McKenna SM, reports on the drama and damage of the country'ss worst-ever cyclone, 'Tomas' which hit parts of the south-west Pacific last month. | | |