---
---
At the General House of the Society of Mary in Rome Australian Marist, Fr Tony Corcoran, presides at the community Eucharist celebrating the Feast of Marist Saint and martyr, Peter Chanel SM.

An evening function with the wider Marist family gathers around items of significant historical interest (see below).


Apr 28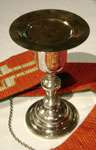 From left: 1, The chalice and paten used by Peter Chanel on Futuna where he was brutally killed on Apr 28, 1841. 2. From the Marist General Archives, one of St Peter Chanel's diaries. 3. The cover of another diary, with a stain of Chanel's blood. Look closely at the centre left of the page.

| | | |
| --- | --- | --- |
| | A highlight of the evening is the display of recently-published 'Letters received from Oceania', edited by Fr Charles Girard, SM, a comprehensive set of volumes recording missionaries' letters back to France during the pioneer years of Marist missions in the South-West Pacific. | |
Above, from left: 1. Marist Family members gather in the chapel of the Marist Fathers' General House, Rome, to honour St Peter Chanel and to hear from the letters of pioneer Marist missionaries. 2. Local Superior and Bursar-General, Fr Kevin Mowbray SM (right) welcomes guests to the celebratory dinner. 3 & 4. Superior-General, Fr Jan Hulshof SM, speaks of the 'Letters from Oceania' project and presents copies to Sr Jane Frances SM and others of the Superiors-General attending.
Final Profession

Tongan Marist seminarian, Sipiliano Faka'osi, takes final vows in a ceremony at the Catholic cathedral in Auckland, NZ, on Apr 26.

Presiding at the profession liturgy is Australian Fr Tony Kennedy SM, acting-rector of the Marist Formation Community in Auckland. The centre provides for students from the three provinces of New Zealand, Oceania and Australia and is part of the Marist Asia-Pacific (MAP) collaboration program.

Sipiliano will be ordained deacon on May 10 by Bishop Robin Leamy SM.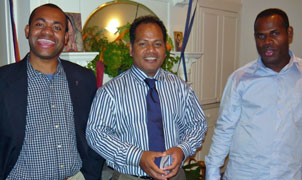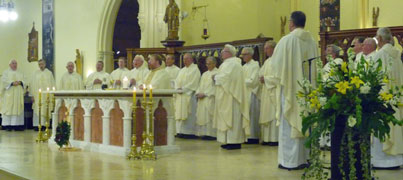 Left: Sipi with fellow seminarians from the Marist Oceania province. Right: Local Marists concelebrate at the profession Mass.
Meeting in Sydney on Apr 22 are delegates to the Marist Fathers' General Chapter from Australian and New Zealand provinces. The Chapter takes place in Rome in Aug/Sep.

Pictured, from left: Frs Tim Duckworth (NZ), Paul Cooney (Aust), Pat Devlin (NZ), Peter McMurrich (Aust), Thige O'Leary (NZ), Gerard Hall (Aust) and Brian Cummings (NZ).
'Montbel' taking shape

The Marist Province's retirement complex, 'Montbel', Hunters Hill, NSW, takes further shape following pouring of slabs at upper and lower levels.

The site is close to the original 'Montbel' home to missionary Marists at the turn of the last century. It will be accessed through the driveway between Villa Maria parish church and the 'Maryvale' residence in Mary St Hunters Hill.


Apr 23
| | |
| --- | --- |
| Apr 16 | Apr 16 |
Apr 14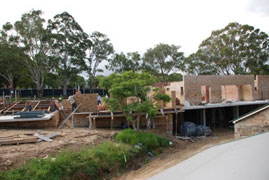 Apr 06