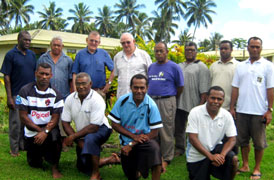 Superior-General, Fr John Hannan (third from left, back row) and Assistant, Fr Lote Raiwalui (far right, back row) with Tutu Marists and novices.
More Oceania events
Superior-General, Fr John Hannan, and Assistant-General, Fr Lote Raiwalui, have visited Marists on the Fijiian island of Taveuni in recent days (Jun 20-26),
They are pictured (left) with members of the communities of the Marist Training Centre and the Marist Novitiate at Tutu, and (below left) Fr John with Br Mua Saurava for whom prayers are being offered in the hope of a cure from his illness through Fr Jean-Claude Colin's intercession.
Also pictured (below) are the six novices with novice master, Fr Boniface Kevon, now finishing the second of their four week-long retreats for 2011.