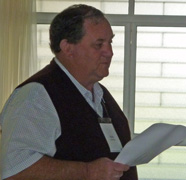 Fr Bob Barber presenting a report from the Australian province and...
/ Fr Ben McKenna (Oceania province)
Two Australians at vocations meeting in Brazil
Seventeen vocations promoters from provinces and mission districts all over the Marist world have begun their meeting at the "Centro Mission Marcellin Champagnat" in Curatiba, Brazil. Australians, Frs Bob Barber and Ben McKenna are among them.
International vocations coordinator, Fr Alejandro Munoz, reports:
"We have begun with reports and will soon have an analysis of the information collected during these presentations.
It's a complex situation because there are very different cultures in the Society of Mary. We want to get a good picture of the current reality on Marist vocations, and then find ways of collaborating among geographic areas and at the general level. "
Other goals of the meeting include planning for a Year of Prayer for Marist Vocations, participation in World Youth Day, establishing a forum on vocations, networking of local vocations personnel and an international vocations web site.