---
---
Casey-Ryder opening

May 28 saw the opening by Wollongong's Bishop Peter Ingham of a much-needed facility at Holy Spirit College, Bellambi, NSW.

The 'Casey-Ryder Centre' honours the first principal and assistant principal of the College, Fr Bill Ryder SM and Sr Maria Casey RSJ. It provides a multi-purpose indoor space big enough to hold the entire school roll of 1,040 students with a floor area the size of two basketball courts.

A Josephite Sister receives a gift for the first assistant principal of Holy Spirit College,
Sr Maria Casey RSJ..


Bishop Peter Ingham, with college principal, Mark Baker
and Fr Bill Ryder SM
Newest Marist priest

Pictured, right, with family members and Filipino friends is the Society of Mary's newest priest, Fr Gil Casio SM, 29, ordained in a ceremony in Davao, Southern Philippines, on May 20.

The ordination took place at Our Mother of Perpetual Help church, Bajada, Davao City, in the far southern region of Mindanao, base of the Marist Missions in the Philippines.
Left: Gil Casio before the ceremony and during the prostration and singing of the Litany of the Saints.

Left, below: Fr Gil with the presiding bishop, Archbishop Fernando Capalla, DD, and fellow priests after the ceremony.


Above: Gil Casio accompanied young adults from Australia on 'The Other Half' excursion to the Thai-Burma border in 2005. He was then a member of the pioneer Marist Mission in Burma and later at Ranong, Southern Thailand.
Senior art

An exhibition of selected art works of Fr Frank Lopez SM was held at Villa Maria Monastery, Hunters Hill, on May 18.

Fr Frank is a self taught artist never receiving any formal tuition in art. In 1973 he took the first tentative steps in an artistic career with photographic art, moving on to line drawing, charcoals and pastels.

After forty years of service as a Marist Father (teacher and school principal, priest at Sydney city churches, Catholic Theological Union lecturer, Sydney University researcher and pastoral carer ar Prince of Wales Hospital) Fr Frank now finds time to explore his art more fully.


South Coast Tranquillity (2007) /
Irish Serenity (1999)


Acropolis (1982) /
Sunday Afternoon Entertainment, Nice (1982)
Diaconate ordination

Marist seminarian, Sipiliano Faka'osi, is ordained deacon at St Anne's church, Manurewa, New Zealand, by Bishop Robin Leamy SM. Many Marists and some of Sipi's family were present

at the ceremony on May 10.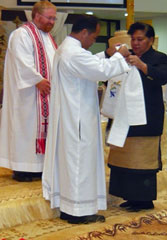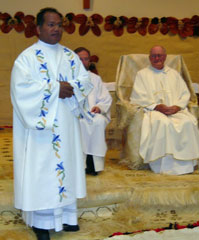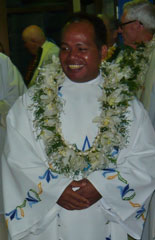 Scenes from the diaconate ordination ceremony at Manurewa
Theology Doctorate

In a ceremony at Sydney University Fr Michael Young SM was awarded Doctorate in Theology for his work on the insights of philosopher and anthropologist, Paul Ricouer (1913-2005)*.

The New Zealand Marist has been a member of the Villa Maria community, Hunters Hill, during the period of his research and writing. He returns soon to New Zealand to take up a lecturing post at Auckland's Good Shepherd seminary.

[* see also: http://plato.stanford.edu/entries/ricoeur/#1 ]


Br Charles Randle SM with Dr Michael Young SM after the graduation at Sydney University.
Montbel progress

'Montbel', the Marist retirement facility at Hunters Hill, continues to take shape as the striking silhouette of the chapel appears

.


May 12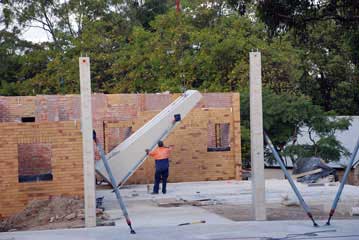 May 08
Left: Fr Garry Reynolds SM and Br Terry Garrett SM inspect one of the rooms. Ten retired Marists will be accommodated in 'Montbel', including two in self-contained apartments. Right: Polishing of the chapel walls take place before erection later this month. The chapel will be a striking feature of the complex and will combine ease of access with modern liturgical design. [May 01]