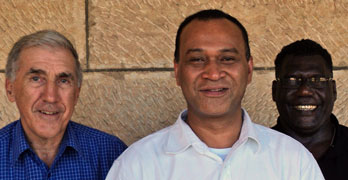 From left, Frs Paul Sullivan (Australian province), Lote Raiwalui (assistant-general, Rome) and Justin Ratsi (Oceania province).

MAP ongoing formation team meets
'Spirituality and lifestyle' will be the major themes in a series of ongoing formation programs planned by Marists in Asia-Pacific for confreres ordained or professed for 8-12 years.
For the first time program team members, Frs Paul Suliivan, Lote Raiwalui and Justin Ratsi, met on Mar 22 at Villa Maria, Hunters Hill, NSW, where the nine-week programs will be held.
The team members inspected facilities at Villa Maria monastery and Chanel House residence guided by Fr Bob Barber and Br Charlie Randle.
The first course will take place from Oct 09 to Dec 14, 2011, with similar programs in 2012, 2014 and 2015.
Cultural perspectives will permeate all dimensions of the program. Aims will include affirming personal and Marist identity and strengthening a sense of mission and ministry in participants.
Program content will include spirituality, scripture, Marist studies, health and lifestyle issues with opportunities to connect throughout the course with local Marists.