2008 Provincial Chapter

The Colin Library, Hunters Hill, NSW, was the venue for the 2008 Chapter of the Marist Fathers Australian Province.

Below: The 'Green Room' awaiting the arrival of the Chapter's twenty-four members.

The Chapter begins... Day One

Australian Marist Provincial, Fr Paul Cooney SM, began the 2008 Provincial Chapter with the celebration of the Eucharist at Holy Name of Mary church, Hunters Hill, Oct 20.

Below: The sessions of Day One began with election of chapter committees and personnel, including chapter president, Fr Peter McMurrich. Facilitator, John Honner, is pictured below, second from left.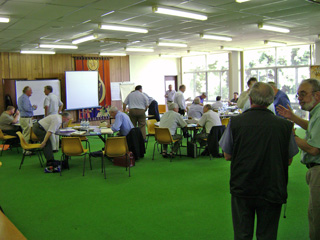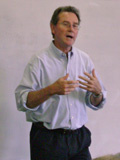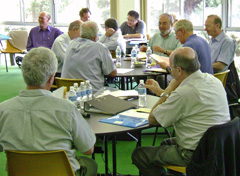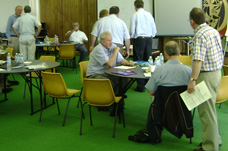 Day Two...

The Chapter turned its attention to a letter from the Superior-General of the Marist Fathers, V Rev Fr Jan Hulshof, in which he reviews the styles of authority and decision-making which has developed by international leadership teams in recent decades.

The afternoon session focussed on postulata submitted by various members of the province.

International members of the Chapter, from left: Fr Craig Larkin (Vicar-General, Rome), Fr Keith Tulloch (Superior, Nara community, Japan), Fr Michael Young (observer, New Zealand Province) and Fr Suni Halapio (observer and Vicar-Provincial, Oceania Province).

| | |
| --- | --- |
| | |

Day Four...

The morning's sessons were attended by representatives of the Marist Laity, followed by the official Chapter photograph, below.

At right, Marist Laity members -- Ralph Fitzgerald, John Burton, Sue Edwards and Maria Baden -- with Provincial, Fr Paul Cooney (far right).

The afternoon sessions continued with postulata discussions as well as the election of representatives to attend the 2009 General Chapter.

Day Five...

2009 General Chapter delegates from the Australian Province met before the main Chapter session. Pictured, from left, Fr Peter McMurrich, Fr Paul Cooney (Provincial) and Fr Gerard Hall.

The final day of Chapter began with the Eucharist celebrated by Vicar-Provincial, Fr Bob Barber and music from Hunters Hill parish priest, Fr Kevin Bates.

Resolutions of the Chapter will be announced shortly.
2008 Provincial Chapter