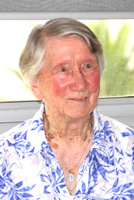 Sr Clare's 70 Marist years
In a simple celebration at Marian House, Woolwich, Sr Clare Francis SM, marked her seventieth anniversary of religious profession at Merrylands, NSW, on Feb 05, 1947.
Sydney-born, Sr Clare recalls the late Fr Robert Nolan SM encouraging her at St Patrick's, Church Hill, to be a 'teacher for God' and to consider joining the Marist Sisters.
Marist Fathers remember gratefully Sr Clare's service as registrar at Catholic Theological Union, Hunters Hill, in the mid 1970s. Congratulations, Sister Clare !
[Feb 05]