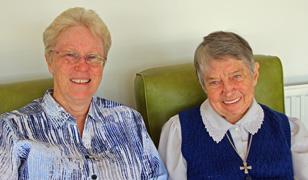 Sr Jane Frances with former superior-general, Sr Margaret Purcell, at Marian House, Woolwich, NSW / Sr Jane at Woolwich
Welcome, Sr Jane Frances
Superior-General of the Marist Sisters, Kiwi Sr Jane Frances O'Carroll SM, is visiting communities of the Sisters' Australian sector during Sep/Oct.
Sr Jane arrived on Aug 12 and will visit the sector's communities at Barcaldine and St George (Qld) and Haberfield, Marrickville, Woolwich, Rosemeadow and Blacktown (NSW).
Before returning to Rome on Sep 07 Sr Jane will meet with Australian sector and Asia-Pacific regional leaders.