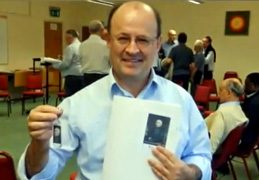 Marist Provincial of Mexico, Fr Pedro Alarcon, with his USB stick and folder of resources / supply of loaded USB sticks
All material is available from the 'Resources' pages of the Colin web site.
Colin resources shared in Dublin

The official web site for Marist Founder, Ven Jean-Claude Colin, reports:
'On Oct 22 Vicar-General, Fr Larry Duffy SM, distributed samples of Colin resources to participants of the Council of the Society meeting at the Emmaus Centre, Dublin, Ireland.
'Provincials and District Superiors, as well as members of the General Administration, were presented with a folder of various resources downloaded from this web site.
'Each was also offered a USB storage stick loaded with over 1,000 of the site's files of leaflets, booklets, prayers and images.
'10 Kg of the resources, produced in the Australian Marist province, were carried to Dublin by provincial, Fr Bob Barber. Thanks, Fr Bob!'