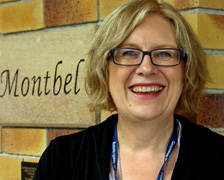 Maryvale/Montbel house manager, Margaret Ploskodniak, settling into her new role.
House manager for Maryvale/Montbel
Mrs Margaret Ploskodniak has become the first-ever house manager of the Marist retirement facility of Maryvale/Montbel at Hunters Hill, NSW.
Assuming responsibilities on Dec 09 for the operational aspects of the centre, Margaret's focus is clearly on the people for whom Maryvale/Montbel is home.
Born and bred in adjacent Gladesville and an ex-student of the Marist Sisters' College, Woolwich, Margaret describes the local area as very much her 'stomping ground' with lifelong connections to the nearby parish of Our Lady, Queen of Peace.
'I know who the local doctors and chemists are, too', says Margaret, a helpful piece of knowledge in her new position. Welcome, Margaret!