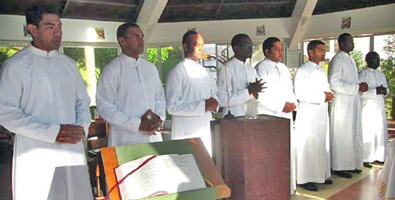 Some of the ten young men beginning their novitiate year of formation at 'Eden', Davao, Philippines
The novices are from six countries: Mika Misinale, Soane Hehea and Viliami Kiola (Tonga), Samu Tukidia and Pio Ravu (Fiji), Leonard Safeh and Guy-Roger Assogoma (Cameroon), Stev Youm (Senegal), Nikolai Reimers (Norway) and Benedict d'Souza (NZ).

First international novitiate at Eden
From Rome, the SM Bullletin reports on the first International novitiate to be held in the new venue of Eden, in the hills overlooking Davao, Philippines:
'The ten new novices were admitted to the canonical novitiate year by knocking on the door of the chapel and then being admitted by Fr. Fernando Ingente, on behalf of the novice master, Fr Kevin Conroy, who asked what they wanted and invited them in by giving each a lighted candle to be placed on the altar.
'This was followed by the blessing of the soutane and the recital of a Marist litany.'
We wish our new novices a year of many blessings!
[Posted Feb 08]