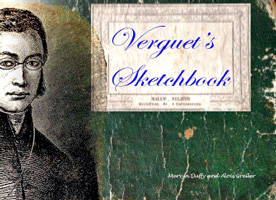 The cover of Verguet's Sketchbook / an early Verguet drawing of St Patrick's, Church Hill
'Verguet's Sketchbook' launch
Authored by Marist historians, Frs Alois Greiler and Mervyn Duffy, the sketch book of early Marist missionary, Fr Leopold Verguet SM, will soon be launched by fellow-historian, Fr Peter McMurrich SM..
Described as 'one of the masterpieces of the archives of the Society in the General House in Rome', the sketchbook records the places, faces, birds, flowers, tattoos and artefacts of the Fr Verguet's Pacific experiences, especially in the Solomon Islands.
Included is a sketch of St Patrick's, Church Hill, Sydney, where the book will be launched in the church crypt at 1.30 pm Sun, Oct 26. Fr Peter McMurrich is a former parish priest of St Patrck's.
For more information, including how to get your copy: click here
[Posted Oct 23]