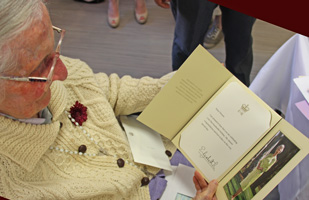 Sr Doreen reads her greeting from Queen Elizabeth. Other messages came from the Governor-General, the NSW State governor, the Prime Minister, the Premier of NSW and the local member, Joe Hockey.
Sr Doreen turns 100
Along with Her Majesty, Queen Elizabeth, and national and state leaders, we congratulate Marist Sister, Doreen McOscar, on her 100th birthday on May 25.
Sr Doreen's numerous decades of Marist life span dedicated years of teaching and educational leadership. She was the founding principal of Cerdon College, Merrylands, NSW.
The much-loved centenarian's birthday was celebrated with Mass at St Anne's Nursing Home, Hunters Hill, with Fr Kevin Kerley SM, OAM, and an afternoon 'high tea' at Marian House, Woolwich, attended by many Sisters, relatives, ex-students and friends.
Happy Birthday, Sister Doreen!
[Posted May 26]