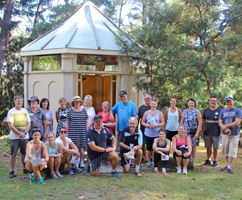 MCC immersion program participants at St Joseph's chapel (1863) in the grounds of Villa Maria, Hunters Hill / visiting St Peter Chanel chapel.
Charism and Culture
Twenty staff members of four colleges founded by the Marist Fathers and Marist Sisters.are gathering this week at Villa Maria monastery, Hunters Hill, NSW, for an immersion in Marist charism and culture.
Selected from all areas of the school staffs (teaching, administration and support) the group is receiving input from Marist Family members reflecting on Marist history, values and spirit.
The Marist Charism & Culture 'immersion week' is intended to be the first of a series for the participating colleges: St John's College, Lismore, NSW; Marist Sisters' College, Woolwich, NSW; Holy Spirit College, Bellambi, NSW; Marist Regional College, Burnie Tas.
[Mar 09]