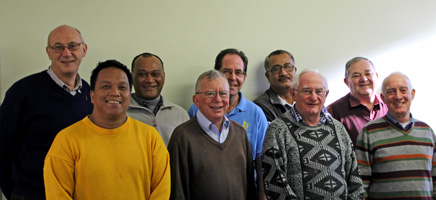 2016 Marist-Asia Pacific (MAP) leaders, from left: Frs David Kennerley (NZ), Chris Ganzon (Asia), Lote Raiwalui (Rome), Peter McMurrich (Aust), Ben McKenna and Susitino Sionepoe (Oceania), Neil Vaney (NZ), Bob Barber (Aust) and Pat Devlin (Asia)
MAP meets
Leaders from the Marist Fathers' units of Asia, Australia, NZ and Oceania are meeting in Sydney this week.
This year's gathering, at Hunters Hill NSW, coincides with the visit of Assistant-General, Fr Lote Raiwalui SM, who will attend the forthcoming provincial chapters in Australia and New Zealand.
MAP's sessions include updates from each unit and sharings on vocations, re-structuring, social media and ongoing formation.
[Jun 14]