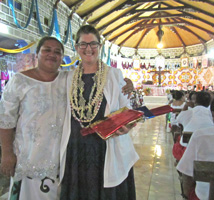 Kristin with a parishioner of Poi, site of St Peter Chanel's martydom / .. and at one of the small Chanel chapels dotted around Wallis and Futuna
Kristin at Futuna celebrations
Kristin Young, daughter of Hunters Hill parishioner, Marie Young, has just returned from the Pacific islands of Wallis and Futuna where she joined the celebrations of the 175th anniversary of the martyrdom of St Peter Chanel.
Kristin reports: "Thanks to the help of Fr Brian Wilson from Villa Maria, who himself has a long association with the Oceania Province, I was able to meet the Bishop of Wallis and Futuna, Mgr Ghislain De Rasilly, and to participate as one of the many pilgrims attending the celebrations.
"I was glad to be able to carry the good wishes of the Villa Maria Marist community to Futuna and bring back stories, photos and small gifts to share on my return. Few Australians visit Wallis and Futuna so this really was a special occasion."
[May 20]