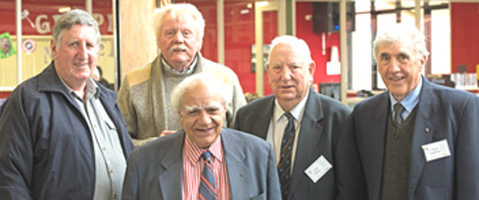 Ex-students at the Traralgon celebrations, from left, Peter Mitchell, Jo Crisp, Paul Apostoleros, Br Bill Dillon and Fr Paul Sullivan, who represented the Marist Fathers.
Paul Apostoleros still writes regularly to former St Paul's teacher, Fr John Hill SM.
Traralgon 60th anniversary
On Sep 09 Sale's Bishop Patrick O' Regan celebrated a sixtieth anniversary Mass for Lavalla Catholic College, Traralgon, Victoria.
The event acknowledged the role of four religious congregations in the formation of the college: the Presentation Sisters, Marist Fathers, Brigidine Sisters and the Marist Brothers.
The original college (St Paul's) was established by the Marist Fathers in 1956 with Fr Harry Davis as the first rector, followed by Fr Steve Maloney. Lavalla now has over 1200 students.
[Sep 15]