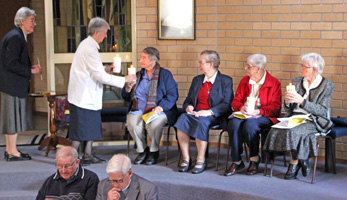 Unit leader, Sr Cath Lacey SM, presents jubilee candles to Srs Therese, Elizabeth, Julia and Anne / Fr Bob Barber presides at the Eucharist
Sisters upstage Fourvière
While the Marist world marked 200 years since the Fourvière Pledge, four Australian Marist Sisters celebrated 230 years of commitment.
Jubilee celebrations at Woolwich, NSW, on Jul 24 honoured Srs Julia Lourey, Elizabeth McTaggart and Therese Campbell (each 60 years professed) and Sr Anne Saunders (50 years).
Marist provincial, Fr Bob Barber, joined Sisters and family members at Mass with renewal of vows, followed by afternoon tea and speeches in Marian House.
Congratulations, Sisters!
[Jul 24]