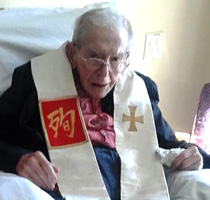 Fr John Hill 68 years ordained
Veteran Japan missionary, Fr John Hill SM, was assisted by his cousin, Bishop Bernard O'Grady OP, at an ordination anniversary Mass recently.
The Mass, remembering Fr John's ordination at St Francis Xavier's cathedral, Adelaide, Jul 28, 1948, was celebrated at St Catherine's Nursing home, Eastwood, NSW, with a number of close family and friends, some travelling from South Australia, Victoria and Queensland to be a part of the occasion.
Ad multos annos, Father John!
[Aug 03]