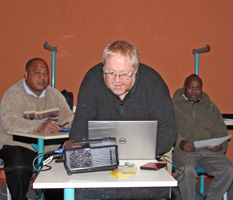 Fr Tony Kennedy prepares for a CPR session / Fellow Australian, Fr Kevin Redmond, presides at Mass by the grave of Fr Colin
CPR report
From La Neylière, France, Australian director of the Colinian Period of Renewal (CPR), Fr Tony Kennedy SM, reports:
"The blossoms are emerging, the flowers are blooming and the grass is very green. Spring has come and winter is over.
"Since the Colinian Program of Renewal began on Ash Wednesday we have spent time getting to know La Neylière, each other, France, and the local area.
"I led these sessions and invited the group to reflect on their journey to this time and this place. We shared about our families, our call, our life as Marists, and some of the struggles we have faced." [continued below]