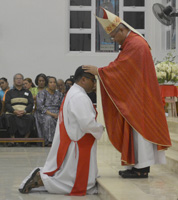 Cardinal Soane Patita Paini Mafi laying hands on Lutoviko at Pea, the first village in Tonga to receive the Catholic faith in 1842.
Pacific ordination
Oceania Marist provincial, Fr Ben McKenna, reports on the priestly ordination of Fr Lutoviko 'Olie, aged 28, on Jun 29 in Tonga:
'Lutoviko's ordination is tied in with the 175th Anniversary of the Catholic Church in Tonga.
'Lutoviko entered Marist College Suva in 2008, made his Novitiate in Tutu in 2010, and obtained his Diploma in Theology in 2011. He attended Corpus Christi Teachers College in 2012 & 13, graduating with Diplomas in Relgious Education and Teaching. and in November last year graduated from Pacific Regional Seminary, with a Bachelor in Theology - Magna Cum Laude - accredited by the Urbanianum University, Rome.
'This year he is a member of our Apifo'ou community, where he teaches at Apif'ou College.' Congratulations, Fr Lutoviko !
[Jul 06]