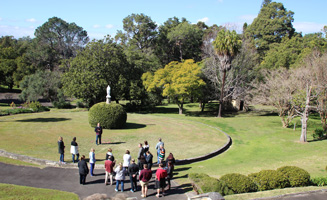 Marist historian, Fr Peter McMurrich, leads the MCC group on a walking tour of the Villa Maria property / MCC leader, Glenn Roff, introduces Fr Peter
Exploring Marist Charism & Culture
Another group of staff from Marist-founded schools is taking time out to explore Marist charism and culture.
The week-long inservice at Villa Maria, Hunters Hill, has brought together teachers and ancillary staff from Marist Sisters Woolwich (NSW), St John's College, Lismore (NSW), Marist Regional; College, Burnie (Tas) and Holy Spirit College, Bellambi (NSW).
The group is facilitated by MCC leaders, Glenn Roff and Kim Evans, and being addressed by speakers from various branches of the Marist family.
[Aug 02]