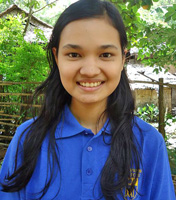 Muriel Valles, Bridge Program 2013 / Saw Htoo Htoo, Bridge Program 2011-12
Muriel's scholarship success
Bridge Program graduate and ACU student, Muriel Valles, has been awarded a 4-year Liberal Studies Bachelorate scholarship by Hong Kong's Institute of Education (pictured below). She is one of hundreds of young Burmese refugees furthering their education on the Thai-Burma border.
'I hope this will be an encouragement to other young Karens', says an excited Muriel, who has been an outstanding student at ACU's online program, Mae Pa, Thailand after completing the Marist-sponsored Bridge Program in 2013.
Muriel will return shortly to Mae La refugee camp, Thailand, to share the good news with her friends, before ACU graduation in May and the Hong Kong program in September. Congratulations, Muriel!
BP-er from the previous Bridge Program, Saw Htoo Htoo, has already begun scholarship studies in Business Administration at the University of the Thai Chambler of Commerce in Bangkok.
[Feb 18]