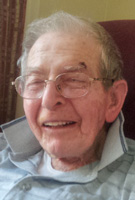 Fr John Hill SM now / ... newly-ordained
Fr John Hill 67 years ordained
Veteran Japanese missioner, Fr John Hill SM, 92, celebrated 67 years of Marist priestly life on Jul 28.
Montbel superior, Fr Paul Mahony, and Fr Jim Harding joined Fr John for a celebratory luncheon at St Catherine's retirement facility, Eastwood, NSW, to mark the occasion.
Ordained at St Francis Xavier's cathedral, Adelaide, in 1948, Fr John spent most of his priestly life as a missionary in Japan, winning lifelong affection and national awards through his prison ministry in the Prefecture of Nara.
Happy Anniversary, Fr John!
[Jul 28]