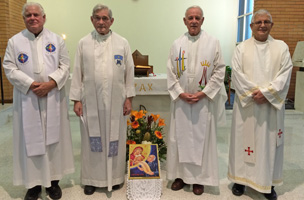 Golden jubilarians, from left, Frs Harry Moore, Peter Carde (NZ), Tom Ryan and Michael O'Connor (Fiji) / The Ryan brothers, Tom, Paddy and Kevin, with Fr Michael O'Connor (second from right).
Golden jubilees in Brisbane
Fr Tom Ryan reports from the Marist community of Herston, Brisbane, on the recent Golden Jubilee of Ordination celebrations of Frs Harry Moore, Peter Carde, Michael O'Connor and himself...
'We celebrated our Jubilee Mass at St Joan of Arc church, Herston, Thursday May 7th with Brisbane Marists, family, friends and neighbouring Presentation Sisters.
'The Ryan family gathered to celebrate at our place: we three Ryan brothers, Paddy, Kevin and myself who were students 50 years ago at Greenmeadows NZ in 1965 with Michael O'Connor and Peter Carde.'
Congratulations to the jubilarians!
[May 10]