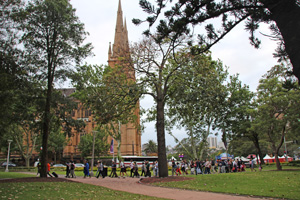 The walk beginning at St Mary's Cathedral / Carols at Hyde Park's Archibald Fountain
Carol walk success
A first-ever Christmas carol walk from St Mary's cathedral, Sydney, to St Patrick's, Church Hill, on the evening of Dec 12 was hailed a heartening success.
Ninety people began the walk after prayers led by Fr Garry Reynolds SM and finishing with more carols, exposition, Reconciliation and Benediction at St Patrick's.
Hundreds of Sydneysiders and tourists joined in the carols as the group wended its way through Hyde Park, the Westfield Mall, Martin Place and George St.
The walk, organised by St Pat's pastoral team member, Sr Fidelis McTeigue SM, and Jonathan Alvin, was supported by the Young Adult group, parishioners and choral groups. [Dec 13]