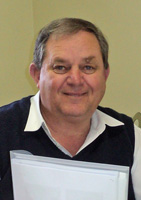 Re-appointed: Fr Bob Barber (provincial) / Fr Peter McMurrich (vicar-provincial)
Provincial's term renewed
From Rome, the Secretary-General of the Marist Fathers has advised Australian Marists that the provincial, Fr Bob Barber SM, has achieved two-thirds of the first preferences in the consultation for election or re-election for the office of provincial.
Accordingly, the Superior General, Fr John Hannan, has confirmed Fr Bob in the office of provincial for a further three years as from Jan 01, 2016..
Fr Hannan and his Council have conveyed their congratulations and fraternal support.
Shortly after the annoucement, Fr Bob confirmed that his vicar, Fr Peter McMurrich, was re-appointed for the same period.
Congratulations, Frs Bob & Peter!
[Apr 22-23]