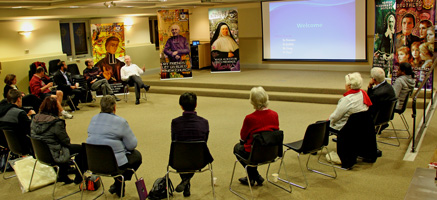 St Patrick's parish priest, Fr Ray Chapman SM, chaired the Q&A event / panel members, Fr Paul Mahony SM, Sr Noreen Dunne SMSM, Br Greg McDonald FMS and Sr Judith Lythall SM
Q&A II
The crypt of the City Centre church of St Patrick;s, Sydney, was the scene of the second 'Q&A' evening for 2015, in response to Marist Superior-General, Fr John Hannan's suggestions for initiatives in the Year of Consecrated Life.
Young adults joined with Marist religious of the four professed branches to share, question and explore the Marist option for life.
Hot soup and fresh bread, coffee and snacks added to the first-day-of-spring evening's informality and success.
[Sep 01]