Fr Tony Kennedy gives Bomana retreat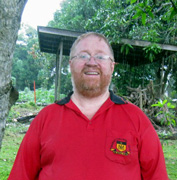 Eleven seminarians of Marist College, Bomana, PNG, are being guided in their annual retreat by Burnie (Tas) parish priest, Fr Tony Kennedy SM.
Fr Tony reports from a 'hot and steamy Bomana': "I am using a multimedia approach with artistic images, photos and video clips. Main focus points are 'Being called - called as a Marist', 'Mary's response -Marist responses', 'Instruments of Mercy', 'The Prodigal Son: being reconciled (and the ministry of St Patrick's, Sydney)' and 'Eucharist as service, Eucharist as unity'."

Using resources including Fr Craig Larkin's book,'Bearings', Fr Tony is giving examples from the lived experience of Marists following the Marist spirit, inviting his retreatants to reflect more deeply on their own Marist values and experiences.
One session is on the new English translations in the liturgy recently introduced at Marist College.