Justice & Peace planning in Oceania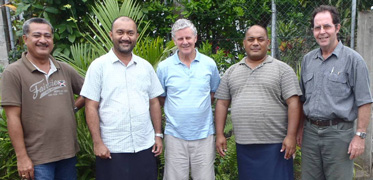 Australia's Marist Mission Centre director, Fr Kevin Stewart SM (centre) with Oceania Province's leadership team, from left, Frs Susitino Sionepoe, Pio Fong, Setefano Matele and Ben McKenna (provincial).
Oceania Marist provincial, Fr Ben McKenna, reports on the visit of Australia's MMC director, Fr Kevin Stewart, meeting in Suva with the OMP leadership team, Sep 20-22:
'In Oceania we're ministering in 8 different countries and very much aware of a great variety of life-styles, living standards and vastly different opportunities in life.
'We've been looking at health, education and life-projects and considering opportunities for formation of our new team to realise some objectives for Justice, Peace, and the Integrity of Creation.
'The sessions with Fr Kevin have helped raise awareness of how our province can prioritise projects in the various regions to make a difference to those most in need. We have examined the principles: now we want to develop a policy and practice.'