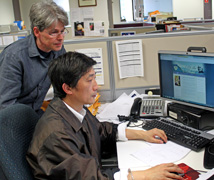 Cath Comm's Vlodek Latanik (graphic design) and Mark Wei (I.T.) working on the site / Business manager, Selina Hasham, children's illustrator, Noel Myaing, and Vlodek Latanik
Colin web site close to launching
As the dedicated web site for Marist Founder, Jean Claude Colin, comes closer to launching, many people in the backgound continue their work of developing the site, www.jeanclaudecolin.org.
Sydney Archdiocese's Catholic Communications office staff have played a major part in design and creation of the site, while many others continue to contribute through translations (especially of the 'Fr Colin Leaflet' - now in 47 languages) and as consultants for the web content and its Marist history and themes.
The work of translating the site into French, Spanish and Portuguese has begun thanks to the skills of Frs Francisco Chauvet (Mexico) and Paddy O'Neil (Brazil).
The site will be officially launched on Nov 15 to commence the 'Colin Year' focusing on the Founder and his Cause for Beatification.