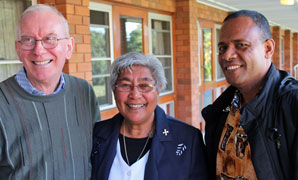 From left: Fr Paddy Stanley SM (Ireland), Sr Rosemary Simon SM (Fiji), Br Josefo Logayau SM (Bomana, PNG). / Offertory procession PNG style
Colourful Marymount celebrations
Three Marists were among grateful participants marking the conclusion of Marymount Centre's current programs.
In a colourful liturgy at the Caste Hill, NSW, centre on Jul 28 an international group of 32 sisters, priests and brothers concluded their 'Journeying with new members' and 'New Life' programs.
Irish Marist and former Oceania missionary, Fr Paddy Stanley SM, presided at the Eucharist for participants and friends from Australia, Bangladesh, Burma, Fiji, Hong Kong, India, Indonesia, Ireland, Kenya, Kiribas, NZ, Philippines, PNG, Samoa, Taiwan and Tonga.