Passing of world's oldest Marist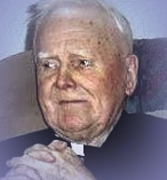 Fr George Duggan SM died peacefully at the Home of Compassion, Silverstream, NZ, on Sun, Dec 16. He was 100 years of age, a Marist for 81 years and a priest for 78 years.
At the time of his birthday in July, we noted: "Thoroughout his priestly life Fr George ('Chalky' to his Marist confreres) has been noted for his forthright defence of Church teaching, in hundreds of letters to editors, in periodical articles, and in several books, so showing an exemplary sense of the Marist commitment to loyalty to the Pope and the Church.
"He has been controversial. But many have found a difference between the 'public' G.H.D., who could be sometimes sharp in writing, and the 'private' man who, as many Religious Sisters have said, has been a wonderfully kind and understanding spiritual director. He has served the NZ Marist province and the Church in the seminary, in parishes, colleges, as foundation Master of Rochester Hall, Christchurch, and Master of Second Novices."
May he rest in peace.