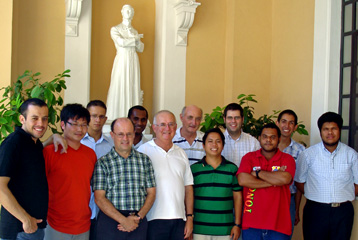 Back row, from left: Lauro Ferreira (Brazil), Paul Buleban (Vanuatu), Fr John Larsen (NZ), Daniel Fernandez (Spain), David Sanchez (Mexico). Front: Fernando Torres (Mexico), John Guo Wang (China), Fr Pedro Alarcon (Mexico), Fr Tony Corcoran (Australia), Dindo Calvo (Philippines), Xavier Sariman (Papua New Guinea), Jean Carlo Mujica (Peru).
First reflection day for international students
Near a statue of Oceania martyr, St Peter Chanel, at the General House of the Society of Mary, Monteverde, Rome, is the community of the Marist International Theologate with Australian, Fr Tony Corcoran SM (centre, front row).
Superior of the formation community, Fr John Larsen, reports: 'Tony gave us a wonderful morning speaking on Christ as the Revelation of God ... quite profound and deeply personal at the same time.
' It was the first morning of a programme we hope to develop of having a recollection morning every first Saturday of the month at General House.'
The young community is the most international in the Marist world comprising 13 members from 11 different nationalities: Brazil, China, Fiji, Mexico, New Zealand, PNG, Peru, Philippines, Spain, Tonga and Vanuatu.