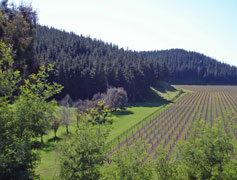 Contrasting views from the Pacific's two Marist novitiates
Changes to International and Pacific novitiates
Superior-General, Fr John Hannan SM, and his Council have made changes concerning two Marist novitiate centres in the Pacific.
In a communique from Rome on Feb 08 it was announced that the International novitiate (for novices from Europe and NZ) will be relocated from Taveuni, Fiji, to 'Maryknoll', Taradale, NZ, overlooking the famous 'Mission' vineyards, pioneered by Marists in the last century. The novitiate for Pacifican novices will remain at Tutu, Taveuni, Fiji.
Kiwi, Fr Pat Breeze SM, will be the international novice master, with a socius soon to be appointed. At Tutu, Fr Fritz Arnold SM will be the socius, with the novice master to be announced shortly.