---
Welcome to the website of the Australian Marist Province
Updated: May 20, 2019
---



Graduations in Thailand

Fruits of the Bridge Program and Marist Mission



Passing of Fr Chris Austin

'Gentle, good-humoured and uncomplaining' Marist goes to God



Ormiston retreat

Picturesque prayer



BP-ers' invitation

ACU graduation on Thai-Myanmar border



Marist news from Africa and USA

Latest Marist newsletters

May news and Members



Fr John Thornhill's 90th

Theologian celebrates
The greening of Rome

Monteverde's community initiative



Fr Long Down Under

Filipino Marist's Sydney visit



Second chance for education

Also St Patrick's breakfast for the homeless.
Superior-General's reflection

Fr John Larsen's thoughts for May



70 years of MMC

Mission Centre celebrates 'a trinity of parts'



Provincial Circular

Latest issue at Members' Page



Euroinfo for April

Marist news from Europe

April news and Members page



On whatever distant shore...

Anniversary of Marist approval



St Peter Chanel

Feast Day of 'the man with the good heart'. New: 'Short prayer service'



Happy 97th, Br Colin!

Province's oldest Marist celebrates



Dialogue at Ranong

Marists, Buddhists and Muslims



Ecological conversion

Fr Peter Healy on serious world decisions



Fr Hoppy's Easter letter

Update from Bolivia



A taste of Anzac

Marist wartime memories



Passing of Fr Jack Soulsby

Charismatic Marist missioner in ninely countries




Way of the Cross

Combined churches' walk to Villa Maria



St Dympna, for victims of abuse

Downtown pastoral initiative



St Peter Chanel novena

Nine days of prayer for vocations



Now you see it...

... and now you don't. Monastery eucalypt gone.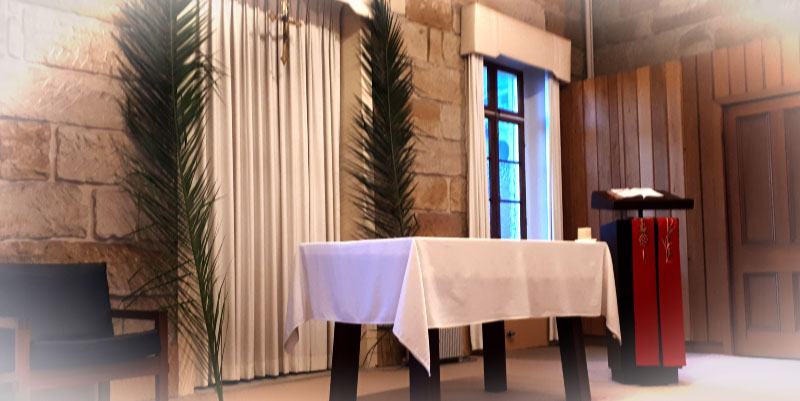 Bishop Tino

New bishop of Wallis-Futuna



Peace, people, planet...

Pope Francis addresses international gathering



Superior-General's reflection

Fr John Larsen: our Holy Saturday experiences
Fullness of Life

Website redeveloped for Perth agency



New life for Dakar's street boys

Fr Christian Abongbung's ministry in Senegal



Newsletters & bulletins

Local and international Marist updates



Woolwich Marist Sisters honoured

110 years of educational service



Superior-General at Mission Centre

70th anniversary preps.



The BP story

Higher education for young refugees



Fr Tony Kennedy in Cameroon

Theologate rector visits Africa District
'To the ends of the world'

Pacific featured in Spanish Marist publication



Veggies in the forest

Cameroon Marists' eco project
e-Bulletins USA

Vocations Week and World Youth Day



Marist Charism & Culture

Latest immersion experience



Superior-General's reflection

Fr John Larsen's Lenten message



Provincial Circular

Latest issue



Lent, meat and our planet

How eating meat affects the planet



The telegram from Rome

Advise La Neylière immediately!
Paddington update

New faces at 'House of Welcome'



Beekeeping and our Common Home

Fr Pat Brophy and latest Blog from Rome



Fr Aliki's ukuleles

Tongan strumming at Villa Maria



'The Source'

Casa di Maria newsletter



Reaching for Excellence

Initiative for Atlanta's Marist students

JPIC



Oceania news

Latest bulletin from Pacific Marists

February news and Members



Seven Fountains retreat for Fr Bob

30-day exercises at Chiang Mai



ACRATH in action

Sr Noelene Simmons and latest JPIC blog from Rome

JPIC



Fullness of Life workshops

Perth Centre's 2019 program



International novitiate bulletin

Novices' experiences in Davao



Europe & USA bulletins

Marist international news



Superior-General's reflection

Guatemala experience of Marist youth



Provincial installation

Packed chapel at Montbel ceremony



Bolivia bound

Fr Hoppy's mini-sabbatical ends



'Blessed unrest'

This week's JPIC blog: Fr Peter Healy on 'Ecological conversion'

January news or JPIC



Crash !

Trespassers, beware



Two Marists OAM

Australia Day awards to Frs Paul Pidcock and Kevin Bates



Le Rameau

Seminarians' colourful newsletter from Africa
Sisters' jubilees

70 and 60 Marist years for Sr Margaret Purcell and Sr Marie Berise



Final Mass at Guatemala

Marist youth celebrate



International blog launched

Interactive JPIC site up-and-running

January news or JPIC
Novitiate begins

In Davao, Philippines, international group prepares for Marist commitment



Weaving life

Marist youth in Guatemala



Vocations video

Marists on Facebook



Fr Ray Chapman to lead Colinian course

2020 program at La Neylière
Anniversary of mission entrustment

1836 event



Salusalu

Oceania seminarians' colourful newsletter
Marist news from Europe

Community ideas for 2019



Superior-General's reflection

Fr John Larsen's New Year message



Montbel soirée

New Year balcony celebration



New leadership duo

Fr Tony Corcoran takes office; Fr Peter McMurrich continues