---
Click here for News 2008 to 2017 | Click here for News 2018 then go to News tab above
---
Brazilians' retreat
Spirited song and dance were features of the recent retreat for Sydney's Brazilian Catholic community. Former missionary in Brazil, Fr Paul Mahony, reports that over one hundred and sixty attended the weekend event at Bringelly. [Nov 29]
---
Champagnat group meets
Local members of the Association of St Marcellin from St Joseph's College, Hunters Hill, gathered for a Eucharistic celebration on Nov 28 in the chapel of nearby Champagnat House. The lay association numbers over nine hundred throughout Australia and plays a key role in the ongoing development of lay responsibility for Marist education.
Br Anthony D'Arbon welcomed the group to the Brothers' community who entertained their guests with a social gathering following the Mass. [Nov 28]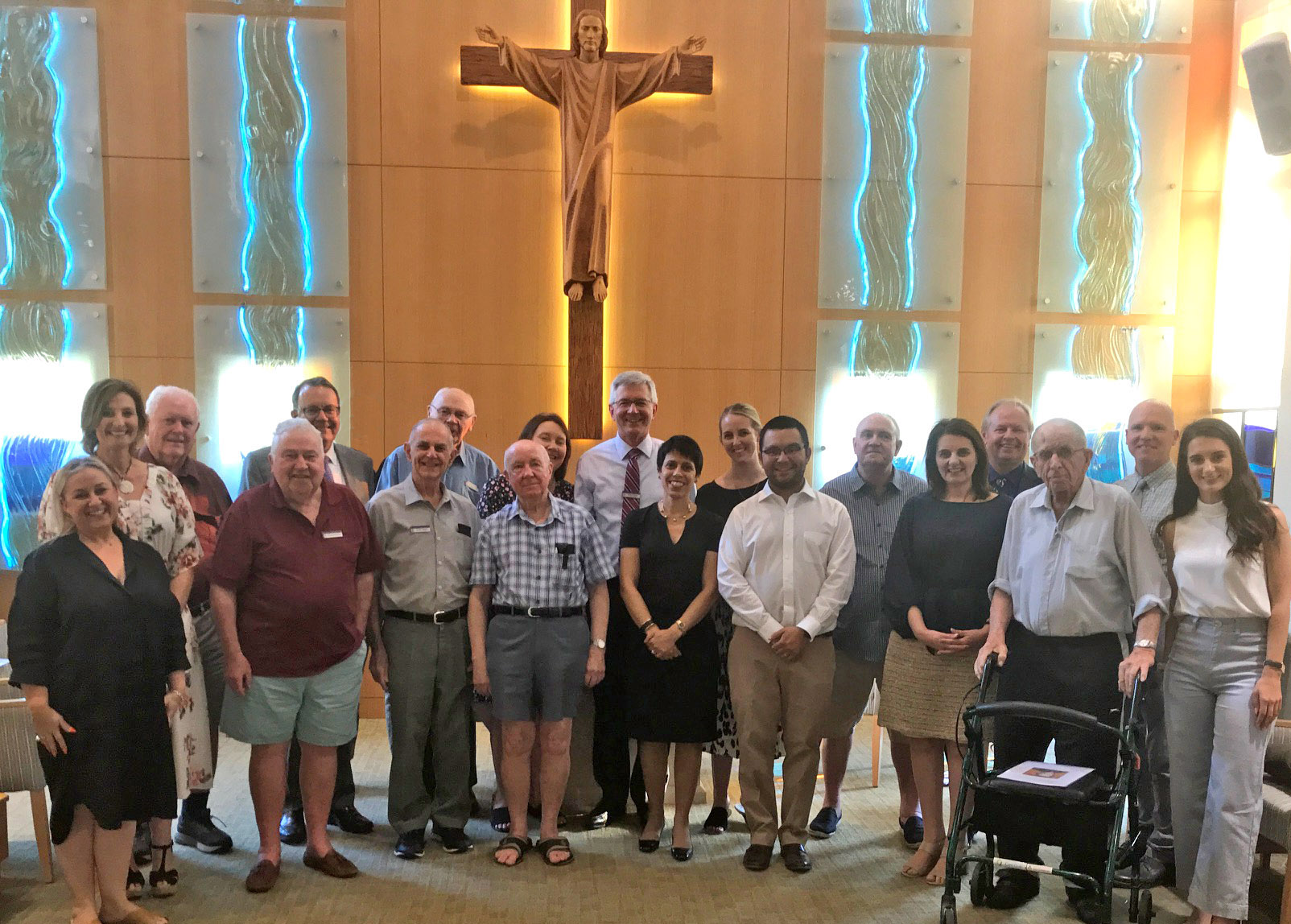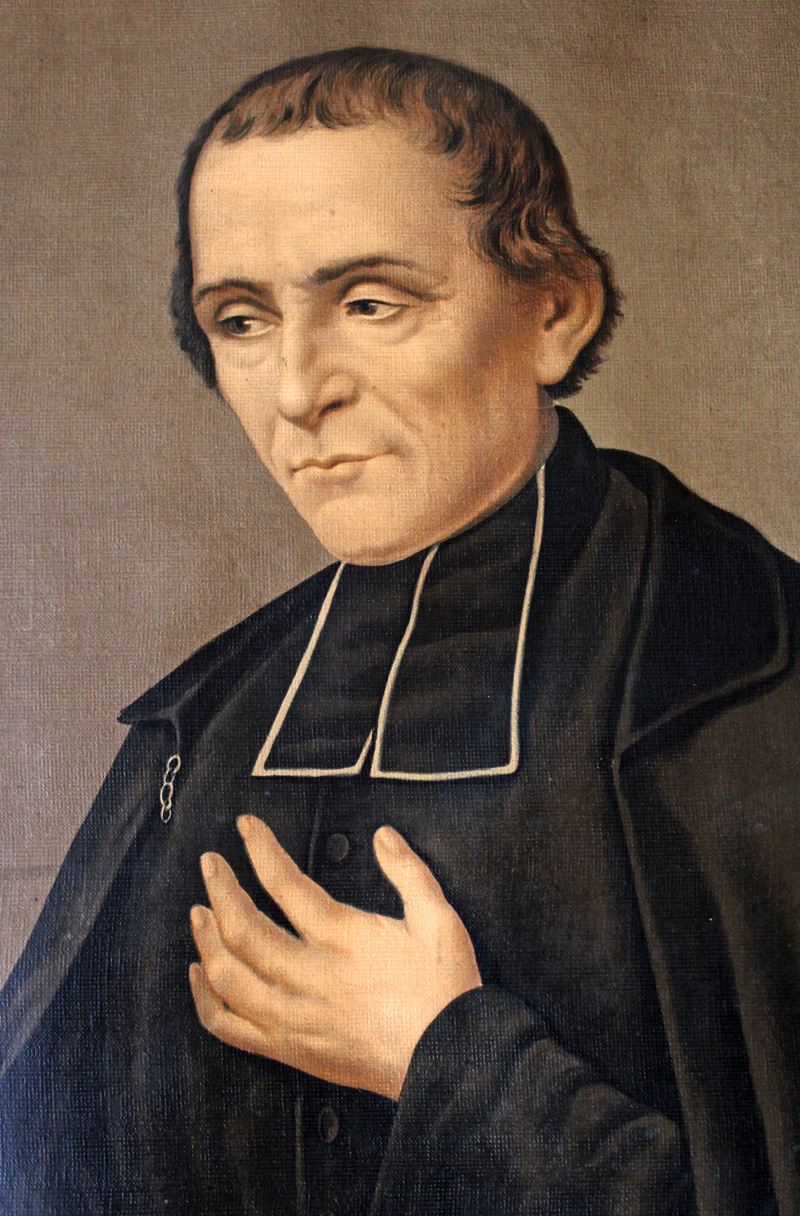 ---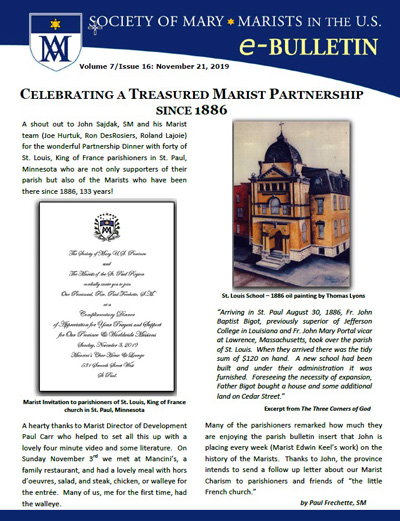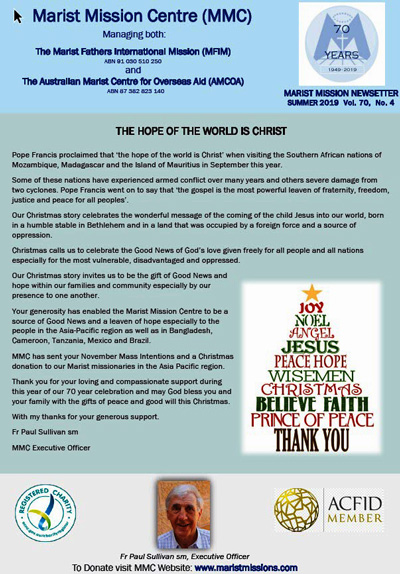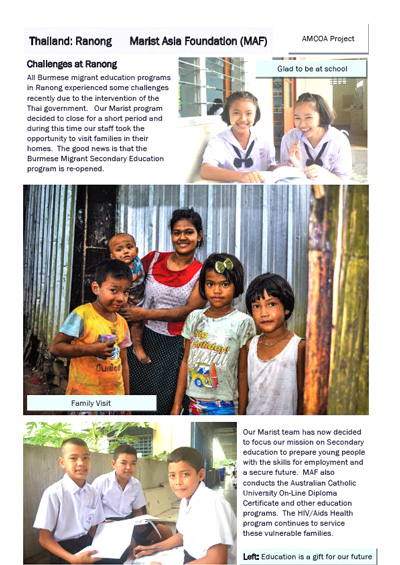 ---
Marists farewelled at Gladstone
On Oct 22, Rockhampton's bishop, Most Rev Michael McCarthy, presided at a Mass for clergy and religious in Star of the Sea church, Gladstone, Qld, to begin three days of events to farewell the Marist Fathers after more than a century of service in the region.
A parish dinner and farewell liturgy will complete the weekend's events.
Pictured below: Bishop McCarthy and retiring parish priest, Fr Kevin Redmond SM, with local clergy and visiting Marists in Star of the Sea church. [Nov 23]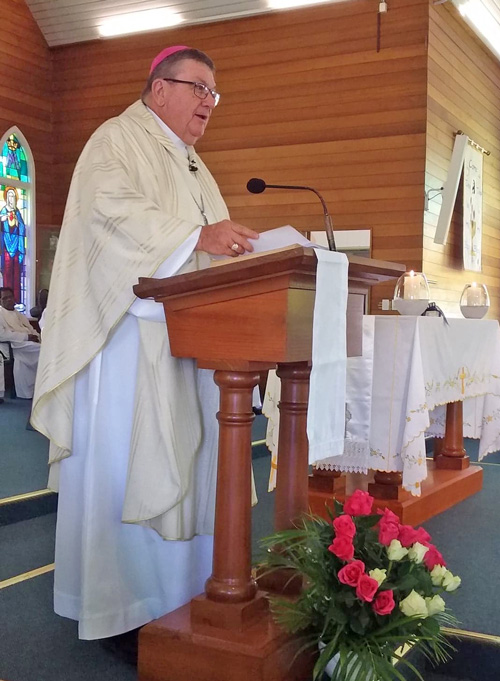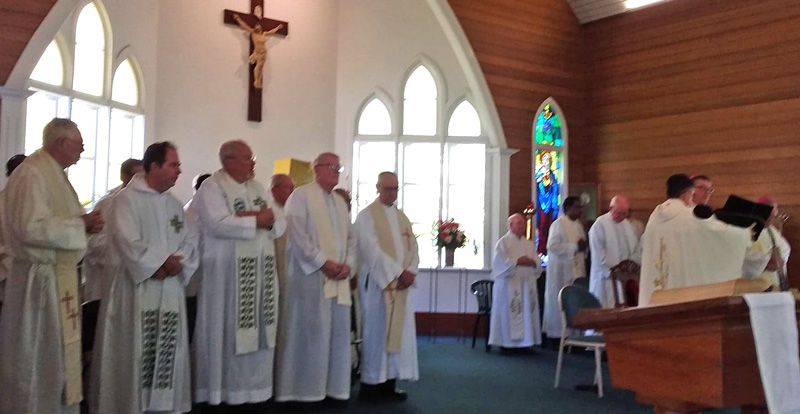 ---
Different weather
From La Neylière, France, Australian Marist, Fr Ray Chapman, reports: 'Greetings to all in Australia! Sorry to hear of your difficulties with bushfire, extreme heat and thick smoke. Here in France the situation is quite different - as you can see from the photos taken last Sunday at La Neylière where I am living. Thinking of and praying for you all. God bless, Ray.' [Nov 20]
---
Montbel's ten years
Marist Fathers, Sisters, Brothers and laity gathered at the Australian Province's Aged Care facility, Montbel, on Nov 15 to mark its tenth anniversary.
Montbel was opened and blessed by the late Fr Paul Cooney SM on Nov 15, 2009. The November date was chosen to honour Marist Founder, Fr Jean-Claude Colin (see below, Founder's anniversary)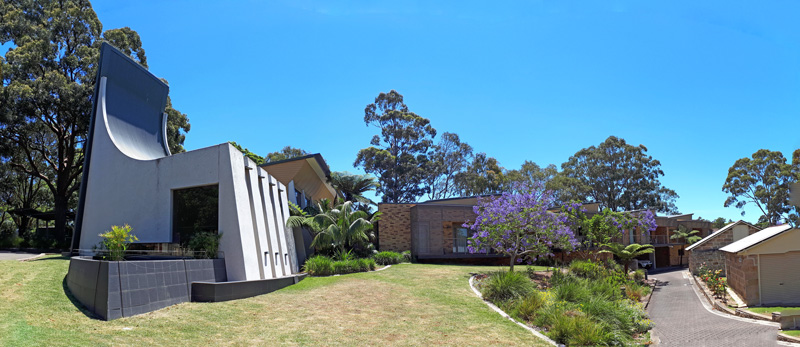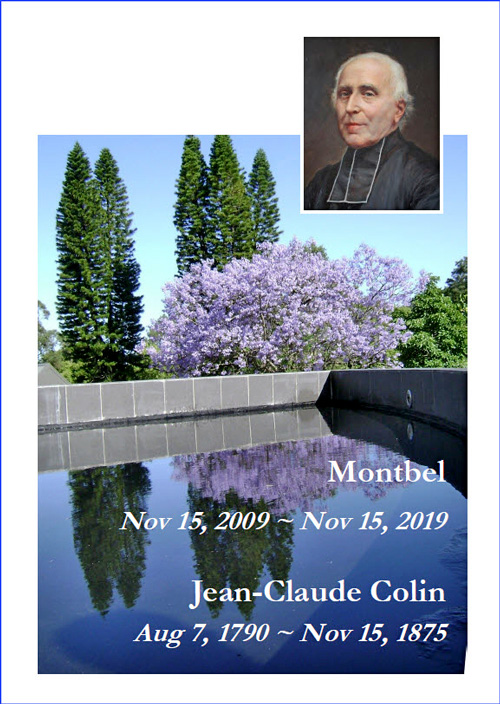 Above: Montbel today | The anniversary prayer leaflet (click here to download) | Below: Celebrations began with a short service of prayer and thanksgiving in the Montbel chapel. | Deceased Montbel residents remembered | a 'full house' of prayer. | Marist Family conviviality on Montbel's eastern verandah.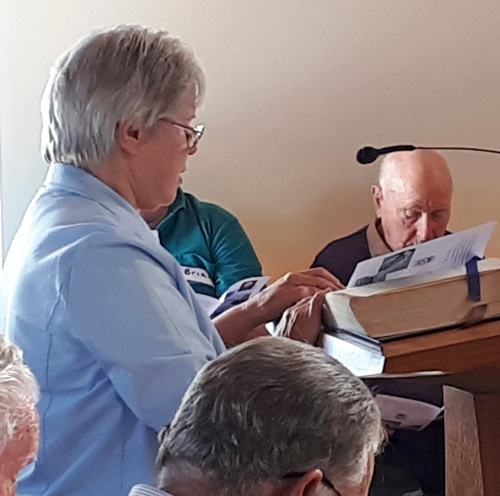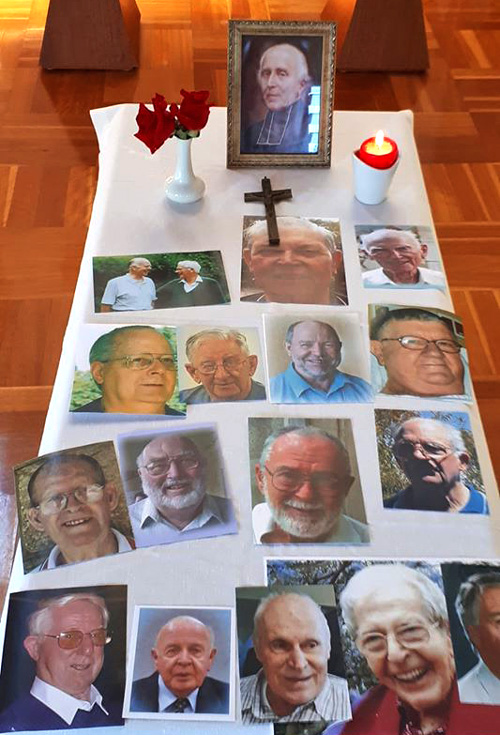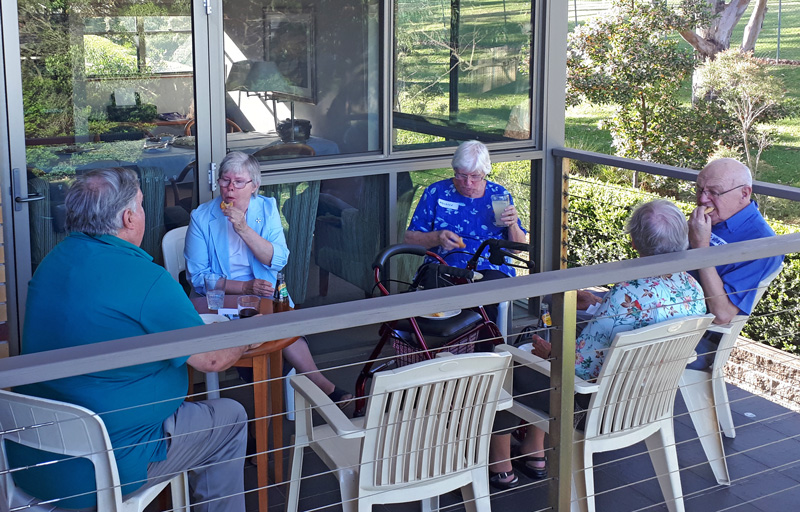 Below: Flashback to Nov 15, 2009, with Montbel's first community superior, Fr Garry Renolds SM, speaking at the opening and Fr Paul Cooney blessing the facility.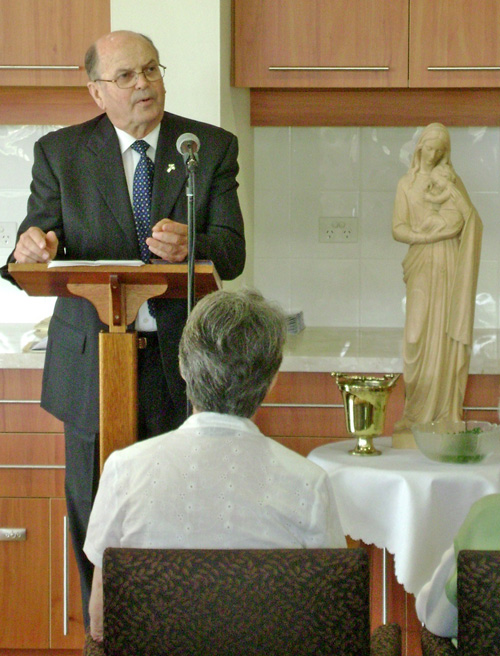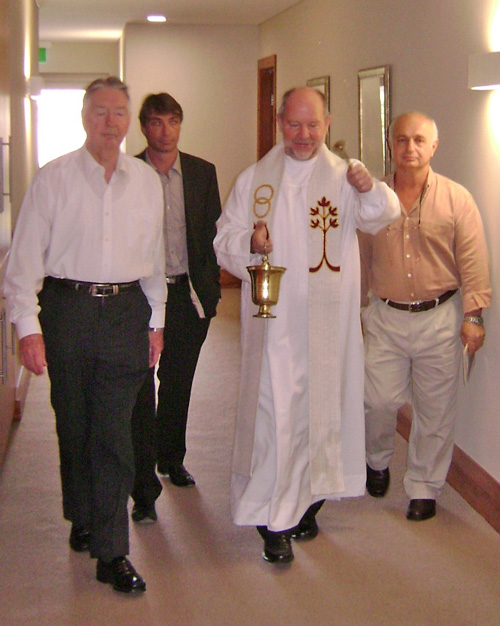 ---
Founder's anniversary
Marists throughout the world are preparing to celebrate the Nov 15 anniversary of the death in 1875 of Jean-Claude Colin at La Neylière, France.
For a commemorative liturgy, click here. [Nov 14]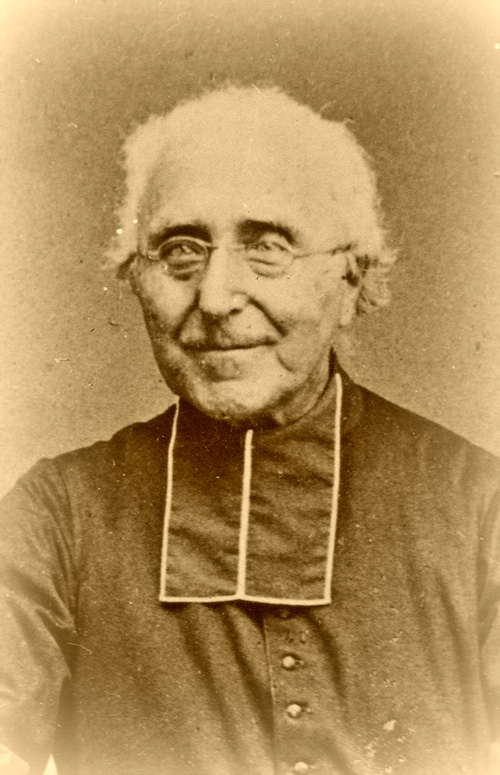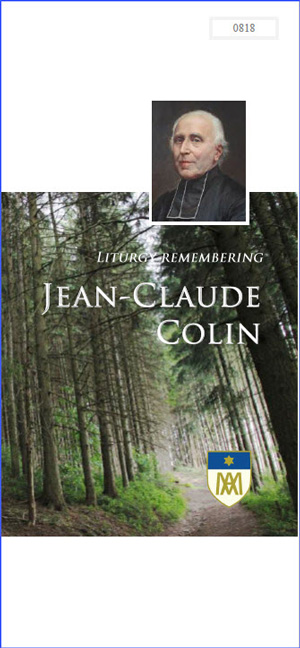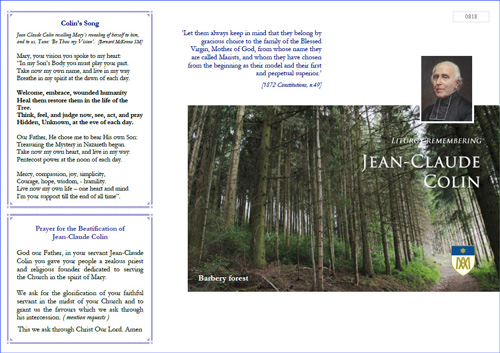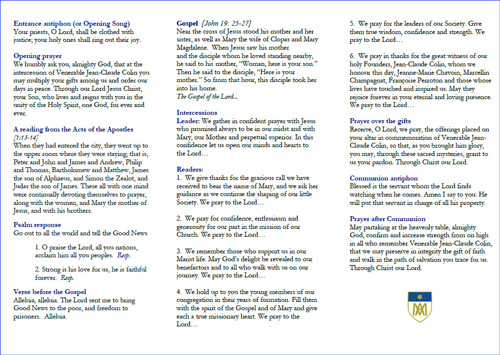 Above: Photograph of Jean-Claude Colin taken at the General Chapter of 1866. Fr Colin was then 75 years old. | The commemorative liturgy leaflet. Below: La Neylière in winter | Sunset view from Fr Colin's bedroom window. Further below: The original coffin used in Fr Colin's 1875 burial in the grounds of La Neylière. | The coffin used for re-interment in 1961. | Present burial place of Fr Colin, with headstone renewed in 2015.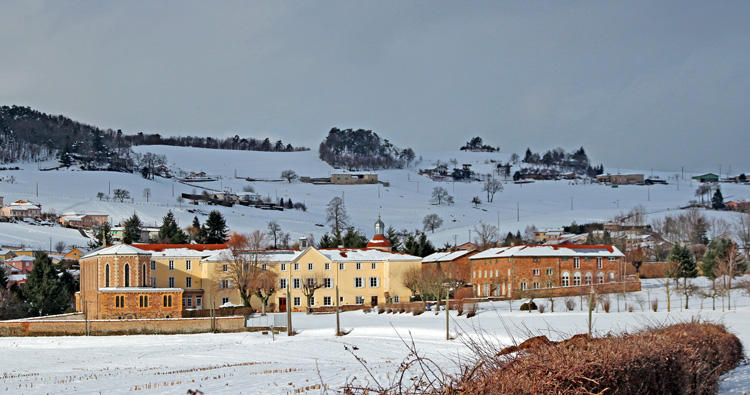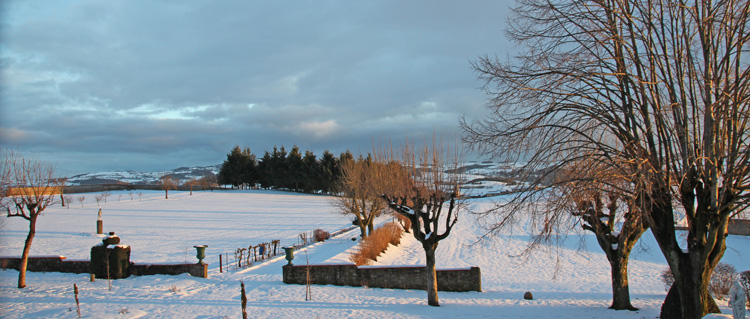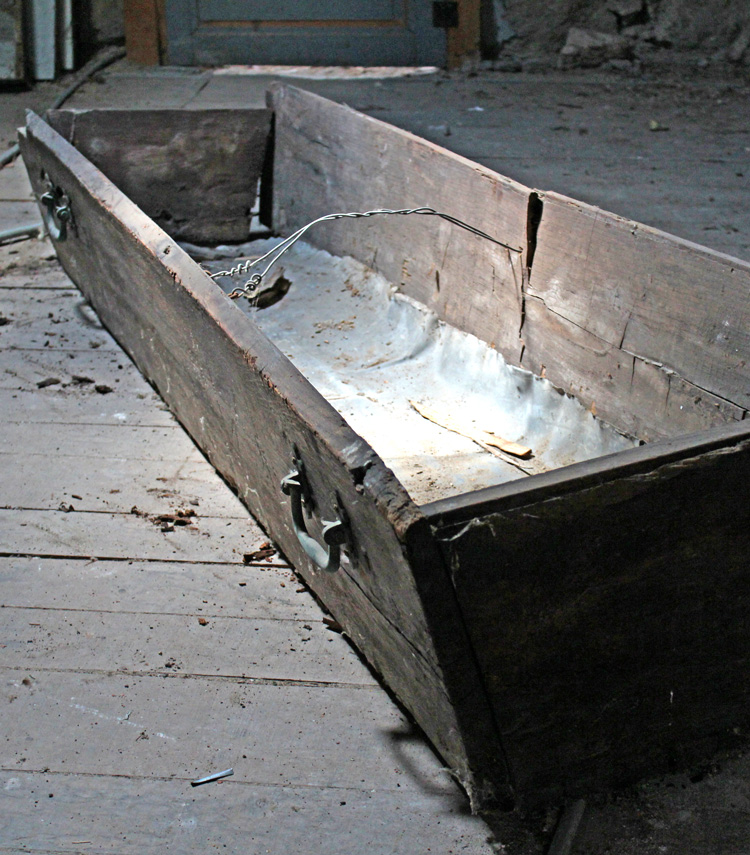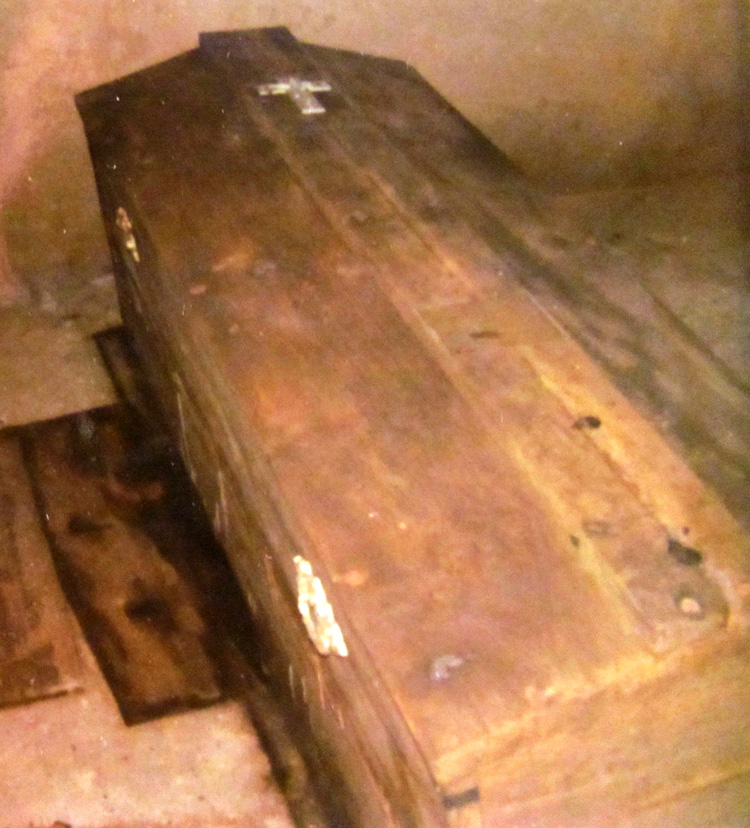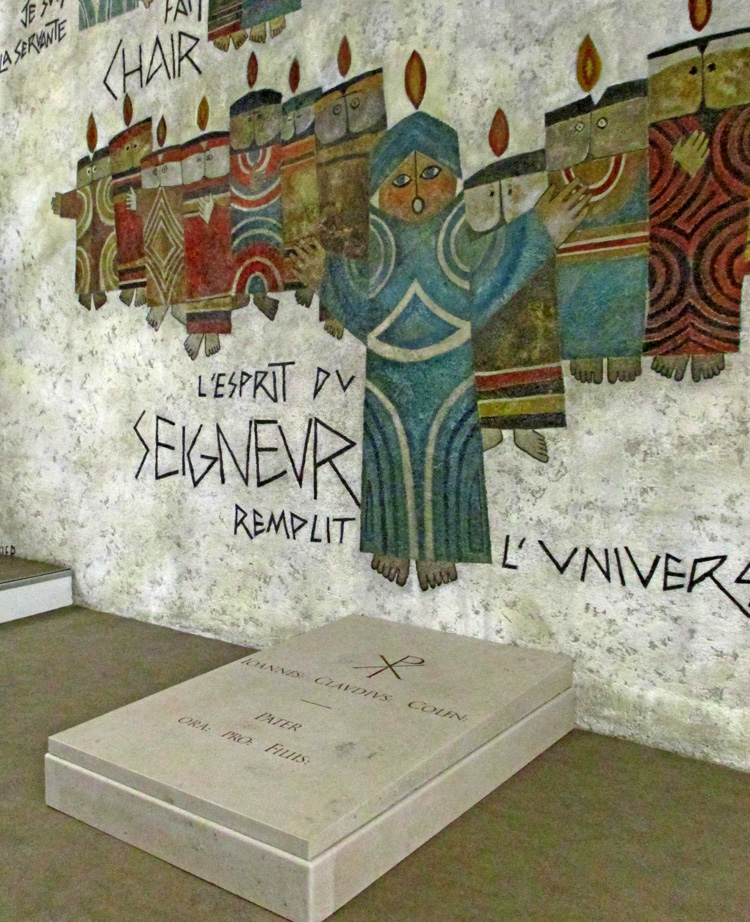 ---
Seven Marist deacons
Three weeks after their final profession as Marists, seven young men were ordained to the diaconate in Rome on Nov 09. The seven come from as many different countries and reflect the international character of the Society of Mary and its future.
Congratulations to our new deacons ! [Nov 10]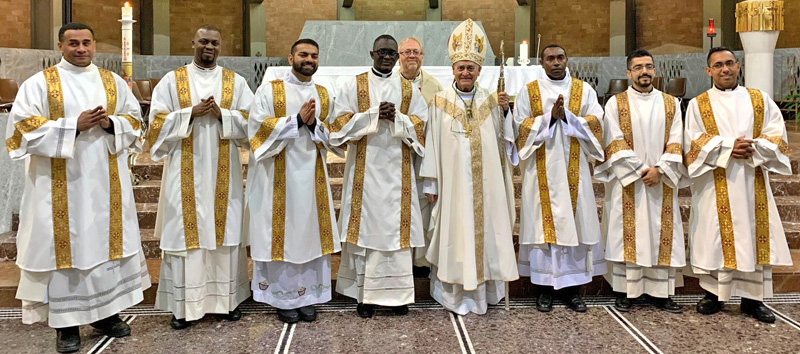 From left, Samuele Tukidia (Fiji), Guy Assogoma [Cameroon], Ben D'Souza [NZ], Stev Youm [Senegal], Floyd Gatana (Bougainville), Ricardo Gutierrez [Mexico] and Leandro Martins [Brazil], pictured with the ordaining bishop and Fr Tony Kennedy (at back, with ginger beard), rector of the Marist International Theologate.
---
Now you see it...
... and now you don't. Regular maintenance in the grounds of historic Villa Maria monastery, Hunters Hill, means occasional felling of dead or dying trees... like the one seen recently, below, near the mission cemetery. [Nov 08]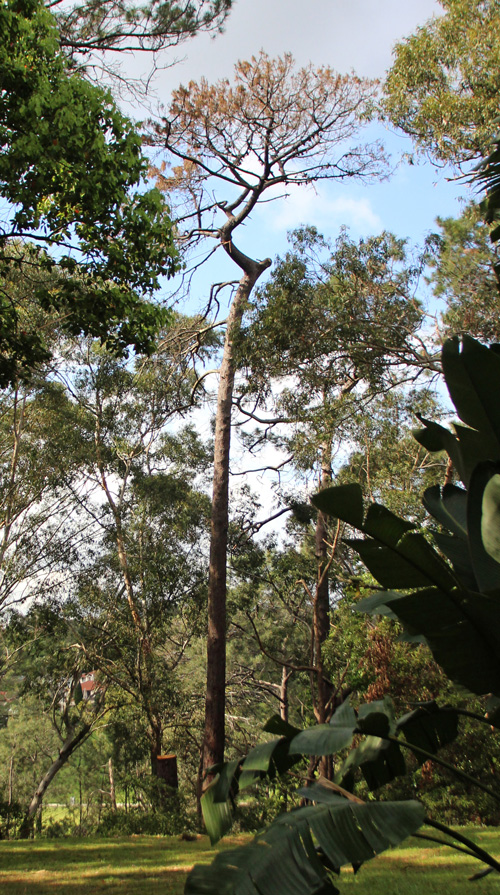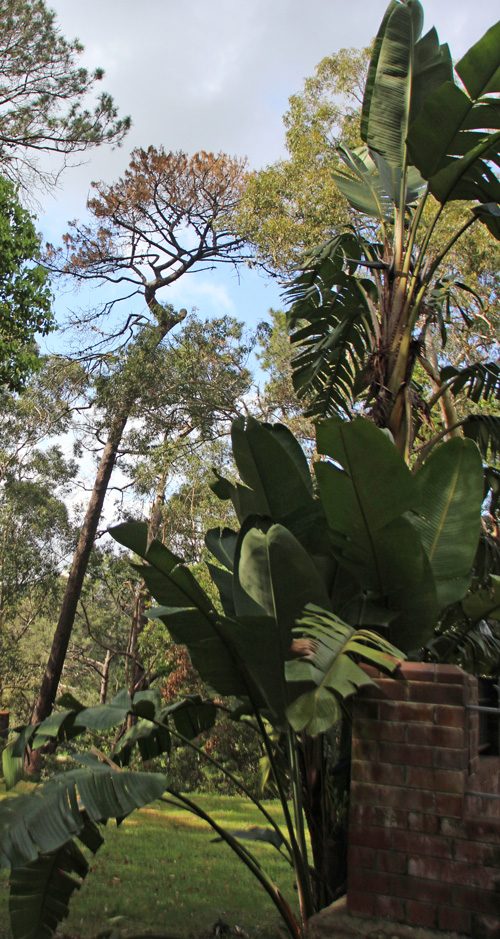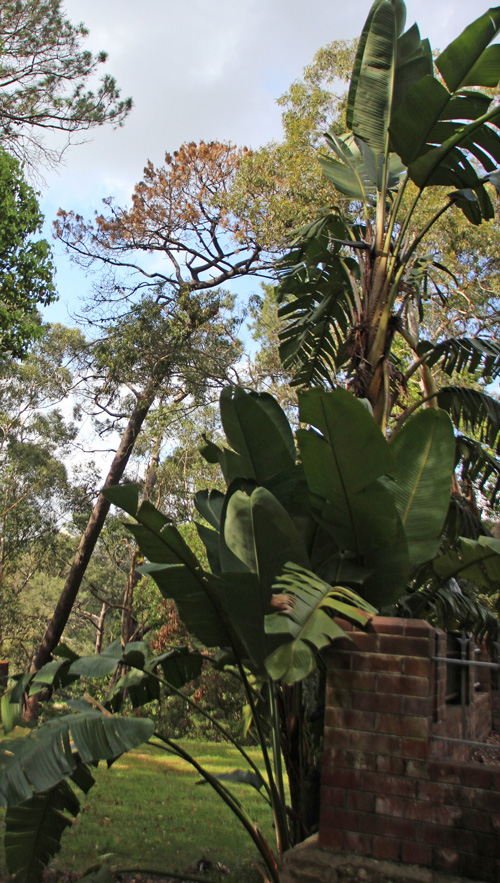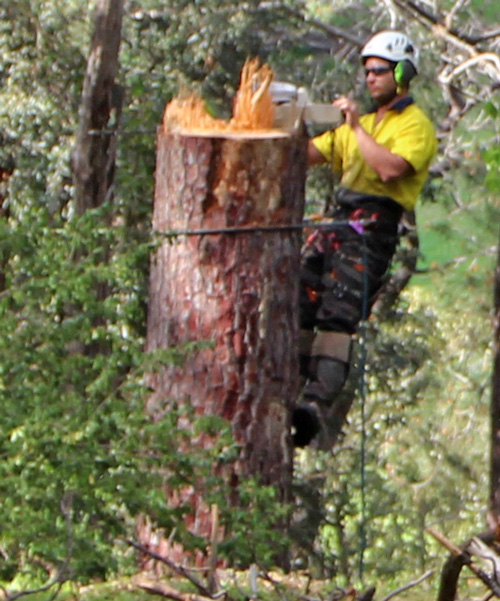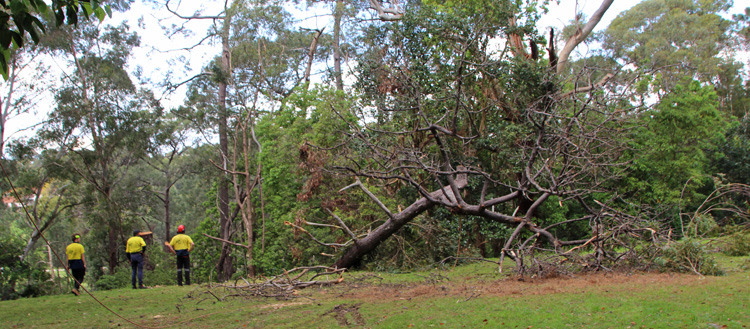 ---
Sr Grace Ellul's visit
The Marist Sisters report: 'Our Congregational Leader, Sr Grace Ellul, has just completed her visitation to Australia. During her visit Grace spent time with each sister and engaged in conversation and reflection about the whole Congregation.
'The Marist Sisters in Australia were delighted to have Grace in their midst over these days. At the end of her visit sisters who were able gathered at Hunter Hill. This was an opportunity to thank Grace for her visit and to celebrate her birthday a few days in advance of the event.'
Pictured below, Sr Grace is in the back row, fifth from right. [Nov 05]

---
Confreres remember
Pictured below: Br Charlie Randle, Frs Dylan Hatobu and Gerard Hall, at Nudgee cemetery, Brisbane, at the grave of Fr Jack Soulsby SM | Fr Ben McKenna (centre) with Fr Lauro Arcede SM and Marist aspirants at Davao, Philippines, at the grave of Australian missionary, Fr Philip Callaghan SM. [Nov 04]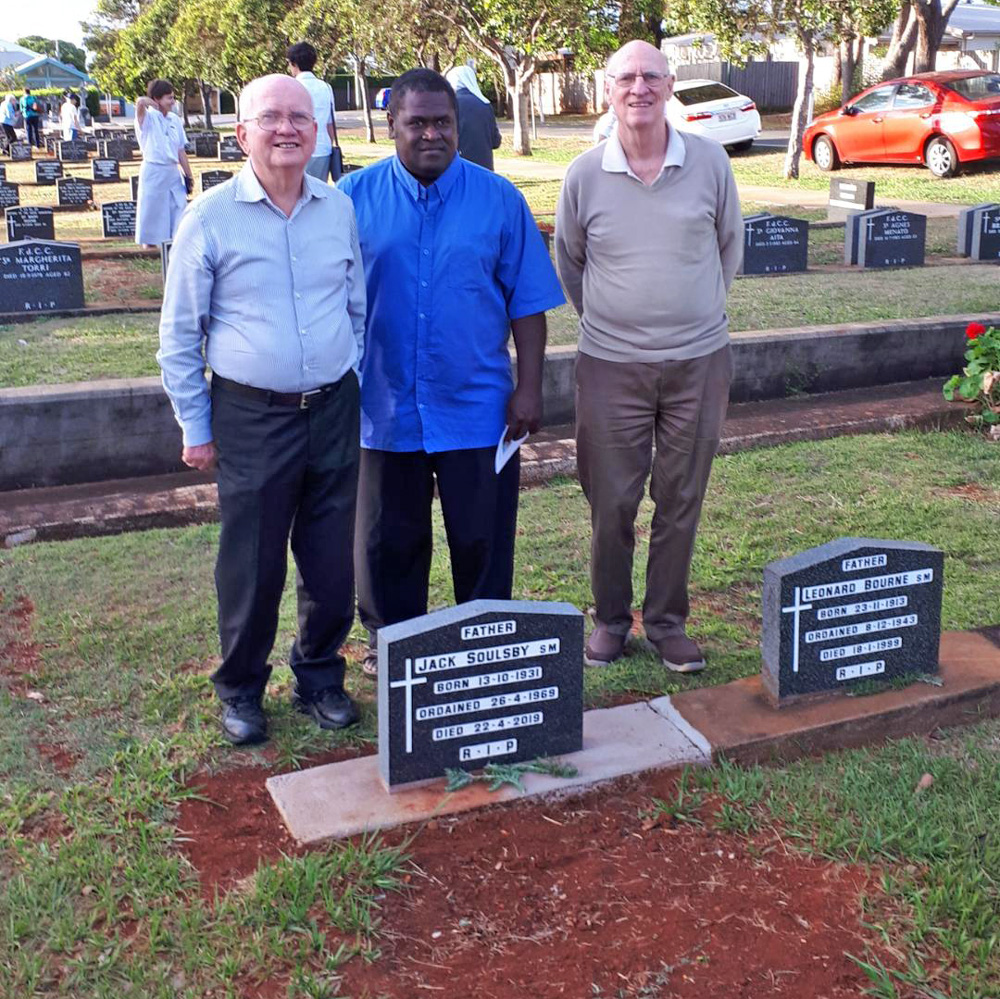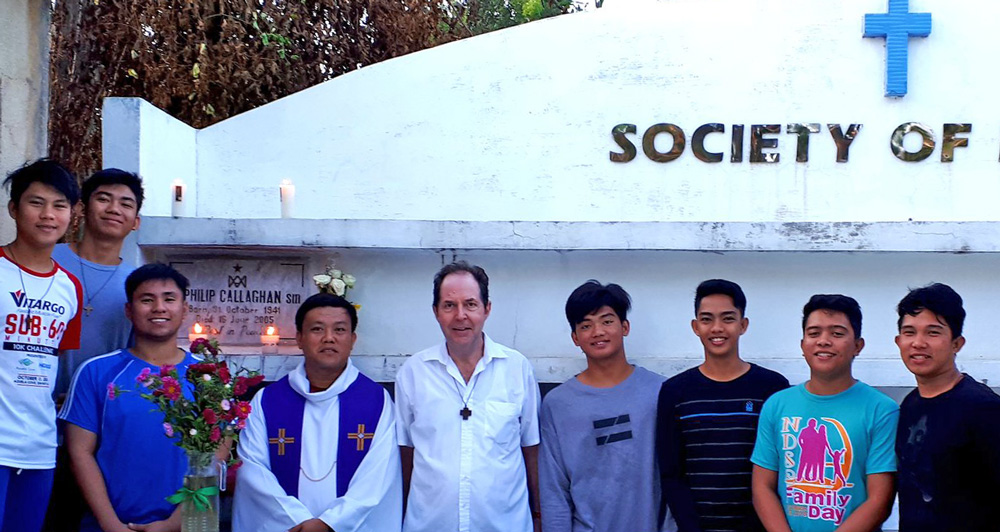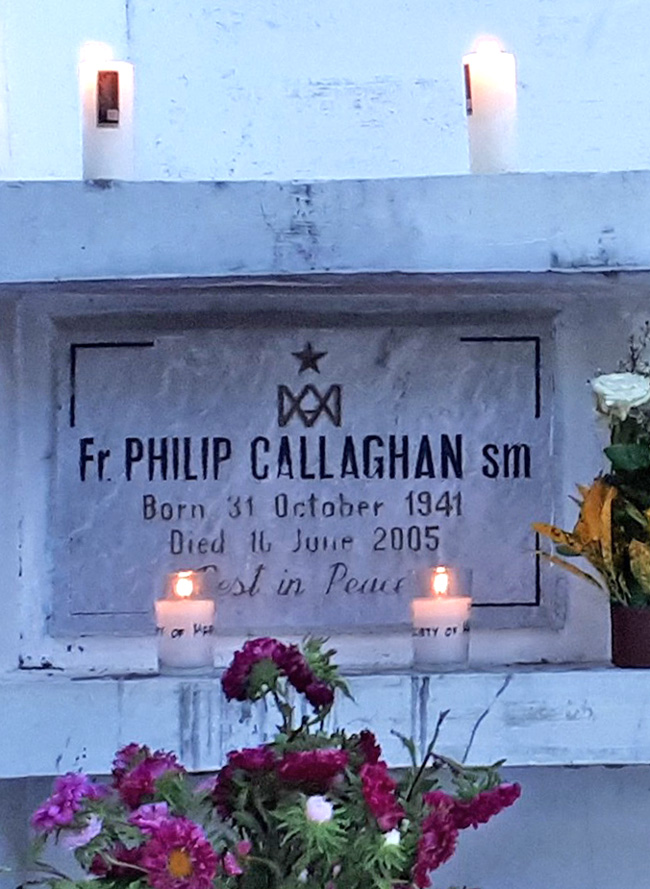 ---
From Rome
Except for a short summer break, Marists throughout the world hear weekly from their headquarters in Rome. At the beginning of each month Superior-General, Fr John Larsen, sends a personal reflection on topical issues, while at other times the weekly 'SM Bullletin' provides updates on Marist happenings across the globe.
Both bulletins are available to Marists on the Members page. [Nov 03]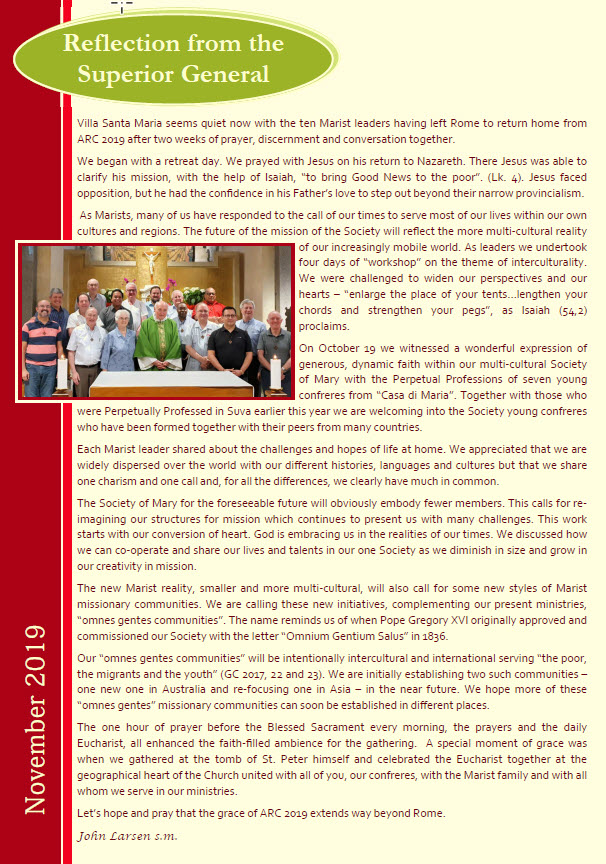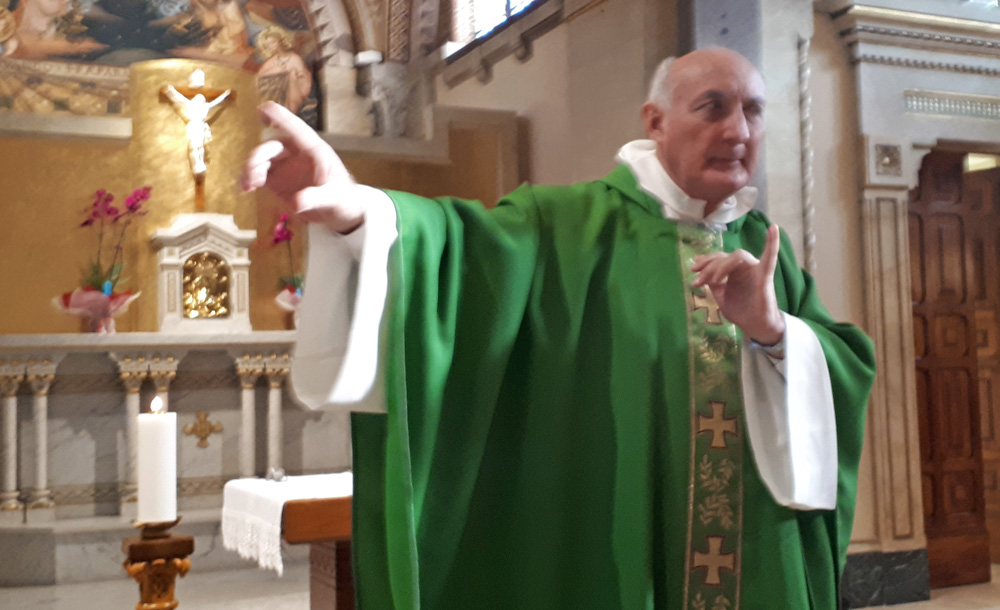 ---
Europe and Pacific news
For the latest newsletters, click below: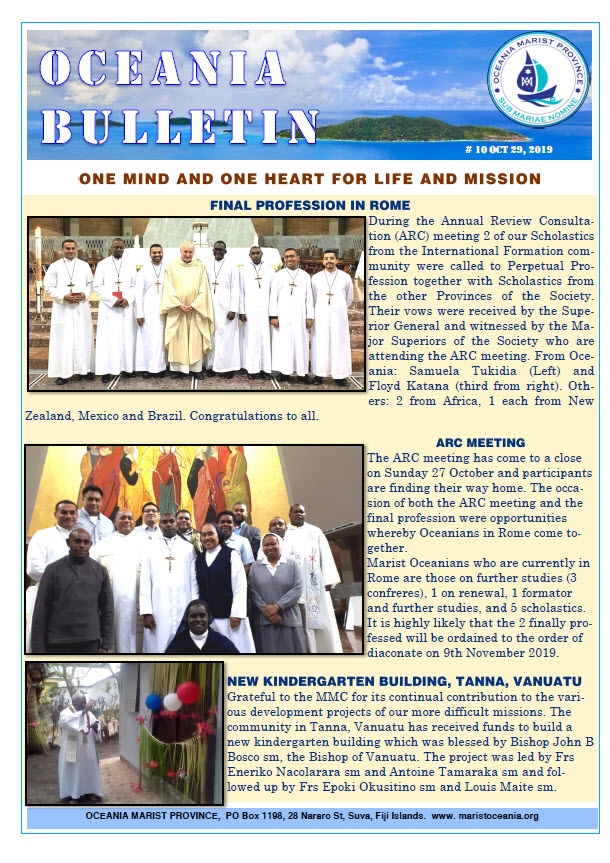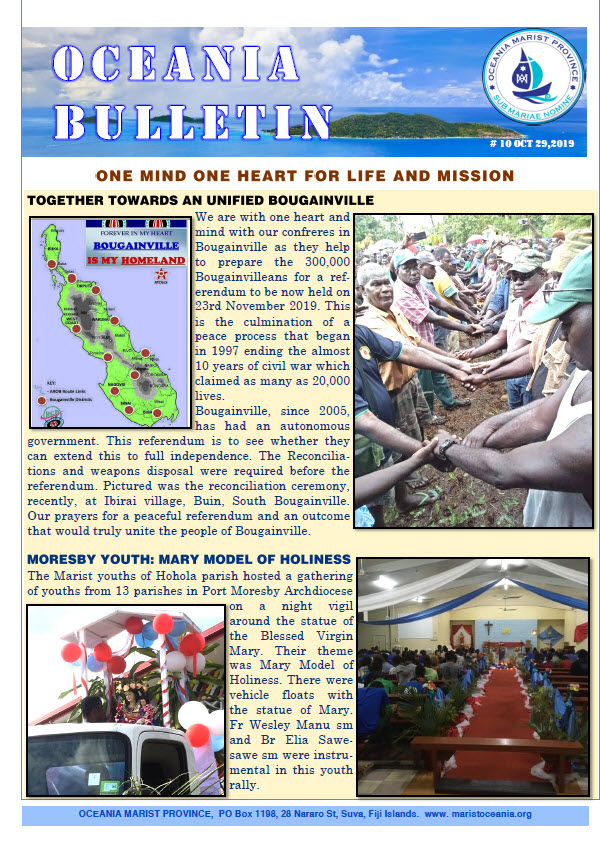 ---
Holy Souls prayer
Download a simple prayer leaflet for Nov 02's Commemoration of the Holy Souls. Click here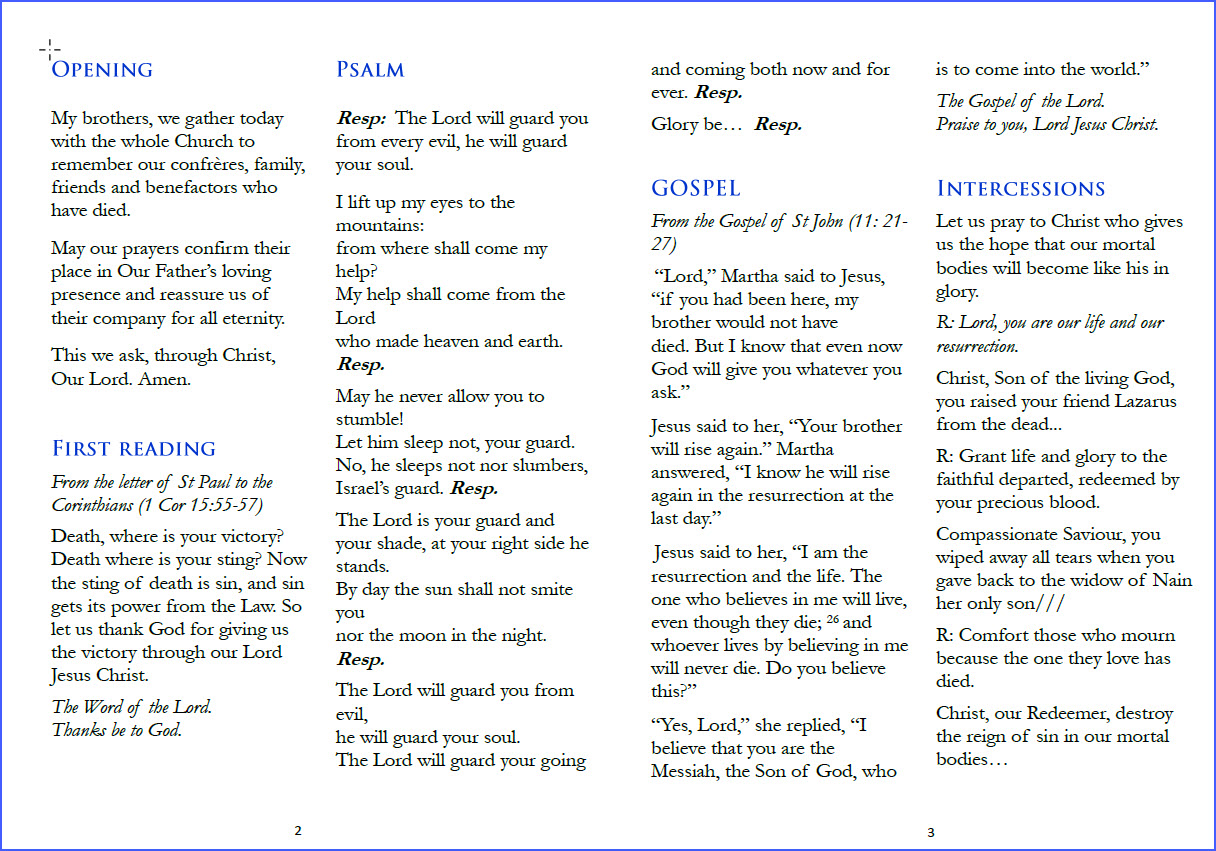 ---
Provincial Circular
Latest issue available at Members' page. [Nov 01]

---