---
January news
Colin calendar 2022 orders: click here

Click here for News 2008 to 2017 | For News 2018 to 2020 click here | For News 2021 click here
---
---
Praying for Christian Unity
Several Marists were present on Jan 25, Feast of the Conversion of St Paul, when Pope Francis led prayers for Christian Unity.
In the church of St Paul Outside the Walls, Rome, the Holy Father welcomed Metropolitan Polykarpos, the representative of the Ecumenical Patriarchate, His Grace Ian Ernest, the personal representative in Rome of the Archbishop of Canterbury, and other Christian leaders during Second Vespers prayer of the feast day and in the fifty-fifth week of Prayer for Christian Unity.
Pope Francis said: 'Dear brothers and sisters, let us take from the Magi directions for our own journey, and do as they did, returning home "by another road" (Mt 2:12). Like Saul before his encounter with Christ, we need to change course, to invert the route of our habits and our ways, in order to find the path that the Lord points out to us: the path of humility, fraternity and adoration. O Lord, grant us the courage to change course, to be converted, to follow your will and not our own; to go forward together, towards you, who by your Spirit wish to make us one.On this path, the Magi can help us. Let us consider this evening their journey, which had three steps: it began from the East, passed through Jerusalem, and at last came to Bethlehem.'
Pictured below: Frs Ben McKenna, Christian Abongbung and Pat Devlin from the Marist General House, Villa Santa Maria. | Pope Francis and church leaders in St Paul's Outside the Walls.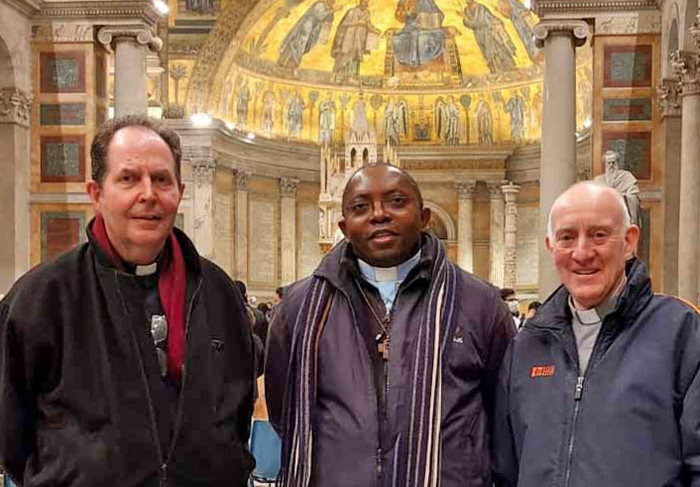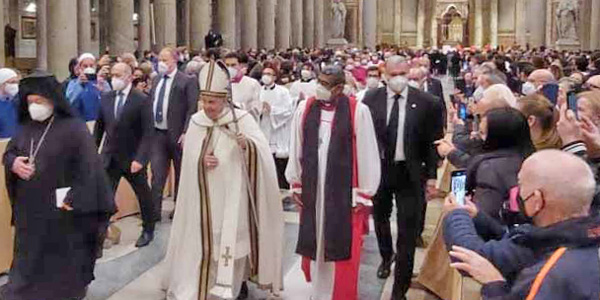 ---
'Enrich, Encourage, Assist'
Seventy-five Marists gathered by Zoom on Jan 28/29 for an online seminar on vocations. Presentations focussed on the Marist Vocation Year's three objectives,'to enrich, encourage and assist' . The seminar was led by Fr Daniel Fernandez SM on behalf of the Society of Mary's international 'think tank' group on vocations.
Language-based breakout groups discussed three talks given by Brigitte Coffin-Chaignon (lay Marist, Toulon, France), Fr Tim Costello SM (NZ) and Fr Juan-Carlos Piña SM (Rome). The next seminar is planned for Apr 29. [Jan 29]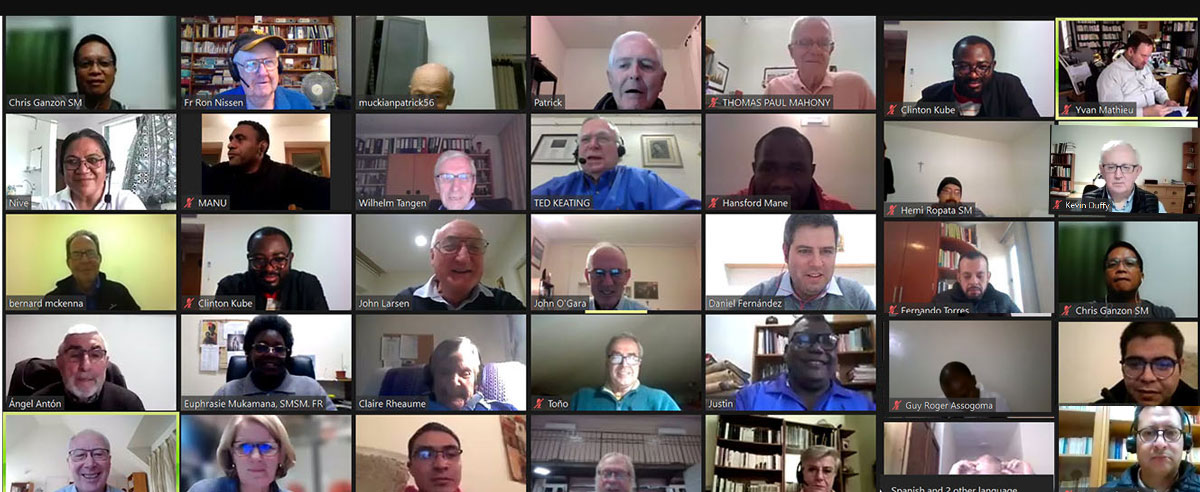 Above: Some of the seventy-five seminar participants, from most Units of the Society of Mary and including novices from the international Marist novitiate in Tuscany, and theology students of Casa di Maria, Rome,. Below, from left: Zoom host, Fr Daniel Fernandez, and presenters, Ms Brigitte Coffin-Chaignon, Frs Tim Costello and Juan-Carlos Piña.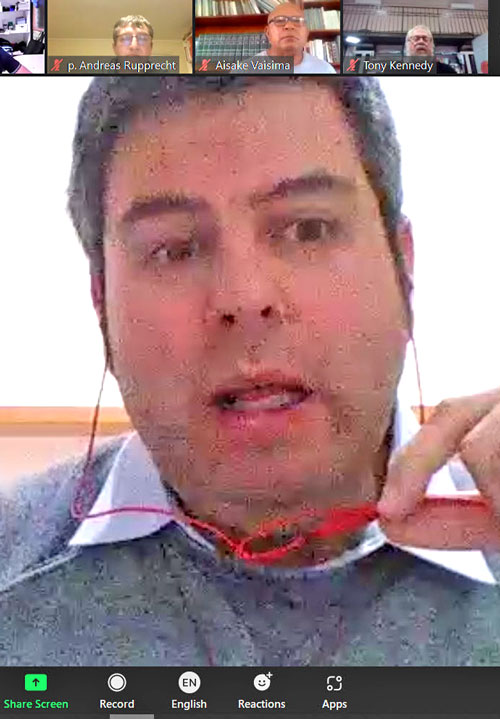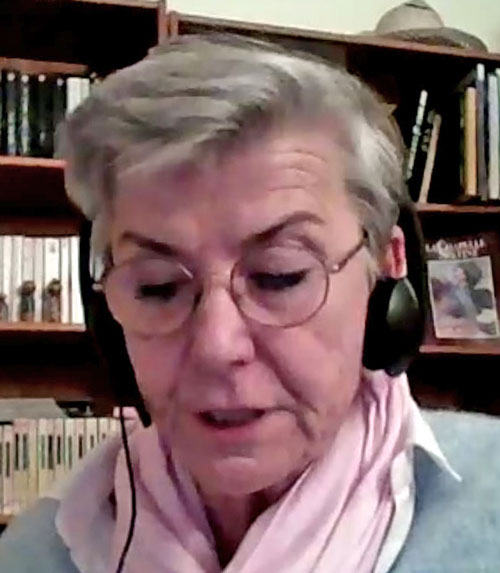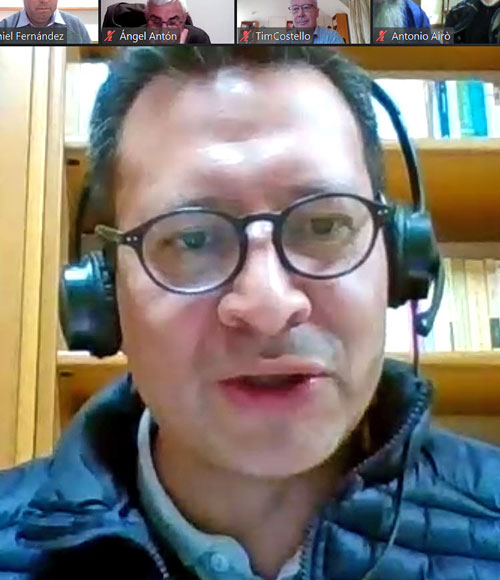 ---
SM Bulletin
From Rome, this week's SM Bulletin reports of St Egidio community's prayer for the people of Tonga, rooftop power at the General House and on the latest SM Index presently being distributed. For the SM Bulletin, click here or go to Members' Page. [Jan 29]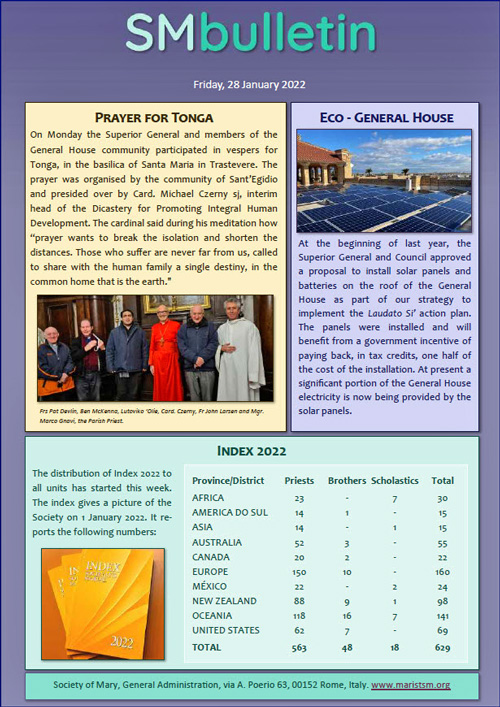 ---
Marist Lay award nomination
Member and former leader of Marist Laity Australia, Maria Baden, has been nominated by her local community for the Australian of the Year awards.
MLA reports: 'Kiama Council has announced lay Marist Maria Baden as Australia Day Citizen of the Year for 2022. Maria has received the Award for her humanitarian efforts with Rosemary Kariuki (Local Hero Australian of the Year 2022), welcoming vulnerable migrant women and their families to her farm in Gerringong, NSW. The pair's humanitarian work has received worldwide attention thanks to the documentary film 'Rosemary's Way'.
'The award also recognises Maria's progressive approaches to animal husbandry and land management. Maria and husband Gerhard maintain a strong emphasis on animal ethics in managing their Wagyu beef cattle herd on their Rose Valley property. This progressive approach has also seen the establishment of a rainforest reserve on their land, featuring more than 500 native plants, with the support of local Landcare groups and the Aboriginal community.
'Maria is the former leader of Marist Laity Australia and played a foundational part in establishing Marist Laity Australia in the late 1990s and early 2000s. She continues to play an active role and has also been an active promoter of Christian meditation. Over the years running many Christian meditation groups and initiatives in her local Kiama area. We congratulate Maria for all her work and recognise her deep connections between her Social Justice work and her spirituality.' [Jan 25]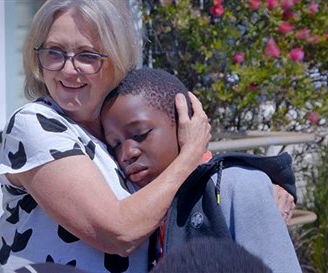 ---
SM Bulletin
This week's SM Bulletin reports on the volcanic eruption in Tonga, Dala's new church in the Solomon Islands and on an online seminar as part of the Marist Vocation Year. For the SM Bulletin click here or go to Members' Page. [Jan 21]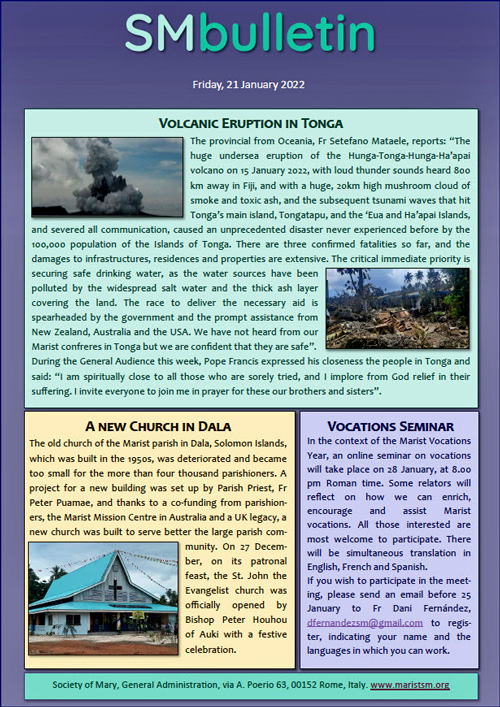 ---
'The Call to Be' goes online
From the Aquinas Academy and Catalyst for Renewal, The Call to Be team announces the decision to go online due to prevailing Covid restrictions. The first online lecture series will be A Catholic Way of Reading the Word of God presented by Robert Tilley with sessions on February 2, 9 and 16, 10am – noon.
The team advises: 'To attend the Zoom lectures please register your interest by emailing This email address is being protected from spambots. You need JavaScript enabled to view it. and you will be sent the payment details, the Zoom ID and study notes prior to the first lecture.'
The course is described: 'The Gospels present the crucifixion as being the fullness of the meaning of the Scriptures; the words of God are fulfilled in the Passion of the Incarnate Word of God. In a like manner, St Paul wrote that instead of concerning himself with miracles and philosophical wisdom he preached the word of the Cross. Throughout her history and up to the present day the Church has been led by the Holy Spirit to bring out treasures old and new from the Scriptures, treasures that flow from the Cross of Jesus Christ and that speak of the love of the Father. In this series we begin with the binding of Isaac by Abraham, then journey through the prophets, till we reach the New Testament, all the while showing how contemporary and medieval approaches to Scripture can complement each other. We will do this by way of what the medievals used to call the Quadriga, a way of ordering our reading that mirrors the hierarchically ordered architecture of the Jerusalem Temple.' [Jan 21]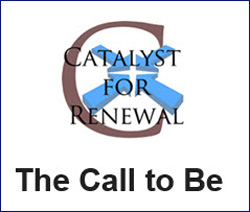 ---
Laity Guide
Marist Laity Australia has posted 'Marist Laity - A Basic Guide' on the MLA website. The simple resource has audio accompaniment for each module. Click here. [Jan 19]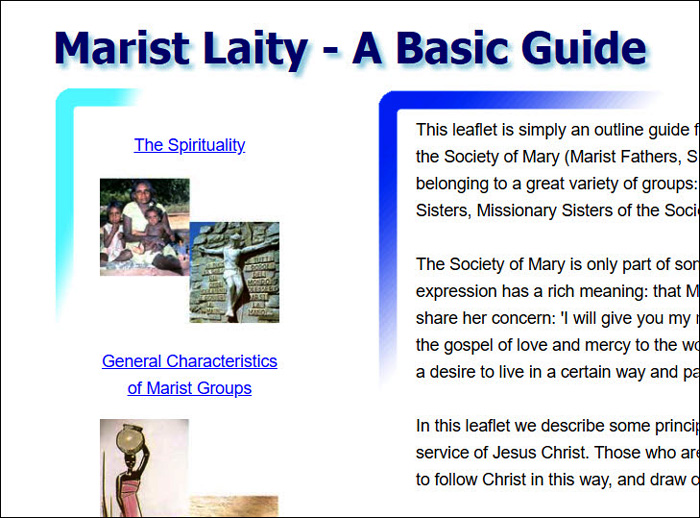 ---
SM Bulletin
From Rome, this week's SM Bulletin reports on first professions in Africa, start of the International novitiate in Italy, a new provincial for Europe and the start of the new mission in Australia. For the bulletin, click here or go to Members' Page. [Jan 14]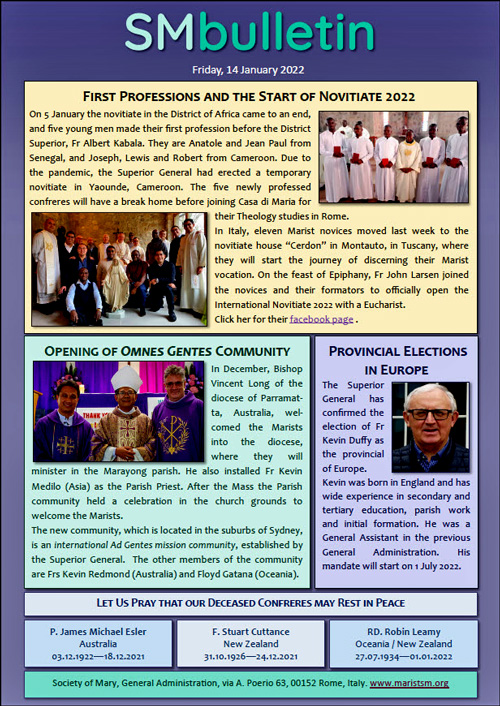 ---
Euroinfo
Important news in the latest Euroinfo is the election of a new provincial for the Marist European Province, Fr Kevin Duffy SM, who takes office in July. For Euroinfo, click here.or go to Members' Page [Jan 12]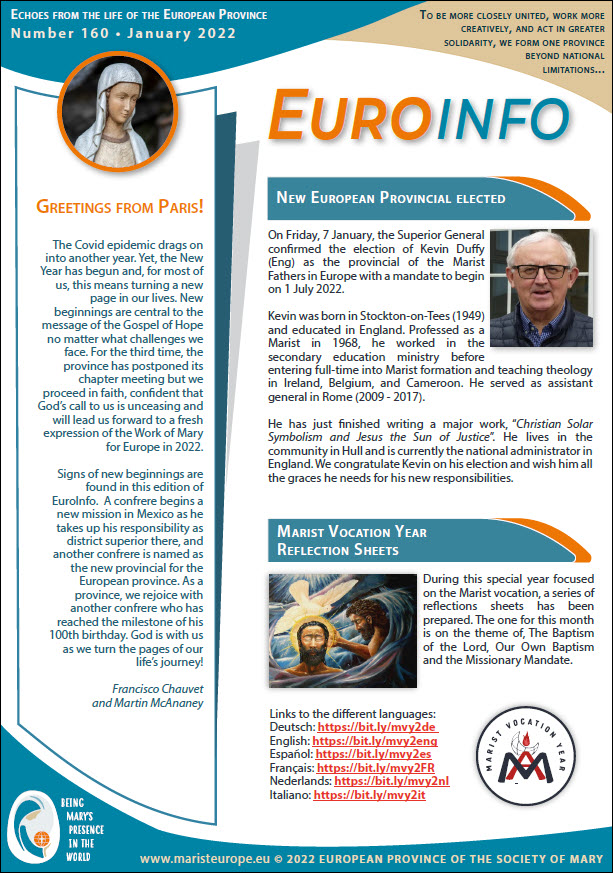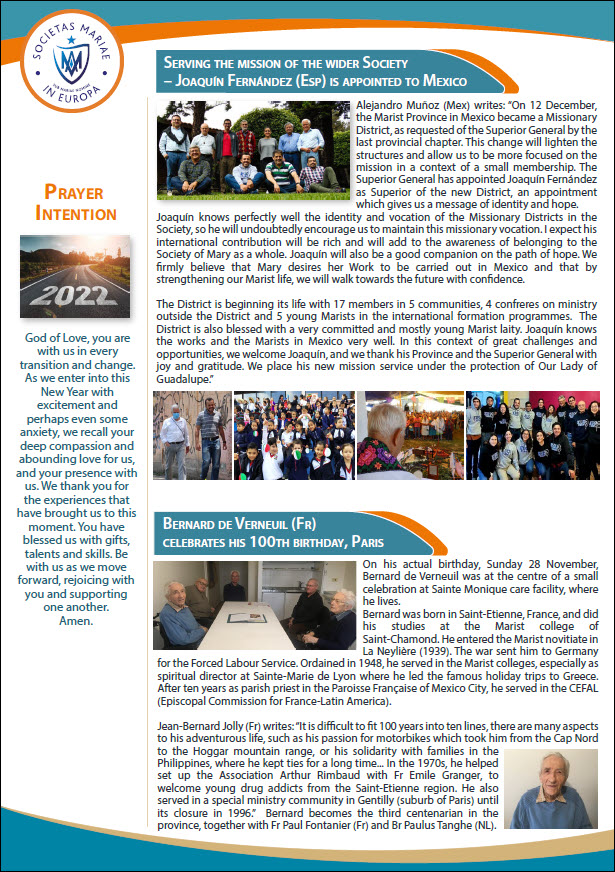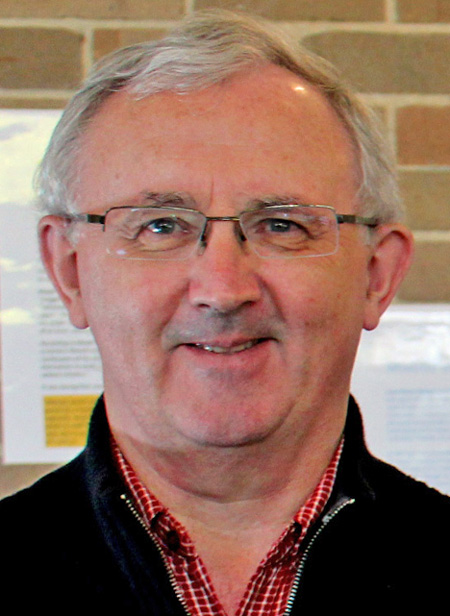 ---
Marist Laity e-Newsletter
The January issue of Marist Laity Australia's e-Newsletter links to a range of articles on the MLA website: click here. [Jan 10]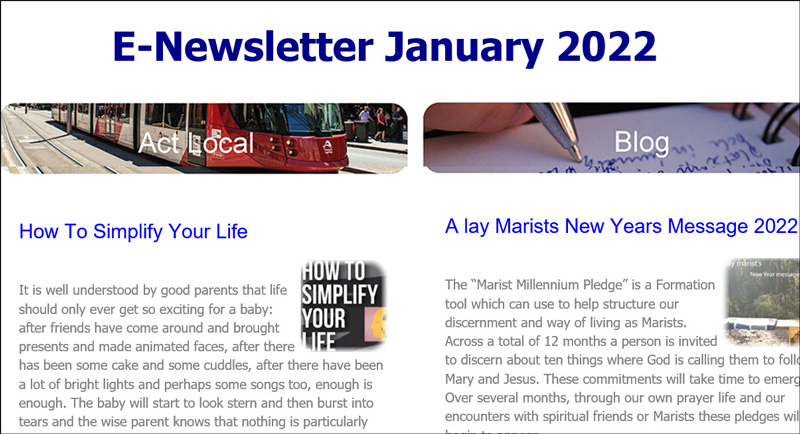 ---
First mission anniversary
Jan 09 marks the anniversary in 1825 of the first parish mission endeavour by the pioneer Marist Fathers. Frs Jean-Claude Colin and Etienne Déclas climbed the steep track from the village of Cerdon to the church of St Amand, La Balme, high in the Bugey mountains of eastern France. .
The La Balme mission, from Jan 09 to 25, was preached in the depths of a Bugey winter and followed by many more in subsequent decades as the Catholic Church recovered from the assaults of the French Revolution. Marist historian and biographer, Fr Justin Taylor SM, describes the beginning of the mission in chapter 7 of 'Jean-Claude Colin, Reluctant Founder': click here
Below: St Amand's church, La Balme. | Winter view of Cerdon from La Balme, [Jan 09]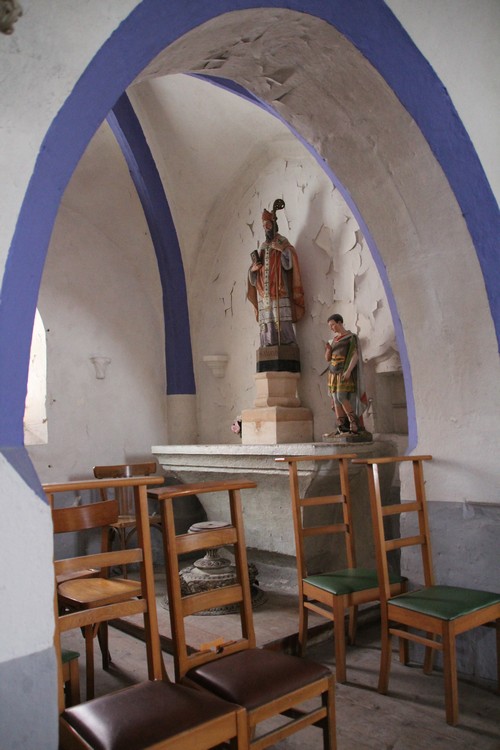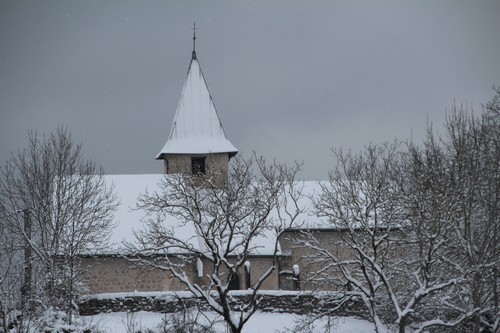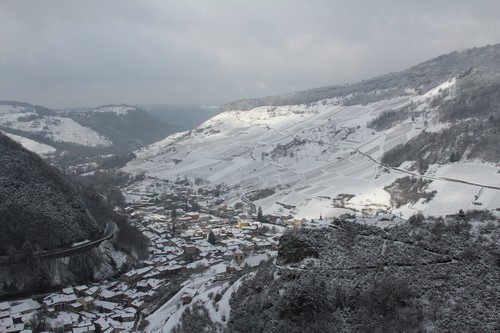 ---
Superior-General's reflection
From Rome, Fr John Larsen's first monthly reflection for the year focuses on 'synodality' and invites Marists to engage in a process and way of life which resonates so clearly with a genuine Marist spirit. For the reflection, click here or go to Superior-General's page. [Jan 07]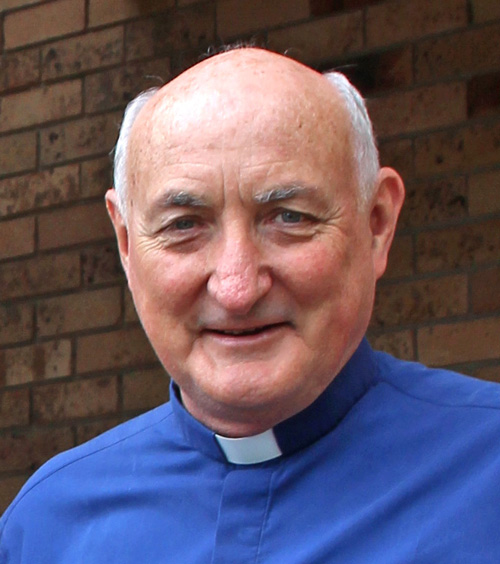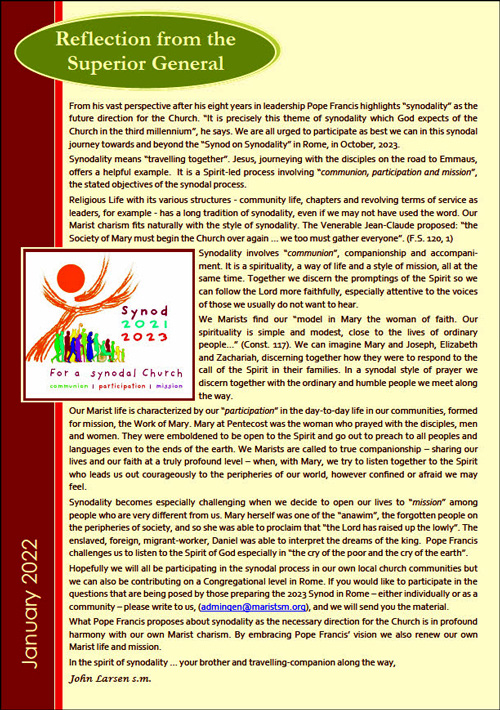 ---
Novices in Tuscany
After two months of orientation in Rome, the community of the Marist International Novitiate has moved to 'Cerdon' at Montauto in the Tuscany region of Italy. Novice master, Fr David Sanchez, comments: 'We are ready to start this journey together with the Lord, hand in hand with Mary!'
Fr David has also sent the first newsletter for the novitiate, with articles written by each of the novices about their orientation experience: click here. [Jan 07]
Pictured below: The novitiate community after their first Mass at 'Cerdon' | Formaton team, from left, Frs Paddy O'Hare, David Sanchez and Sione Hamala.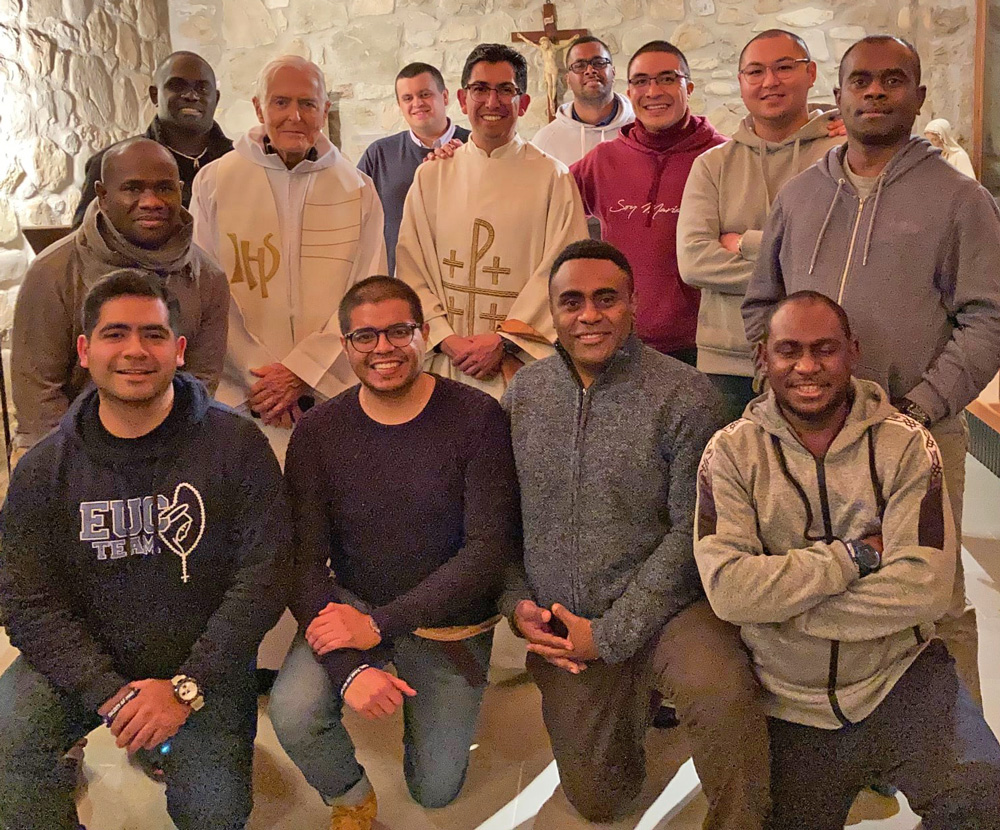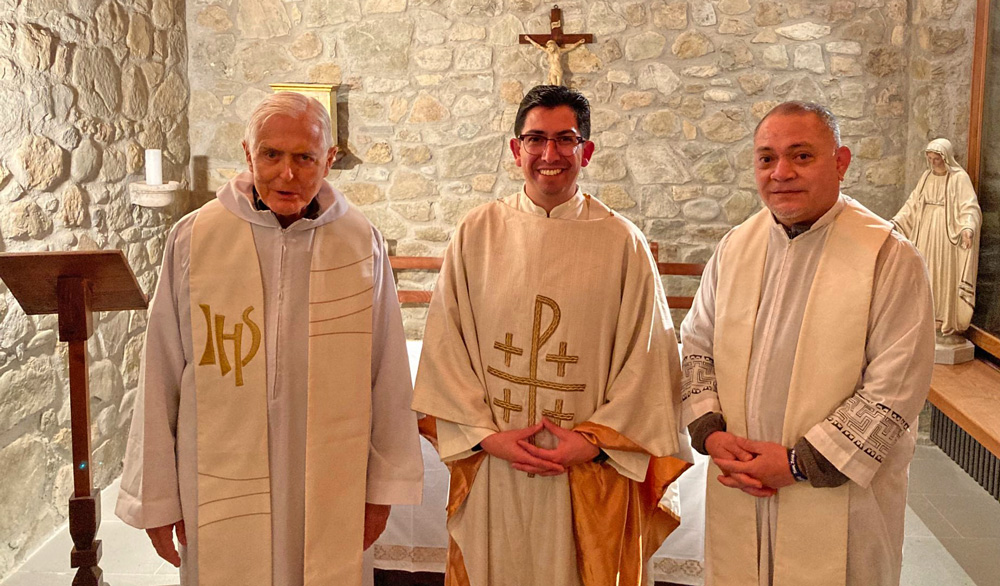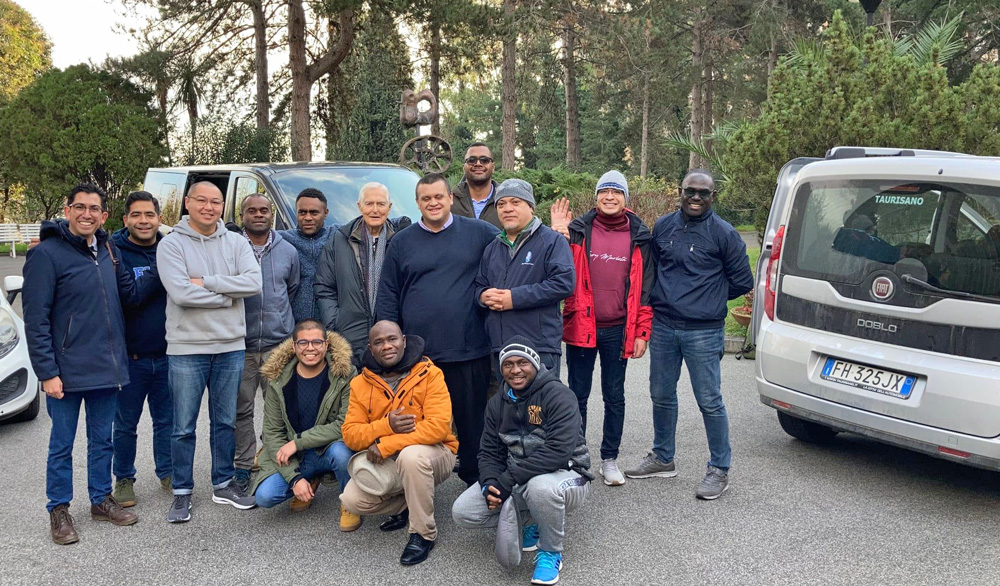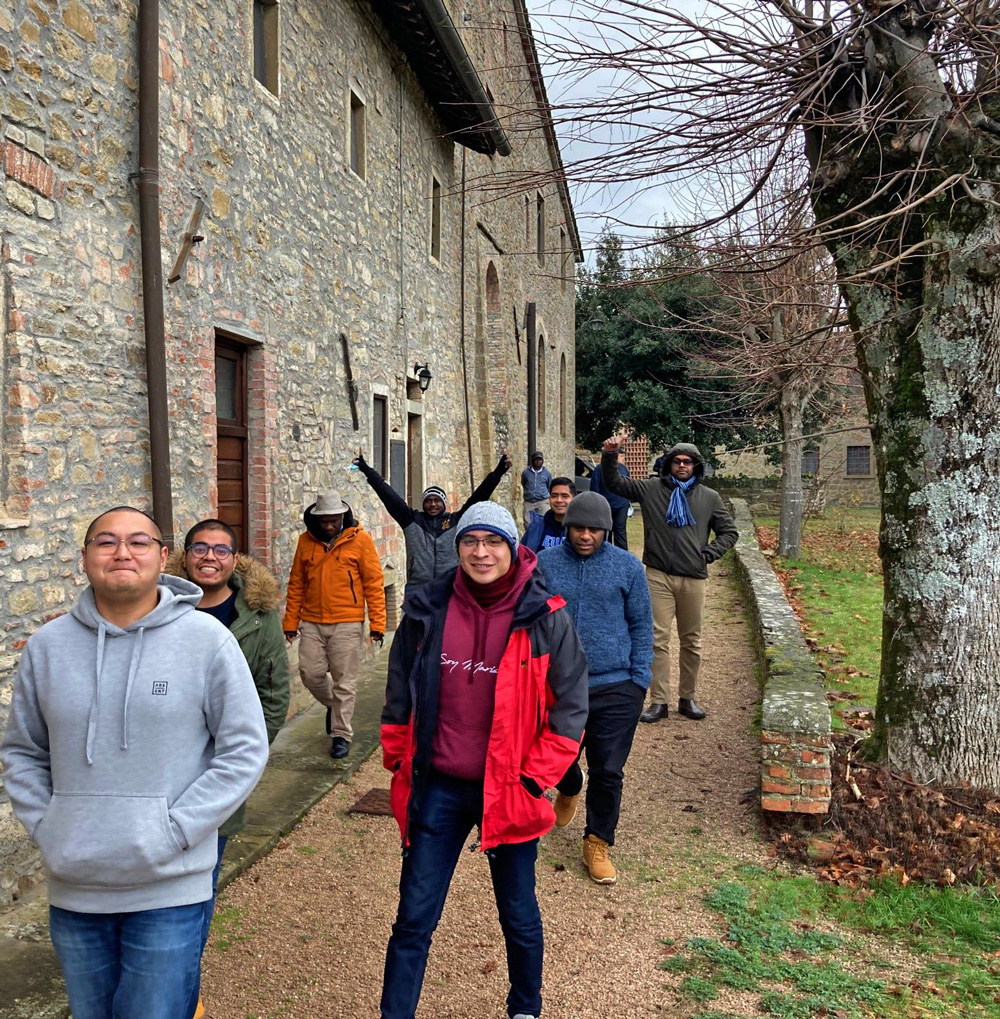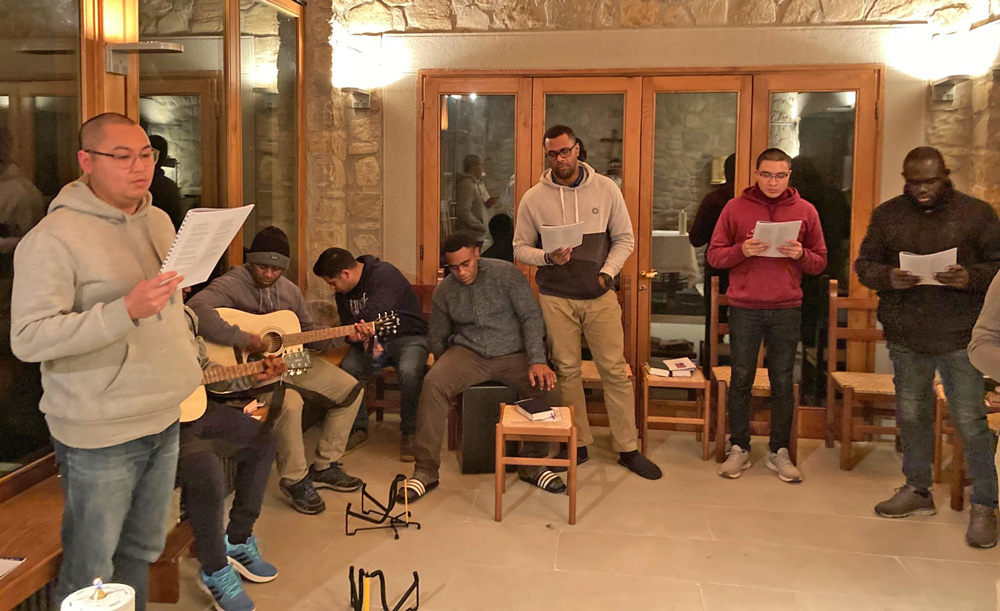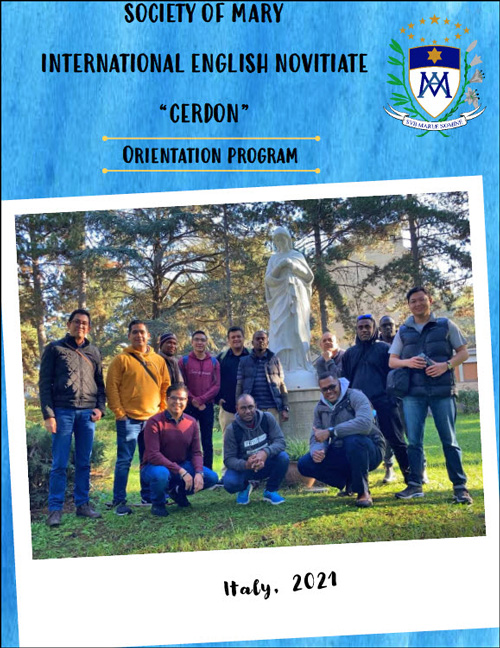 ---
Farewell to Fr Jim Esler
Fr James Michael Esler SM was farewelled on Jan 04 from Holy Name of Mary church, Hunters Hill, with Requiem Mass celebrated by provincial, Fr Anthony Corcoran, and fellow Marists. A COVID-compliant congregation filled the church, with family, friends, academic colleagues and former students in attendance.
The homily was preached by Fr Michael Mullins SM, and a personal message read from Sydney's Archbishop Anthony Fisher OP.
May Fr Jim rest in peace. [Jan 04]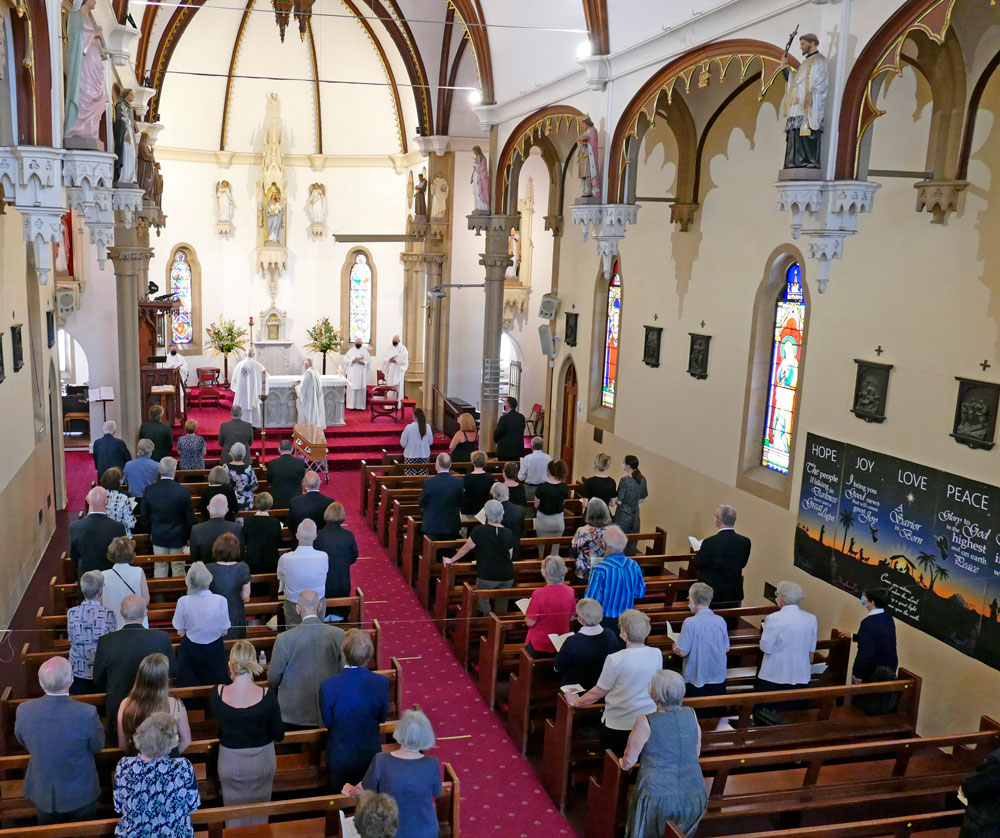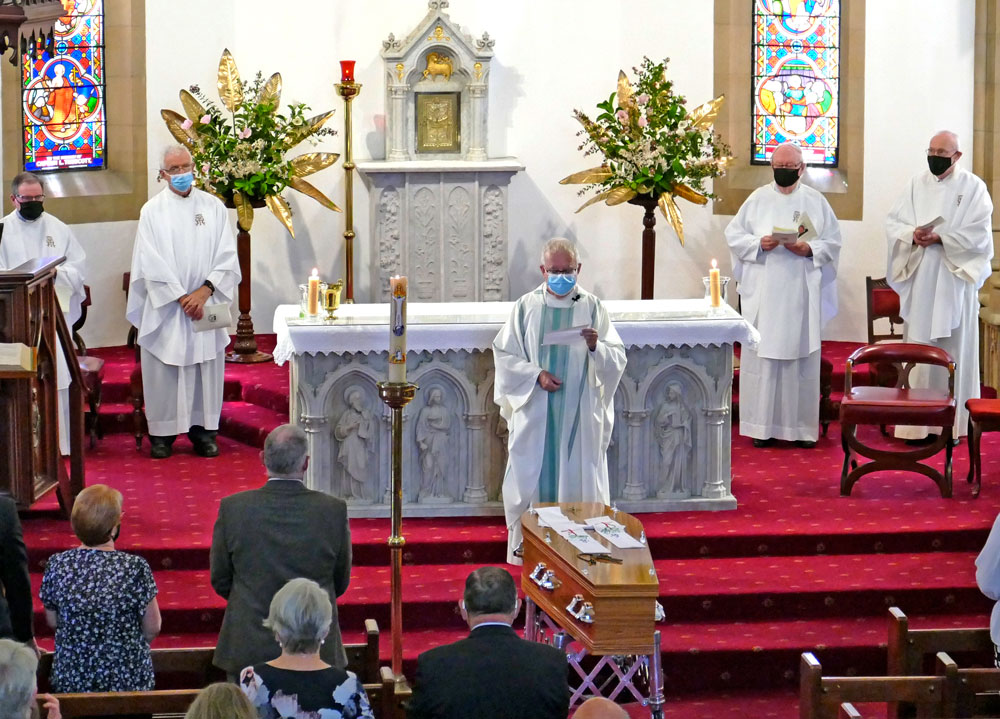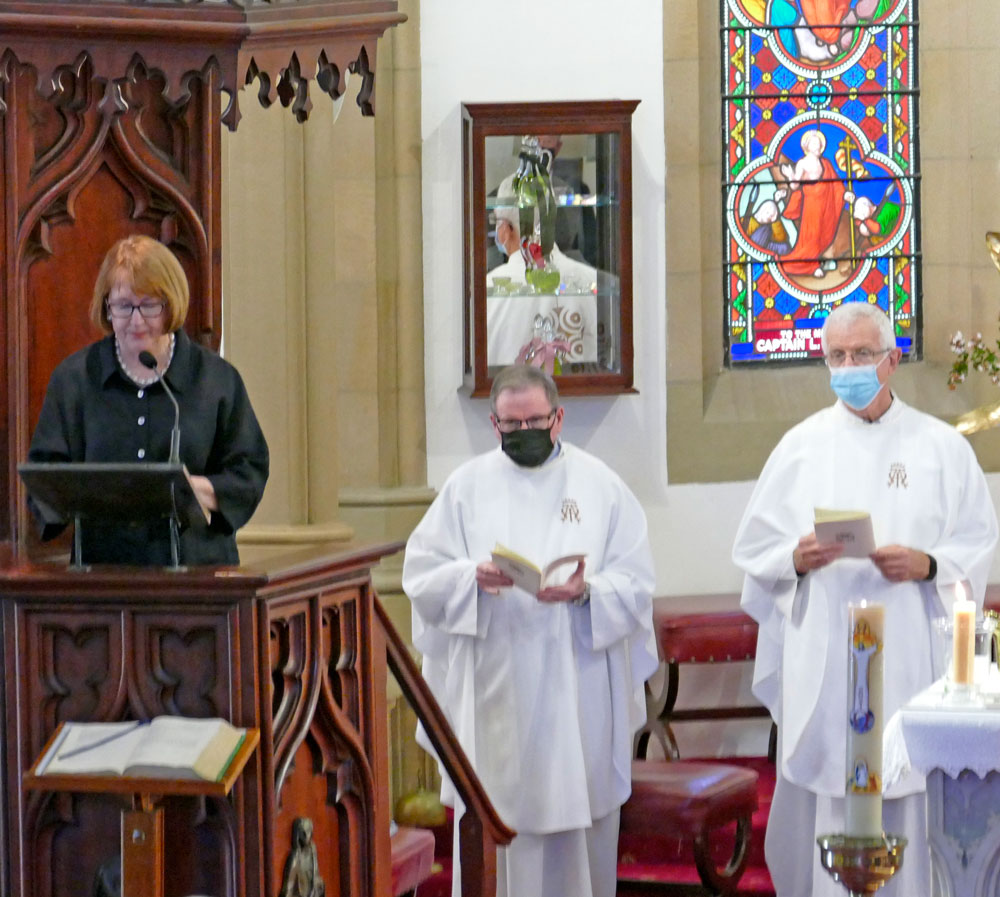 Scenes from the live-streamed Requiem Mass for Fr Jim Esler at Holy Name of Mary church, Hunters Hill, and interment at Macquarie Parkl cemetery, North Ryde, where Fr Jim now shares a grave with friend and colleague, Fr Wilfred Radford..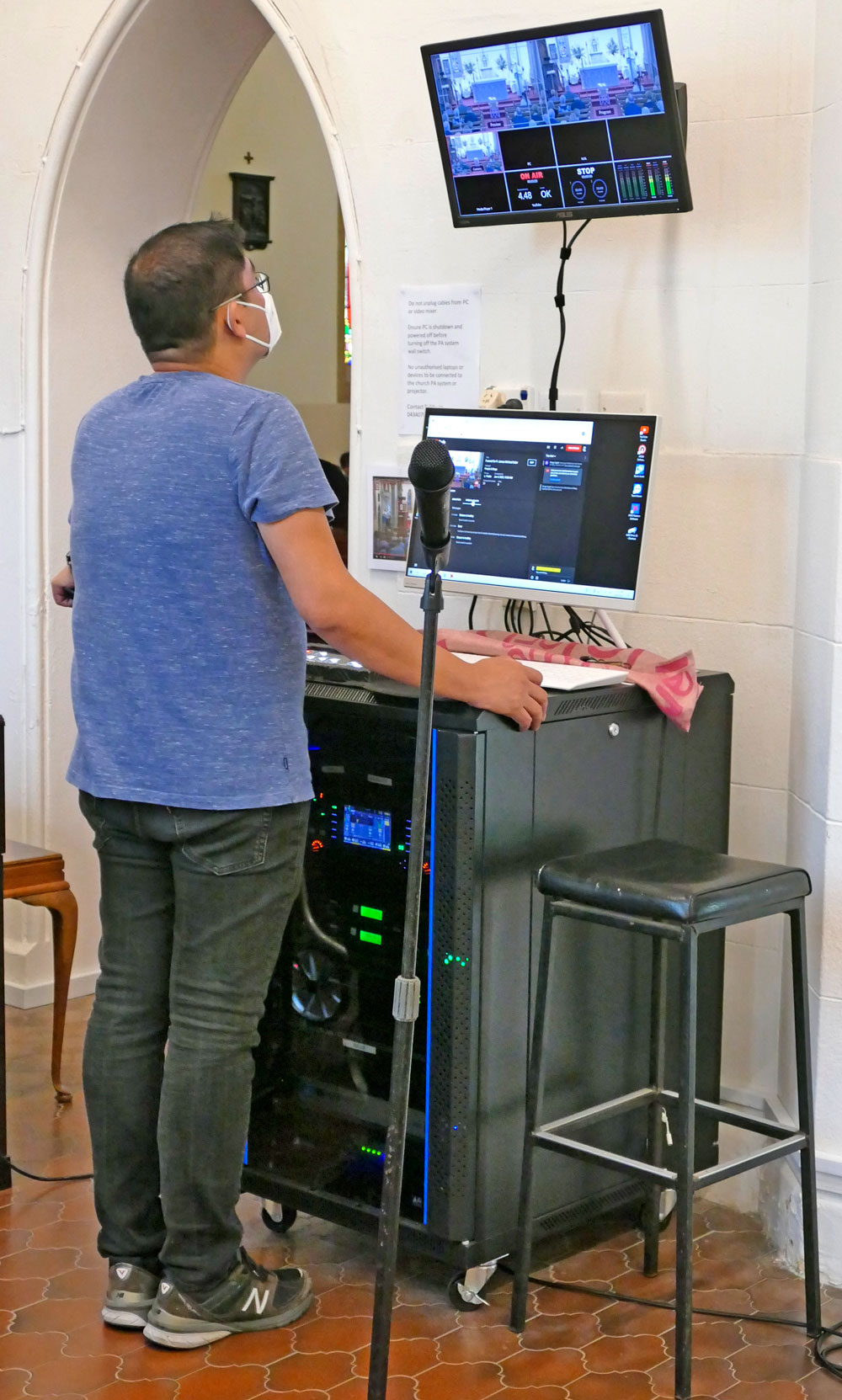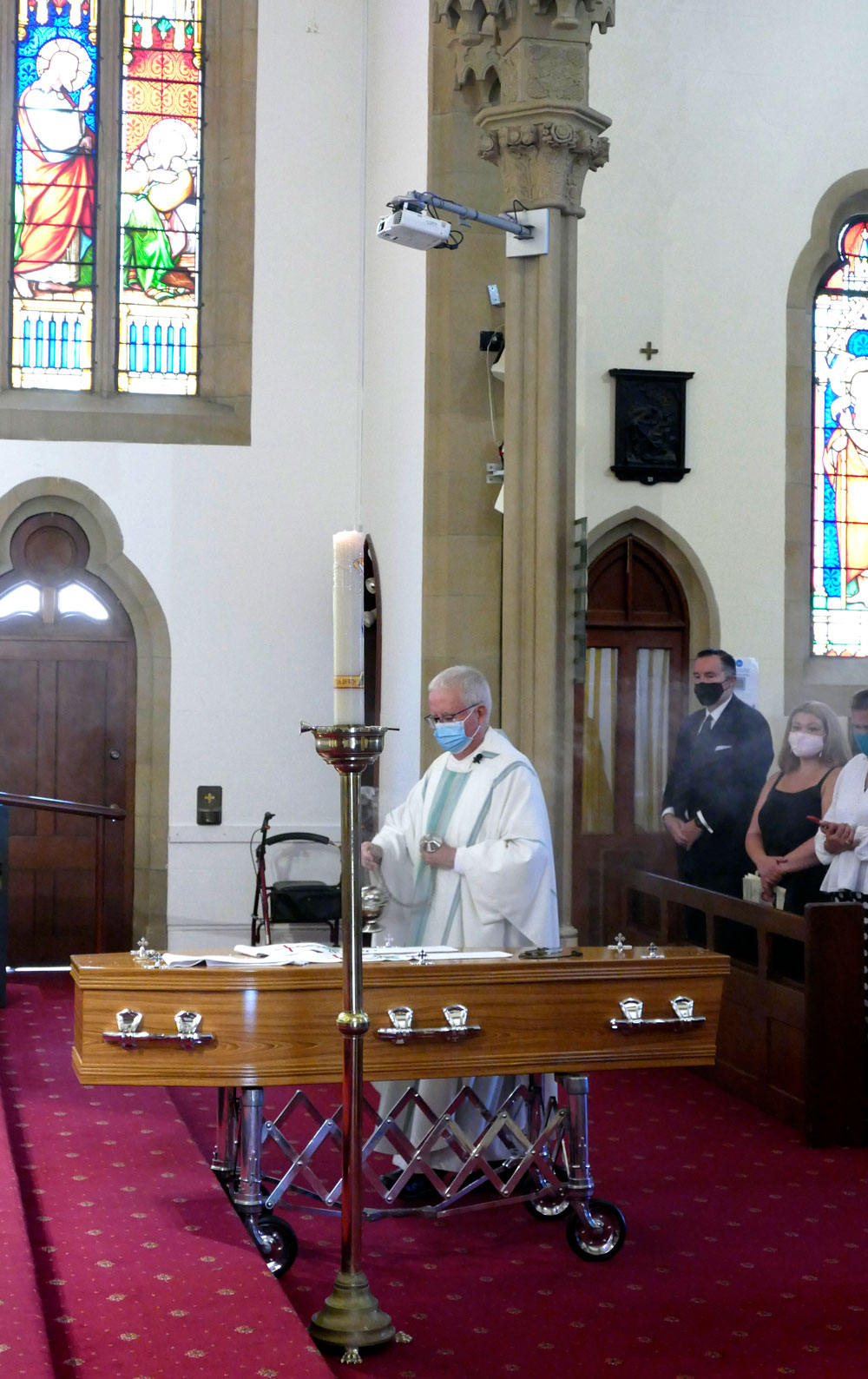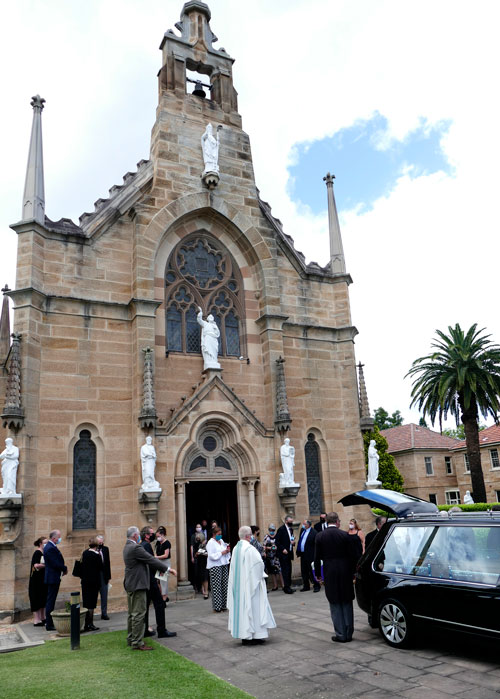 ---
Memories and tributes
Following the recent death of Fr Jim Esler SM, his confreres and friends have shared many memories of this outstanding man. For pictorial memories click here. For tributes from former colleagues and students click on: Dr Rodger Austin | Fr Peter Slack | Martin Cooke. For a brief summary of Fr Jim's life click here. [Jan 03]
For livestreaming of Fr Jim's Requiem Mass, Tue, Jan 04, 10.30 am Sydney time, click here.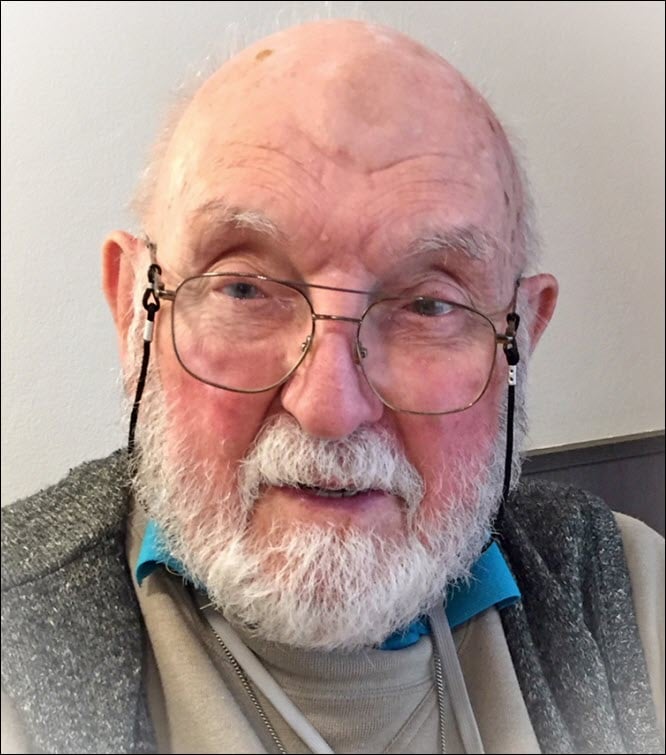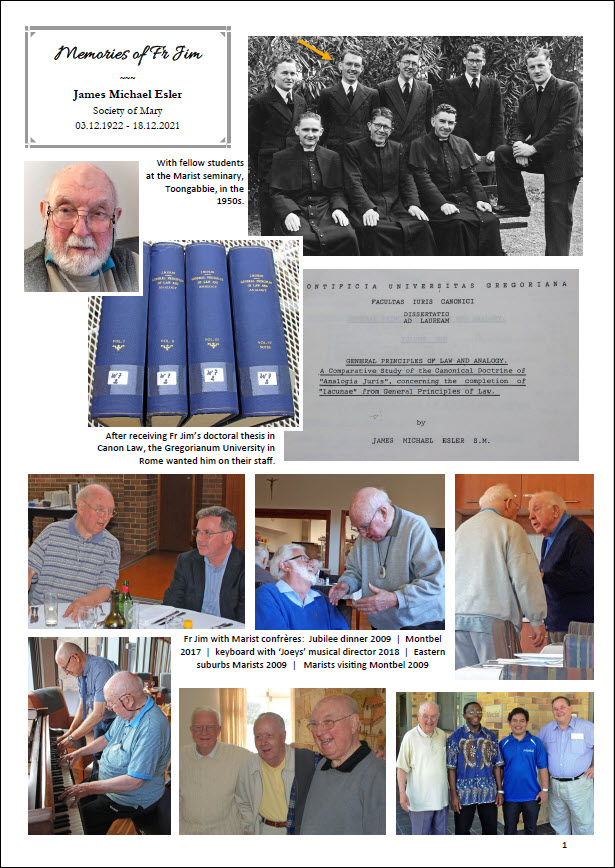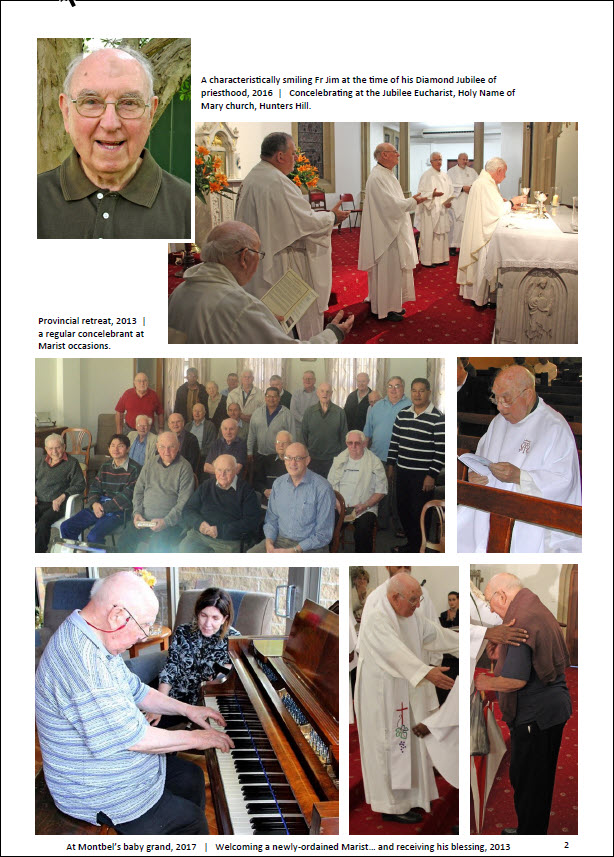 ---
Le Rameau
From Cameroon, Fr Christian Abongbung SM sends Le Rameau (the Branch), produced by the seminarians of Maison St Pierre Chanel, Yaoundé. For sixteen colourful pages of interesting reading on Marist seminary life in Africa, with both English and French, click here [Jan 01]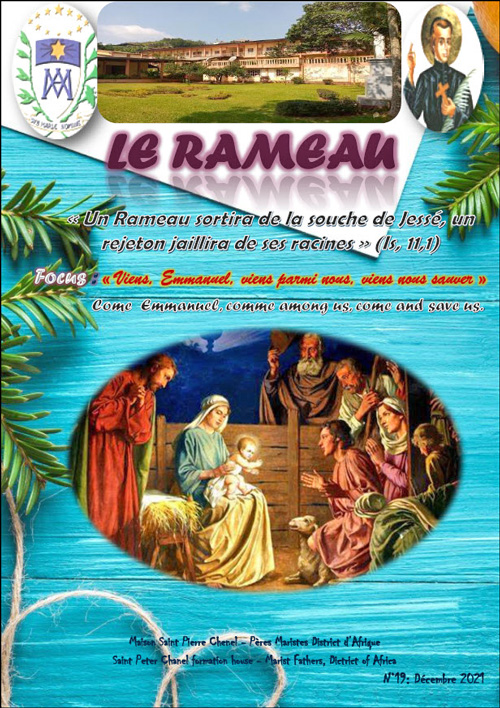 ---
---