---
Click here for News 2008 to 2017 | Click here for News 2018 then go to News tab above
---
Montbel farewell
Luncehon on Christmas Day at Montbel, Hunters Hill, was the occasion to bid a temporary farewell to community leader, Fr Paul Mahony SM, who leaves on Dec 28 for sabbatical leave in Europe and Asia.
Fr John Worthington spoke on behalf of the Montbel community and Christmas Day guests. A feature of Fr Paul's leave will be Colinian Renewal Program at La Neylière, France, led by fellow Australian, Fr Ray Chapman.
During his absence Fr Paul's place will be taken by Fr Brian Wilson. [Dec 25]
---
Vigil at Villa Maria
The now-customary large congregation of families of Holy Name of Mary parish, Hunters Hill, enjoyed the annual open-air vigil liturgy on Dec 24 despite threatening storm clouds.
Parish priest, Fr Kevin Bates, presided at a well-prepared and colourful liturgy in the Villa Maria monastery grounds. Joseph, Mary and donkey were also in attendance. [Dec 24]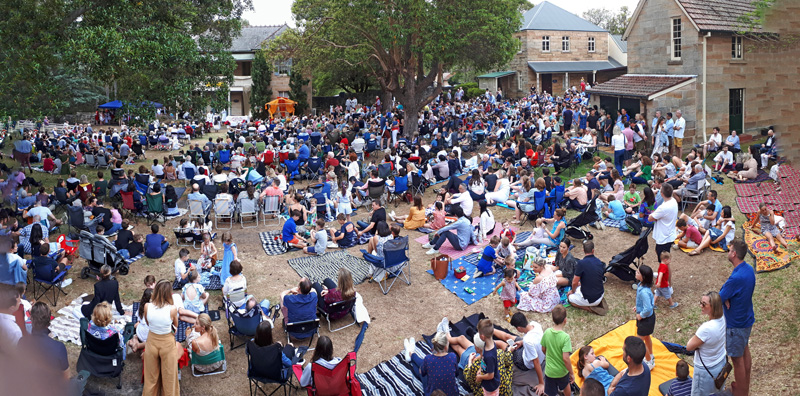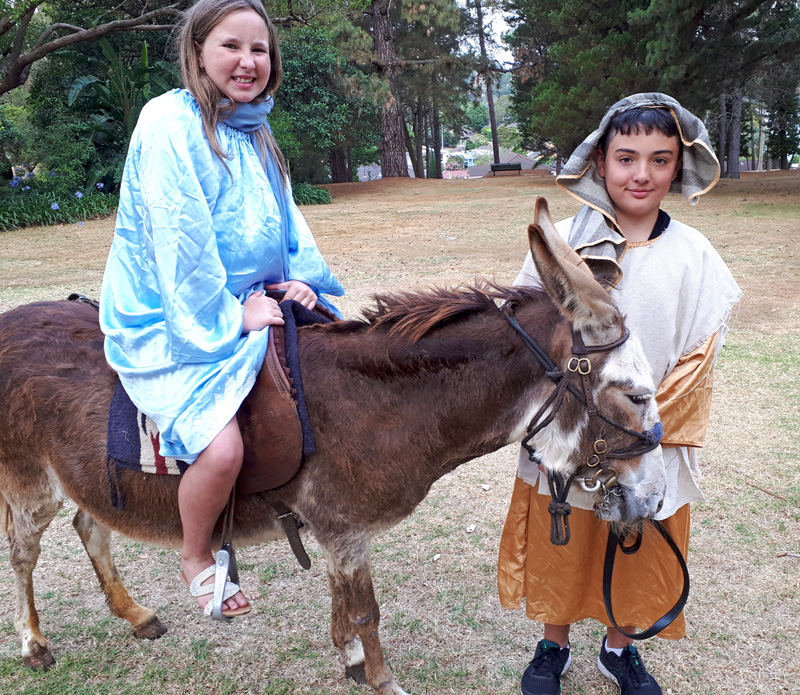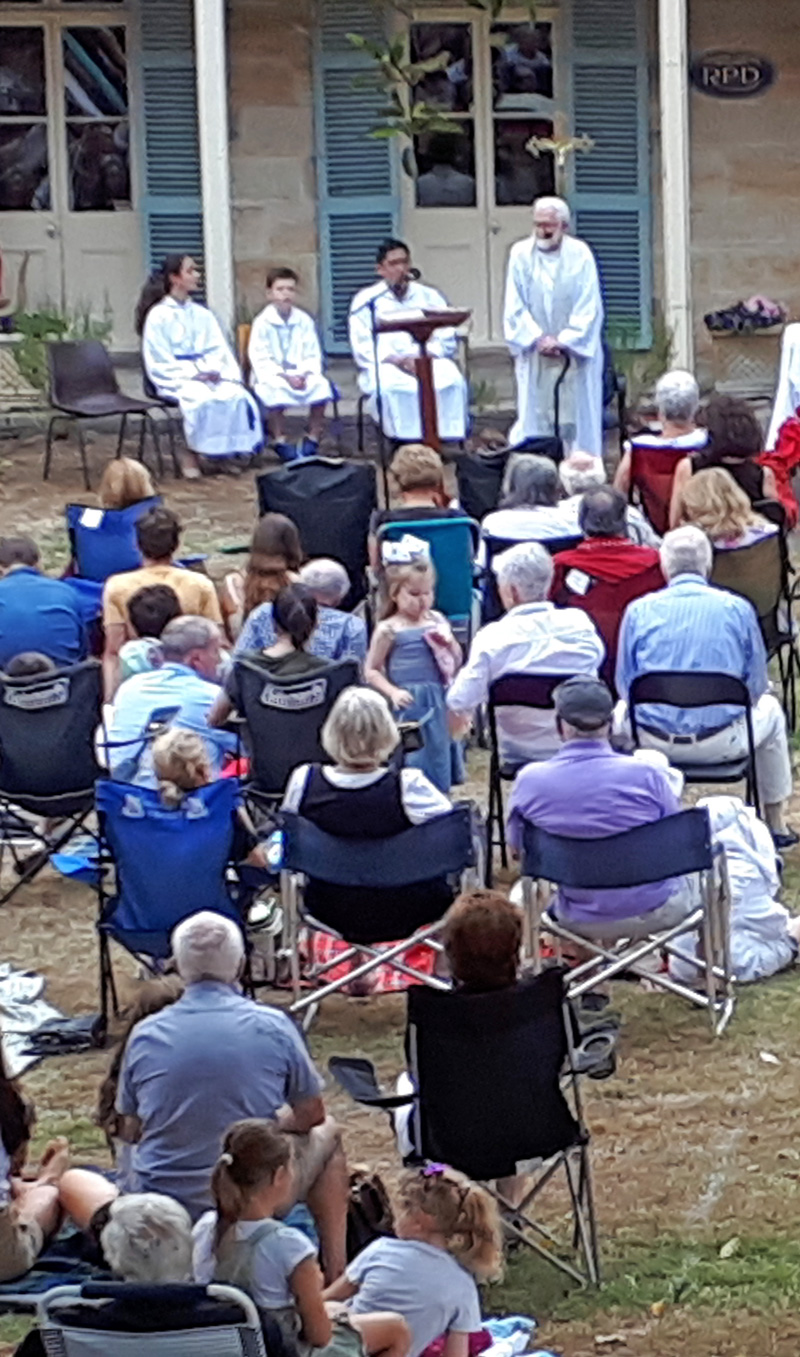 ---
Pacific news
For the final issue for 2019 of the Oceania Marist Bulletin, click here. [Dec 24]
---
African ordination
From Yaoundé, Cameroon, comes this report on the ordination of Fr Kenneth Akua Njong, graduate of the Marist International Theologate, Rome:
'On Sunday 1 December our confrère, Kenneth Akua Njong SM, from the Marist District of Africa was ordained to the priesthood. Marist confrères including Superior-General, Fr John Larsen, parishioners, family and friends rejoiced during a beautiful celebration in the parish church of St Anne d'Obili, Yaoundé.
'For this coming year Fr Kenneth has been appointed to the pastoral care of the youth in this parish, located in the university area of the city.'
Congratulations, Fr Kenneth! [Dec 19]
Pictuted below: Superior-General, Fr John Larsen, at the laying on of hands | Fr Kenneth with proud parents | Fr John visiting St Peter Chanel's formation community in Yaoundé.
---
Novices' news
From Davao, Philippines, comes the latest Bulletin from the Marist International Novitiate, 14 pages of illustrated news and reflections from the novices and formation staff. The final retreat for the novices commenced on Dec 13. Spare a prayer for them, please!
Click for: pages 1-3 | pages 4-6 | pages 7-9 | pages 10-12 | *** pages 13-14 [Dec 15].
(*** Size reduction surgery still happening. Upload coming eventually. -- Webmaster)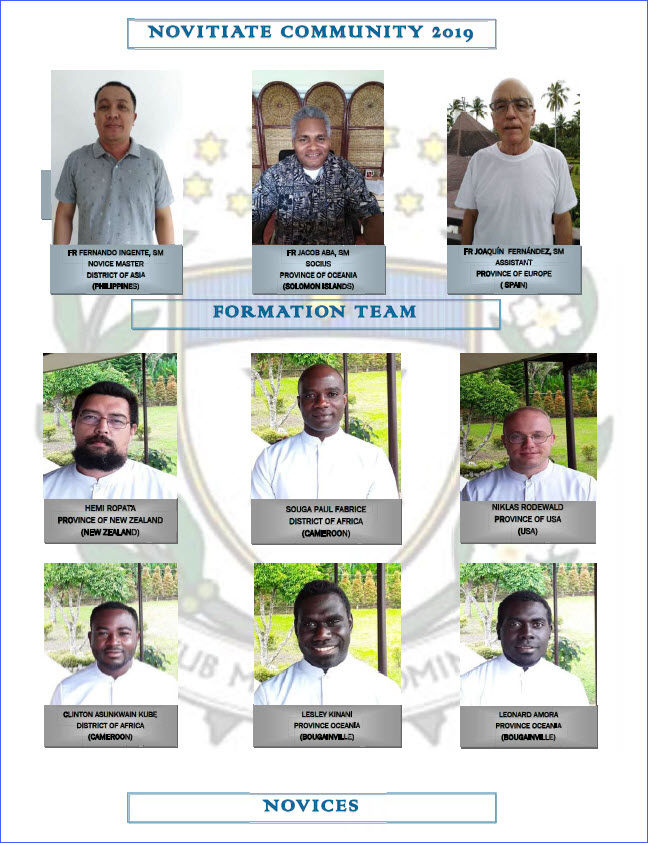 ---
Fr Hoppy's Christmas package
From the Misioneros Maristas, Tarija, Bolivia, Fr John Hopkinson sends his latest circular letter, Christmas card and mission calendar for 2020. Thanks Fr Hoppy!
To download click: Christmas letter | Christmas card | Calendar for 2020 [Dec 14]
---
---
Advent reflection
This month Superior-General, Fr John Larsen, reflects on Marists and Advent. Go to Members' page. [Dec 07]
---
Marist news from Europe
For the latest issue of Euroinfo, click here. [Dec 07]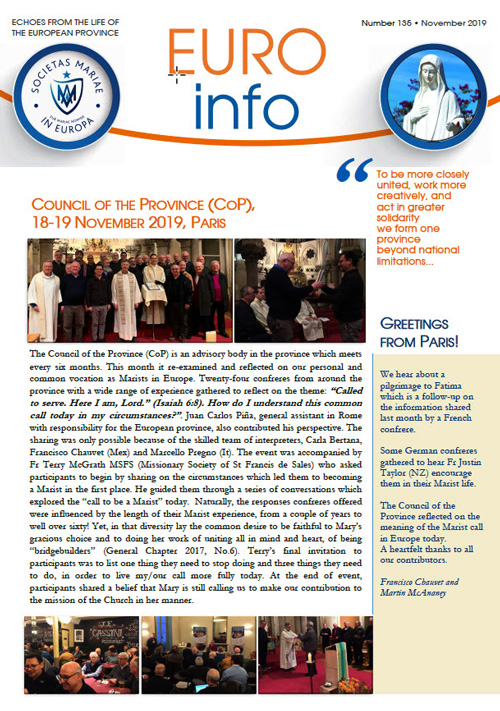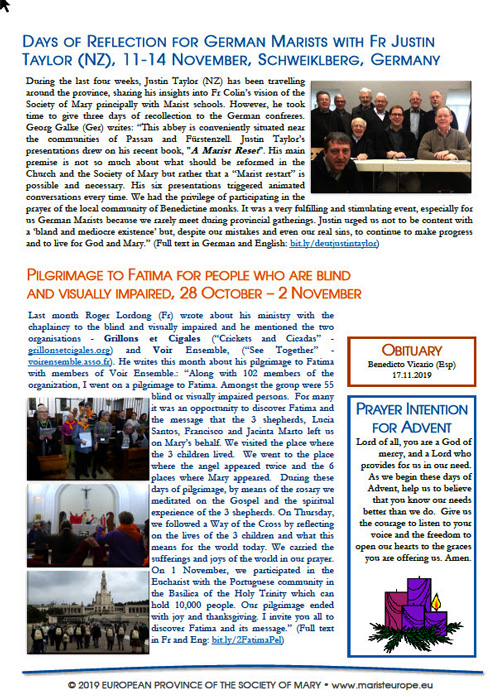 ---
Montbel wiggles
With foot-tapping shanties and soulful melodies 'Wiggles' star, Anthony Field, and companions entertained the community of Montbel Aged Care facility, Hunters Hill, on Dec 05.
Marist Sisters and Brothers from local communities joined in the afternoon's music, now a regular feature of life at Montbel. [Dec 06]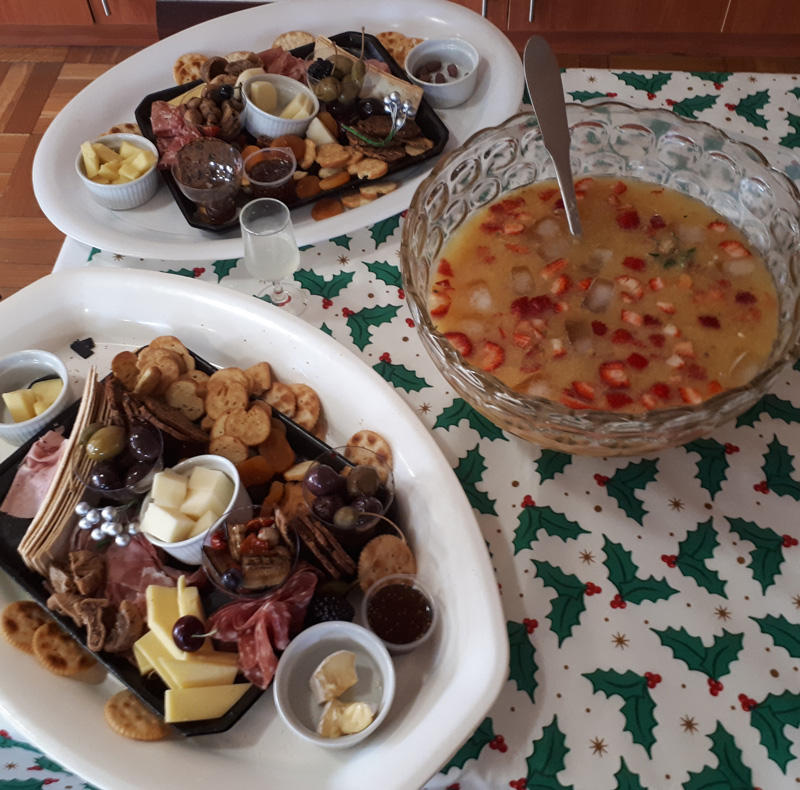 ---
Rain, hail or shine
St Patrick's Young Adults group invites Sydneysiders to the annual Christmas Carols Walk from Hyde Park (near St Mary's cathedral) to the downtown shrine of St Patrick's, the Rocks, on Sat, Dec 14, 6.30 pm, rain, hail or shine. [Dec 03]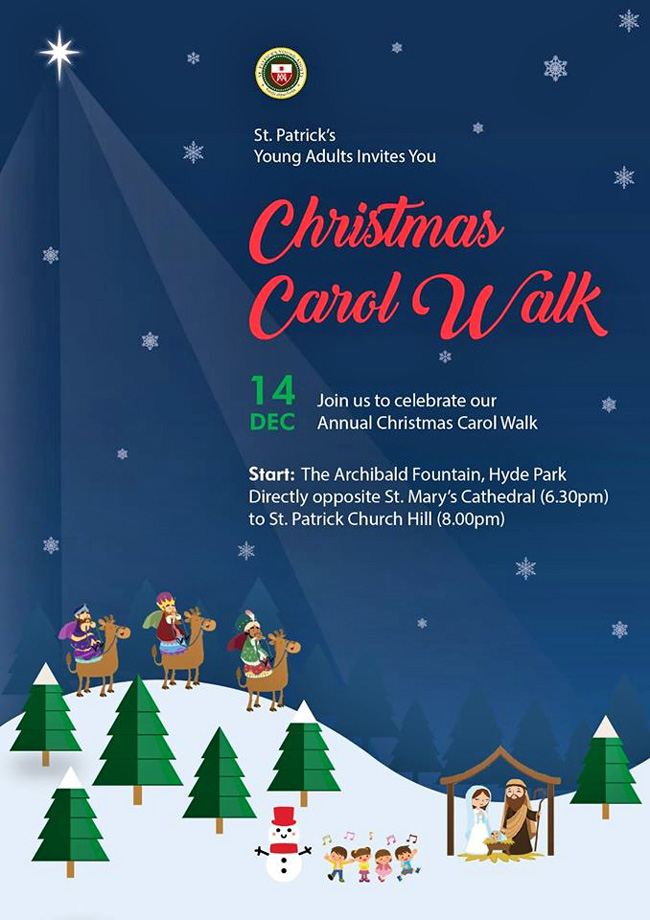 ---
Nara group's pilgrimage
Marking the twenty-fifth anniversary of the death of Fr Tony Glynn SM, eight members of the Catholic communities of Nara and Tomigaoka, Japan, have visited Sydney. Highlight of their pilgrimage was a commemorative Mass celebrated by Fr Paul Glynn followed by prayers in the mission cemetery of Villa Maria, Hunters Hill, where ashes of Fr Tony are interred. [Dec 01]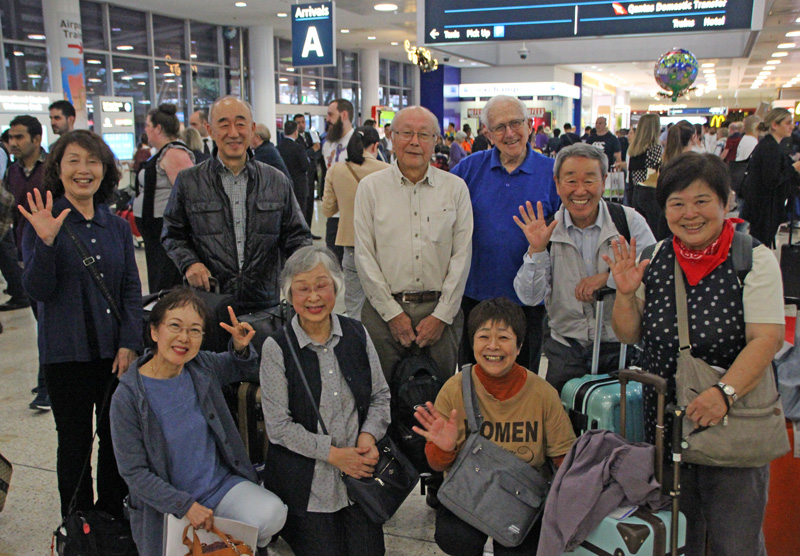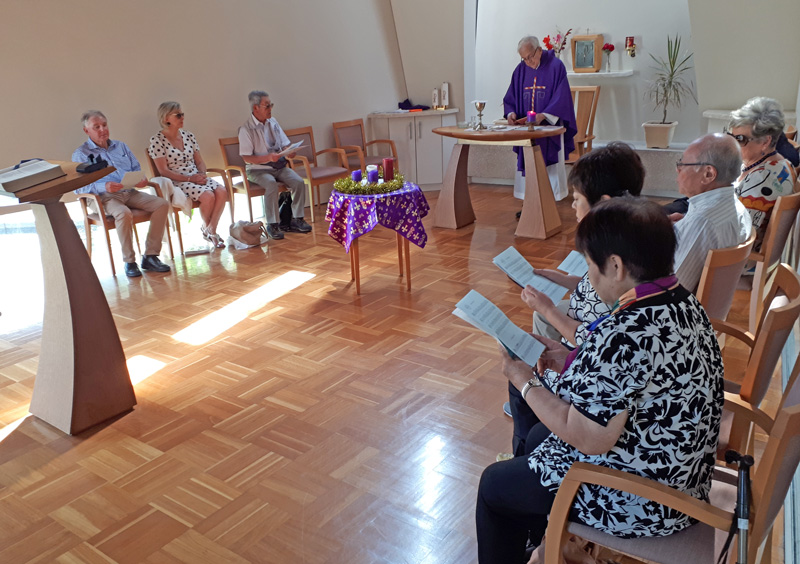 Above: Fr Paul Glynn welcoming the Nara pilgrims at Sydney airport on Nov 29 | Commemorative Mass in the chapel of Montbel, Hunters Hill, on Fr Tony Glynn's anniversary, Dec 01. Below: Prayers at the mission cemetery, Villa Maria monastery grounds, Hunters Hill. | Fr Paul Glynn with the pilgrims | Frs Paul and Tony Glynn in their mission days at Nara, Japan.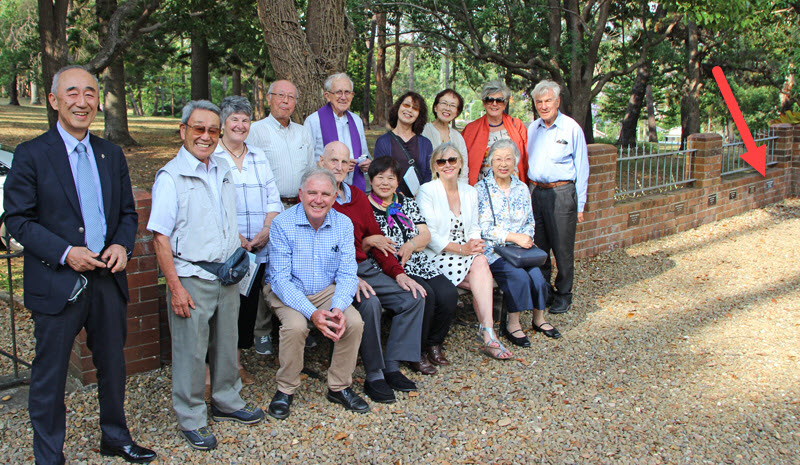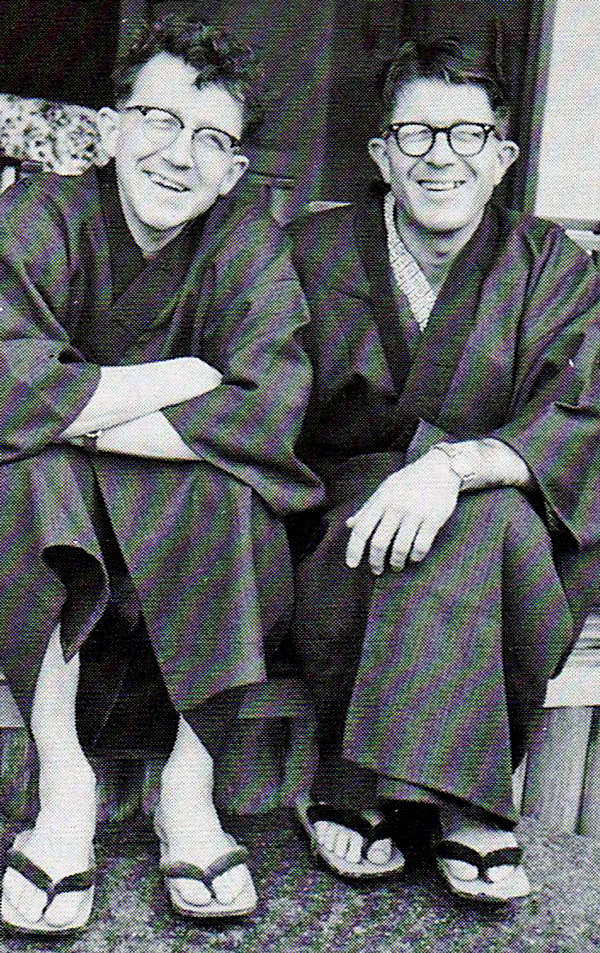 ---
Camp Runamuck
Villa Maria's sixth annual overnight camp for happened on Nov 30-Dec 01.
With 'Camp Runamuck' (a.k.a. 'Runamok') a sea of tents appears, then disappears, in the usually-serene and picturesque grounds of the monastery at Hunters Hill.
The camp has been part of the parish's 'Building Relationships' program originally billed as 'an opportunity to campout in the forest, to have some quality time with dad and to have lots of fun with friends'.
Feature of the camp was an open-air Vigil Eucharist, celebrated by parish priest, Fr Kevin Bates, near the historic chapel of St Joseph in the monastery grounds. [Dec 01]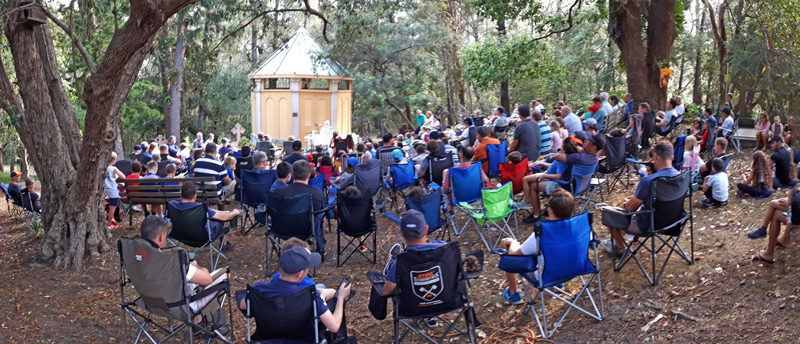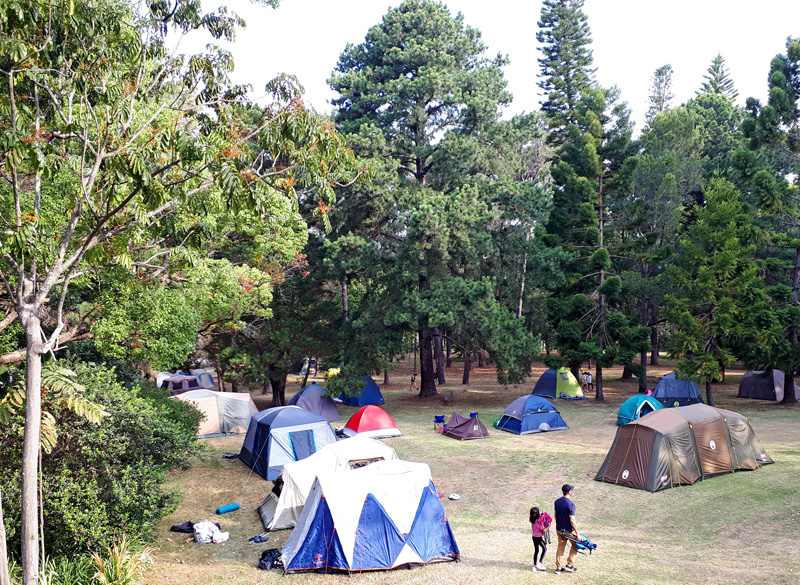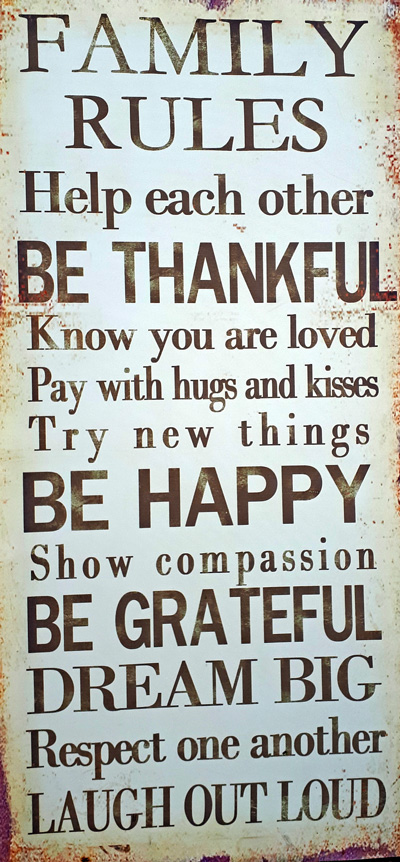 ---