---
June news
Colin calendar: 2021

Click here for News 2008 to 2017 | For News 2018 to 2020 click here.
---
---
Oceania News Bulletin
The June issue of Oceania News Bulletin reports on COVID in Fiji, and on parishes in Bougainville, Solomoin Islands, Samoa and Tonga: click here or go to Members' Page. [Jun 30]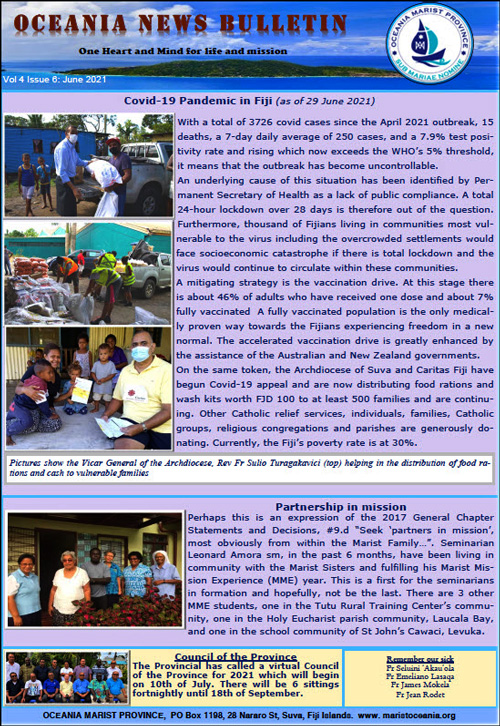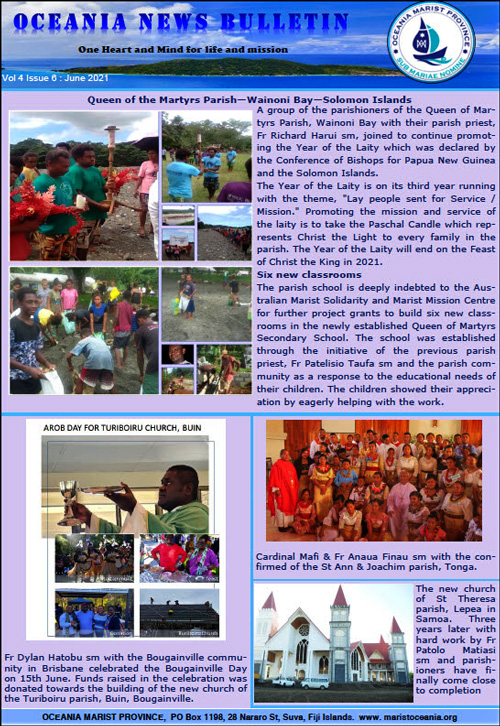 ---
Chavoin feast day
Jun 30 marks the 163rd anniversary of the death of Jeanne-Marie Chavoin, revered foundress of the Marist Sisters.
Born in the village of Coutouvre in central France in 1786 the young Jeanne-Marie followed the call of the Colin brothers at Cerdon to establish the first community of Marist Sisters. Mother St Joseph, as she was known, died in 1858 at Jarnosse, not far from her birthplace.
We wish our Marist Sisters a very Happy Feast Day ! [Jun 30]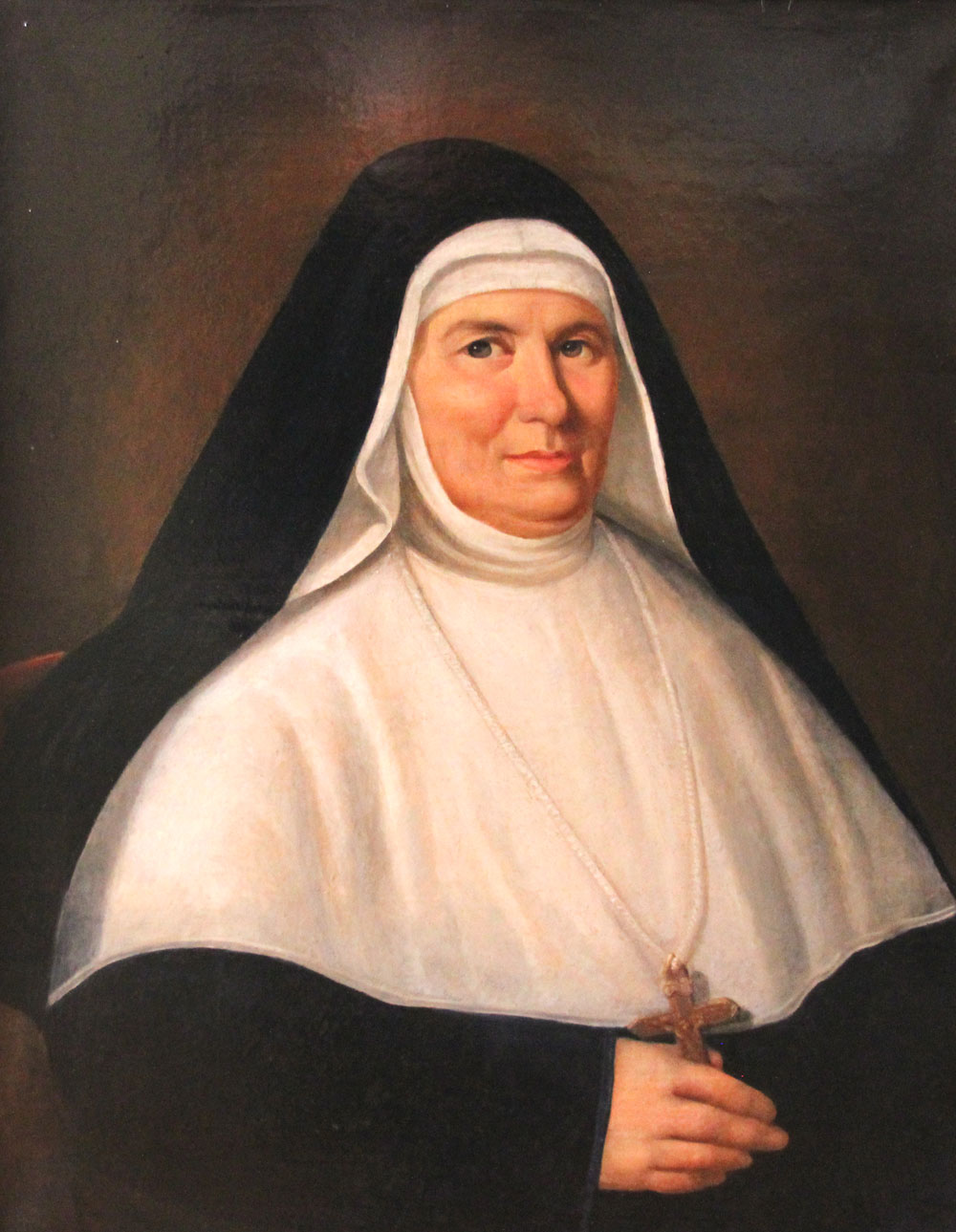 Above: Portrait of Jeanne-Marie Chavoin at Bon Repos, Belley, near her final resting place | Jarnosse: the convent building where she died and the nearby parish church where she was first buried. Below: Tiled cross marking the original burial place of Jeanne-Marie in the church sanctuary of Jarnose | Descriptive panel in the church of Jarnosse.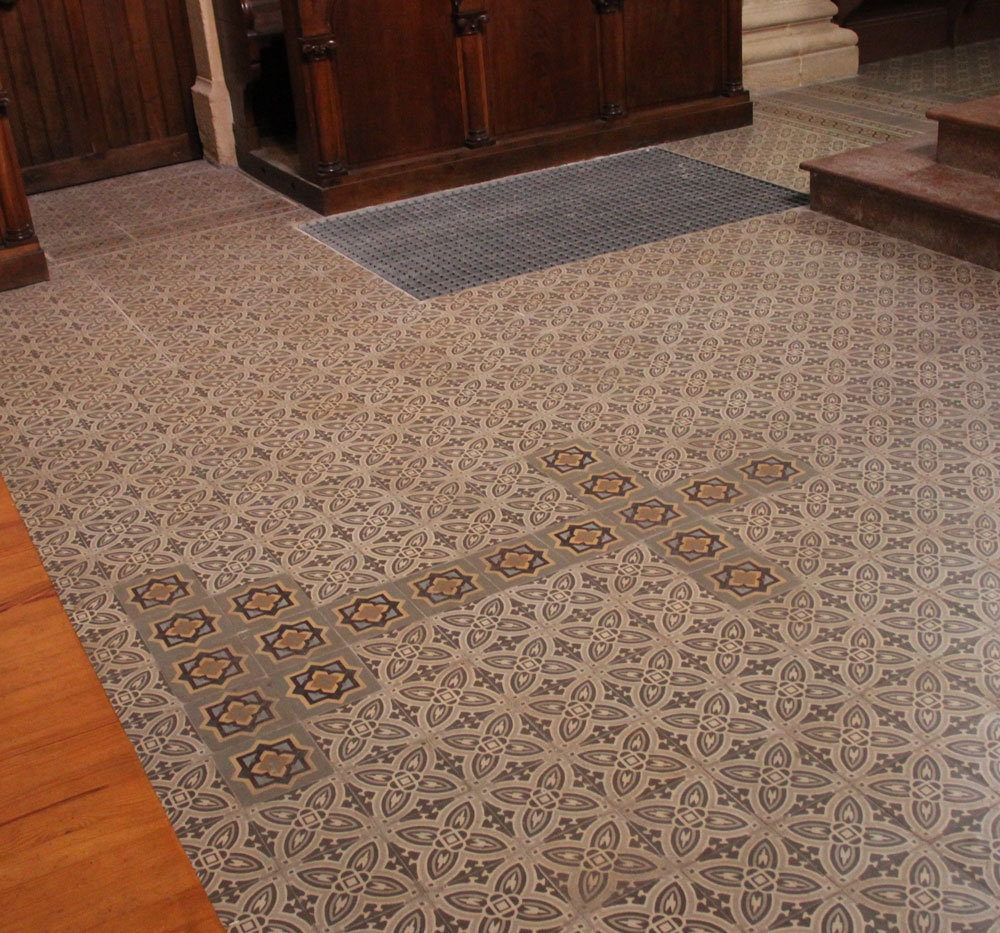 ---
SM Bulletin
From Rome this week's SM Bulletin reports on the Provincial Chapter n Mexico, First Professions in Cameroon and on the outcomes of the recent African District Chapter in Yaoundé. Click here or go to Members' Page. [Jun 26]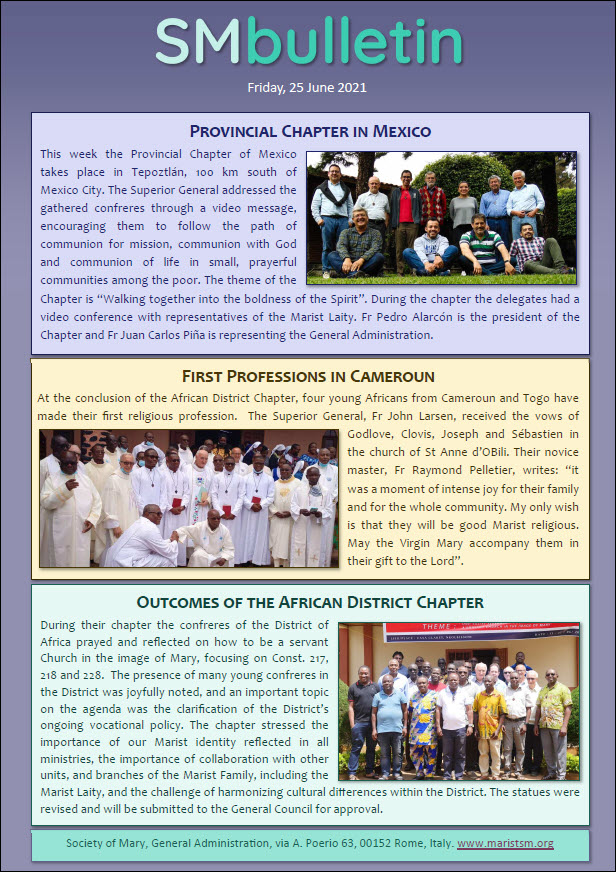 ---
Provincial Circular
For the latest Provincial Circular go to the Members' Page. For the picture page, click here. [Jun 21]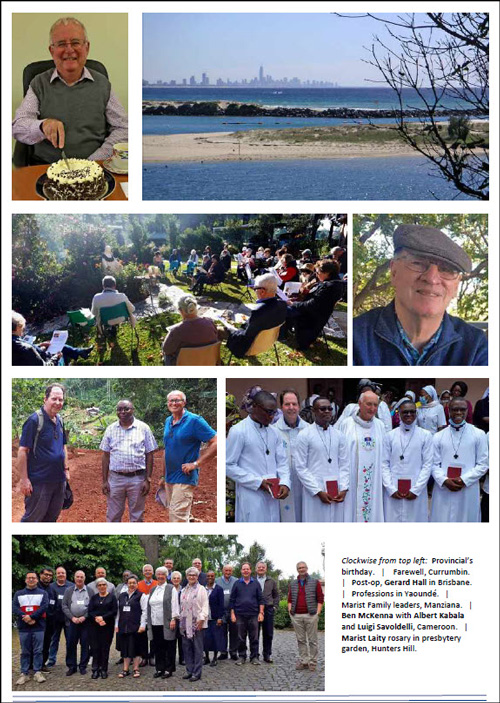 ---
New Marists
In a ceremony at Obili,Yaoundé, Cameroon, on Jun 19, four young Africans made their first profession as Marists. Superior-General, Fr John Larsen SM, received their vows while Assistant-General, Fr Ben McKenna, also attended. Hailing from Cameroon and Togo, the newly-professed Marists, Joseph, Clovis, Godlove and Sebastien, will continue their studies at the Marist International Theologate in Rome. Congratulations to our new Marists ! [Jun 21]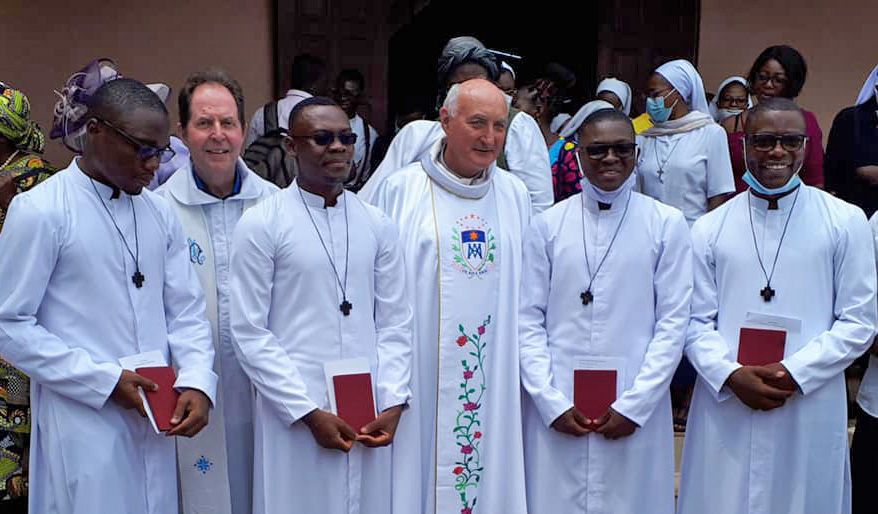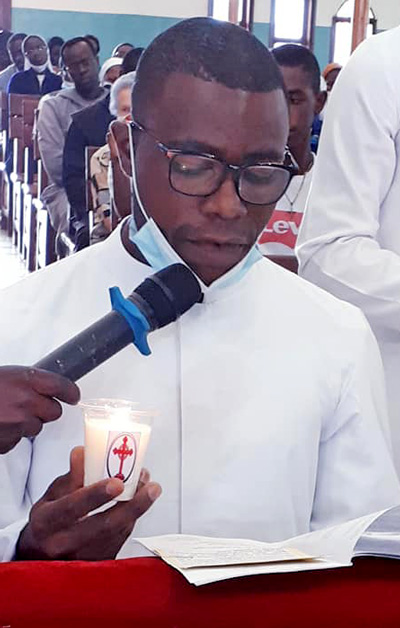 ---
Refugee week 2021
Amongst activities planned for this year's Refugee week Sun, Jun 20 to Sat, Jun 26) is an initiative of Holy Name of Mary parish Social Justice group and the Jesuit Refugee Service.
An information evening promoting awareness of refugees will be held on Jun 22 at the Hunters Hill parish hall in which guest speaker, Magdalene, from Sierra Leone will share her lived experience of seeking asylum. A sports journalist, Magdalene came to Australia seeking asylum in 2018 after facing danger and death threats because of her activism against female oppression in her home country of Sierra Leone. In Australia, Magdalene continues to use her journalism skills and passion to advocate for the rights of her community.
The function will include light refreshments, an evening of information, Q&A and reflection. Click here for full details.
For more on Refugee week click here and for the Refugee Council of Australia click here. [Jun 19]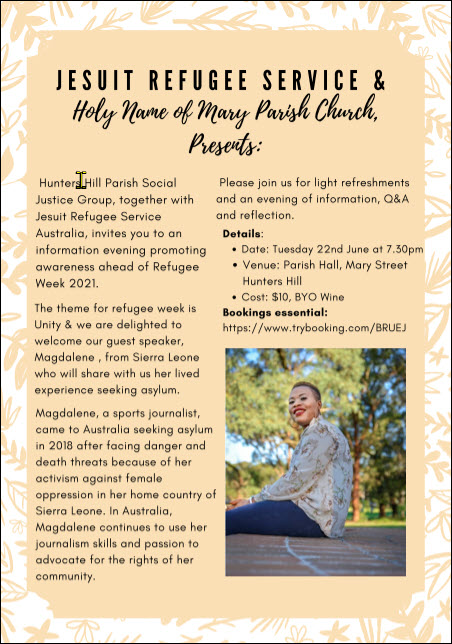 ---
SM Bulletin
This week's SM Bulletin reports on the visit of Frs John Larsen and Ben McKenna to Cameroon for the District Chapter, as well as Fr Declan Marmion's book, 'Models of Priestly Formation'. For SM Bulletin click here or go to Members' Page. [Jun 19]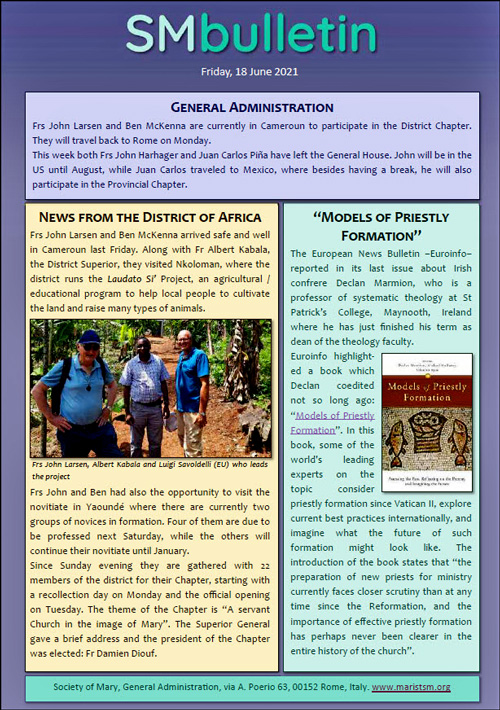 ---
African chapter concludes
The Disrict Chapter of the Marist Mission District of Africa concluded on Thursday, Jun 17, at Nkolbisson, Cameroon with participants' signing of the Chapter's Declarations & Decisions and the celebration of the Eucharist.
Superior-General, Fr John Larsen, and Assistant-General, Fr Ben McKenna, attended the Chapter as well as visiting other communities and projects while in the region, including the novitiate community and Fr Luigi Savoldelli's agricultural project.. [Jun 18]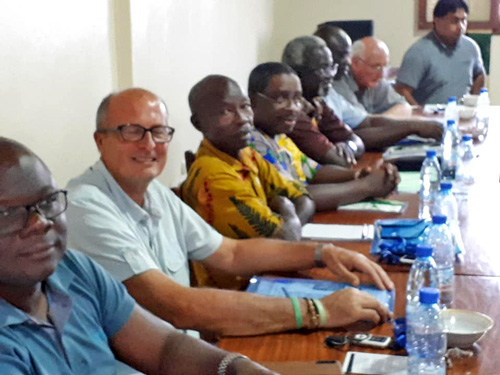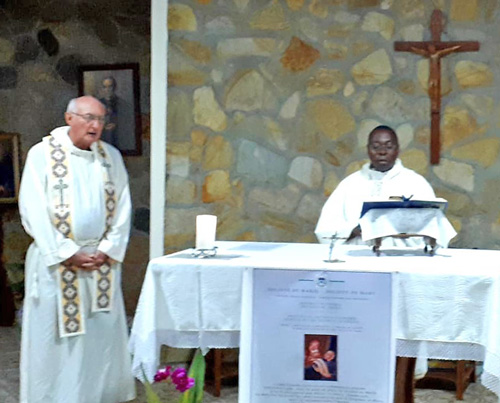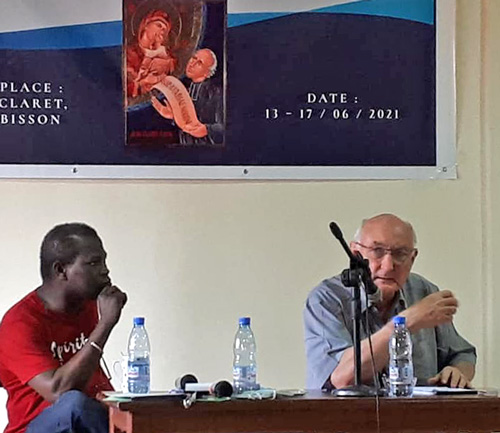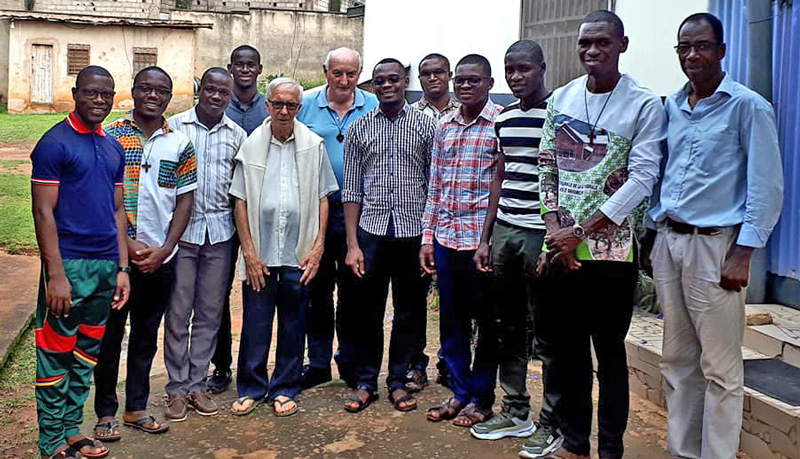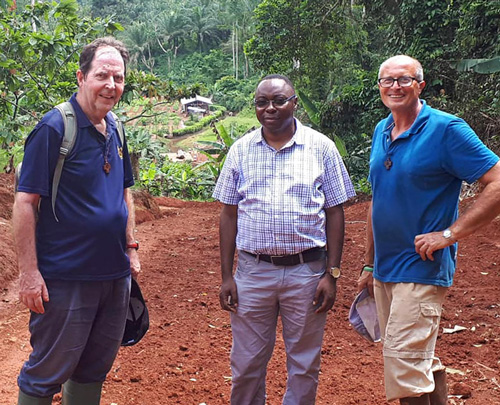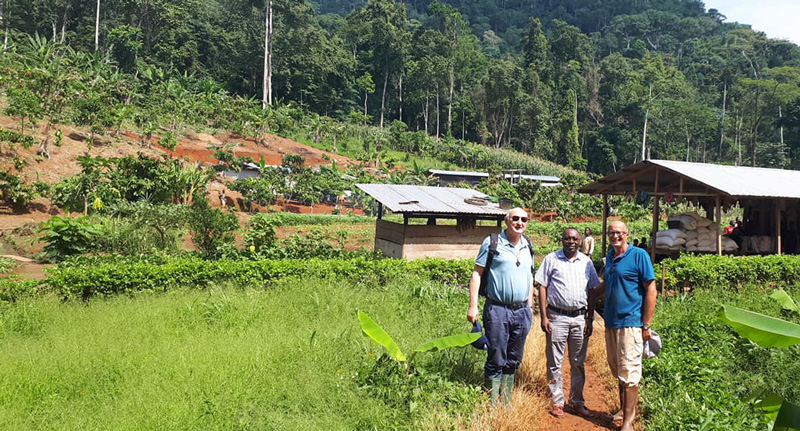 ---
European bulletins
From Rome and Paris come the latest SM Bulletin and Euroinfo.
SM Bulletin reports on Frs John Larsen and Ben McKenna visiting Africa, Financial Audits, CLOC news and Tutu's breadfruit symposium, while Euroinfo's focus is on Marist educational initiatives in Europe. Clck here for SM Bulletin and Euroinfo or go to Member's Page. [Jun 12]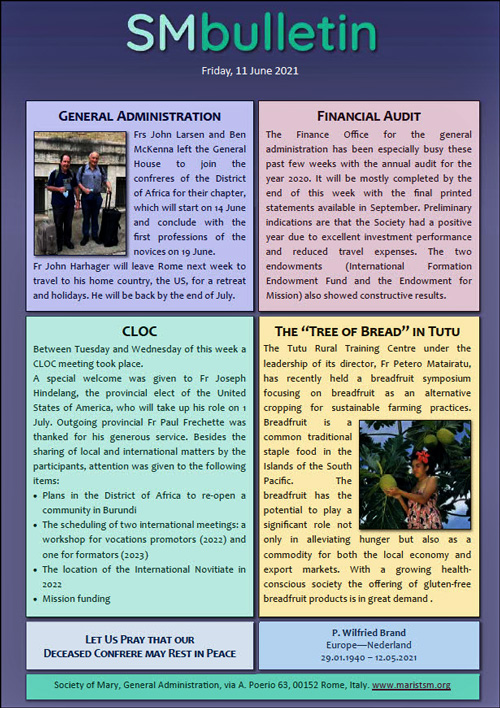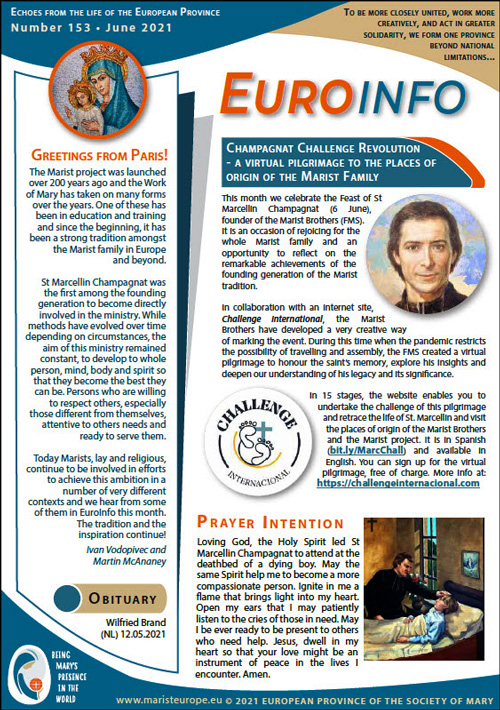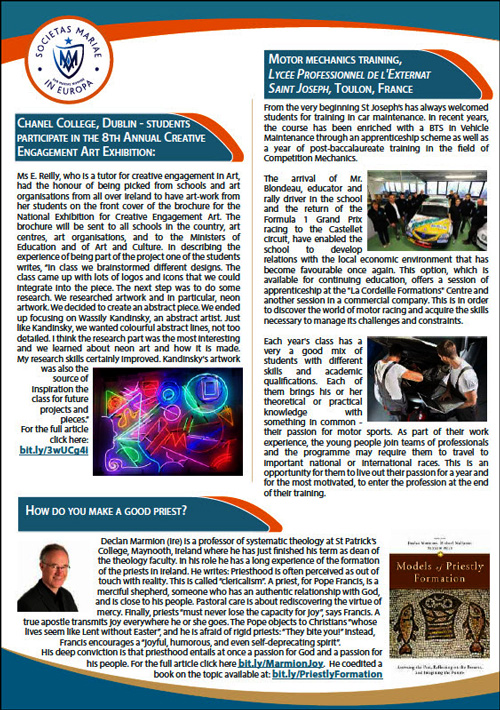 ---
Solemnity of the Sacred Heart of Jesus
'This, then, is what I pray, kneeling before the Father from whom every fatherhood, in heaven or on earth, takes its name.
In the abundance of his glory may he, through his Spirit, enable you to grow firm in power with regard to your inner self, so that Christ may live in your hearts through faith,
and then, planted in love and built on love, with all God's holy people you will have the strength to grasp the breadth and the length, the height and the depth;
so that, knowing the love of Christ, which is beyond knowledge, you may be filled with the utter fullness of God.
Glory be to him whose power, working in us, can do infinitely more than we can ask or imagine;
glory be to him from generation to generation in the Church and in Christ Jesus for ever and ever. Amen.'
St Paul's prayer from the second reading, Solemnity of the Sacred Heart [Eph 3:14-21]
[Jun 11}
---
Newsletters
For the latest issue of the Marist Mission Newsletter (4 pp) click here (also Members' Page) and for Spanish language (24 pp), Familia Marista, click here. [Jun 10]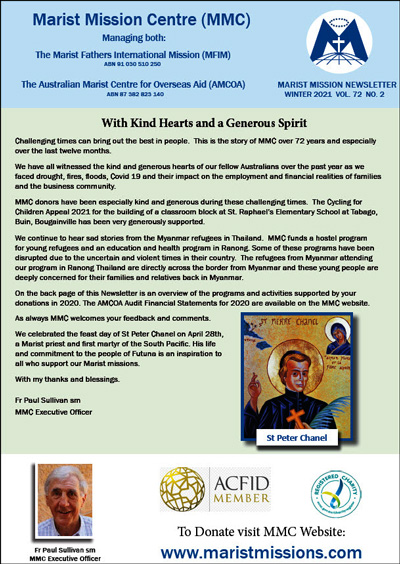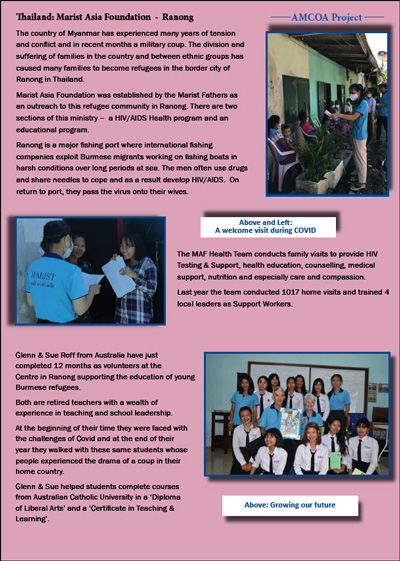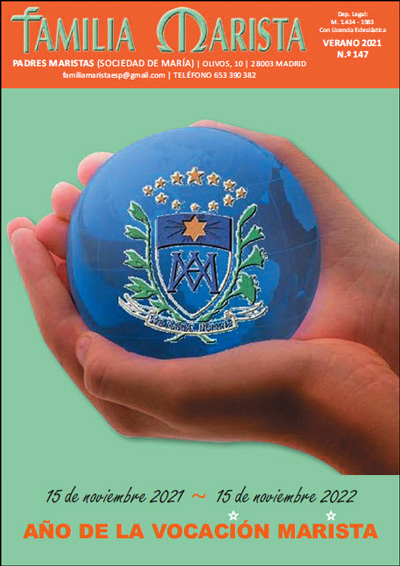 ---
Champagnat day
Jun 06 marks the anniversary of the death in 1840 of St Marcellin Champagnat, Founder of the Marist Brothers. Fr Justin Taylor SM in his biography of Society of Mary Founder, Jean-Claude Colin,(Ch 15: 'End of the beginning, 1839-40) describes some of the last days of Fr Marcellin: '...on Ash Wednesday, 4 March 1840, Marcellin Champagnat was afflicted with a violent pain in the kidneys, which continued until his death. He now set about making his last dispositions...
'On 18 May, Marcellin dictated his 'spiritual testament'. It is a document that breathes the holiness of the man. Addressing his 'very dear brothers' the dying Champagnat emphasised the unity of the Society of Mary in three branches...
'From 24 to 25 May, (Jean-Claude) Colin was at the Hermitage to say farewell. On 6 June 1840, Marcellin Champagnat died at the age of fifty-one. He was buried two days later.'
Below: The bedroom of Marcellin Champagnat at the Hermitage, France, with his bed in which he died, and the chair used by visitors, including Jean-Claude Colin. | Portrait of Marcellin painted shortly after his death. [Jun 06]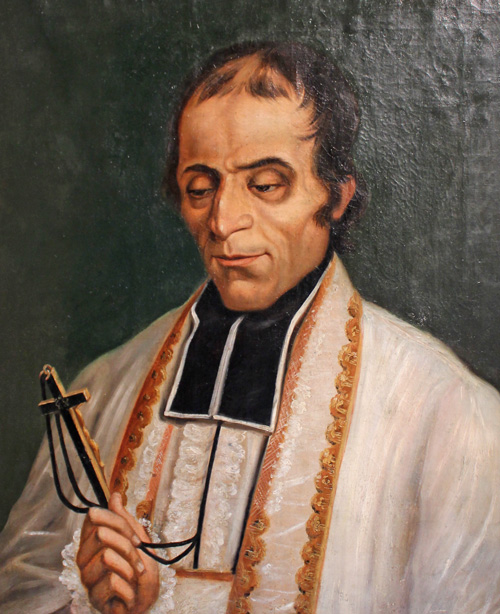 ---
Marists and education
In his monthly reflection Superior-General, Fr John Larsen SM, reminds Marists of the Society of Mary's ongoing commitment to all forms of education, especially to the young. Click here or go to Superior-General's page. [Jun 05]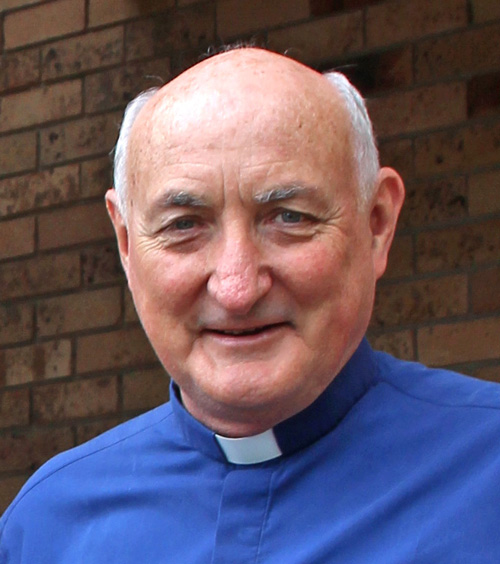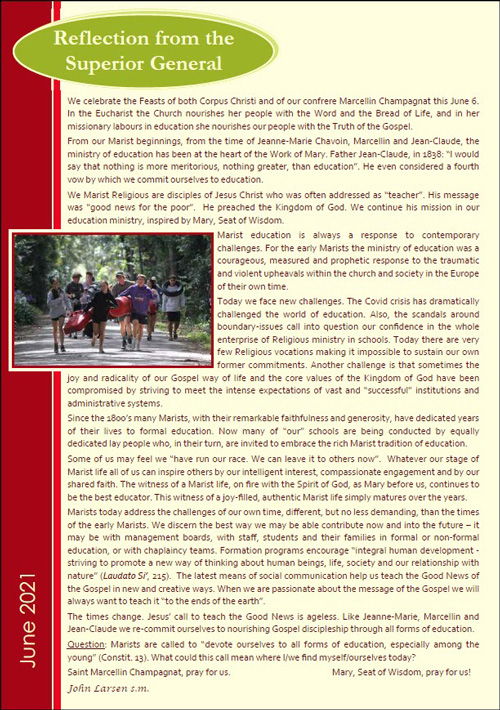 ---
'Shore to the ocean'
A chapter on the topic of 'Devotion' was contributed by Sydney-based Fr Tom Ryan SM in the recently-published 'International Handbook of Love, Transcultural and Transdisciplinary Perspectives'. Fr Tom has made the chapter available (in MS Word original), 'Devotion: "Being shore to the ocean"': click here. For details of the Handbook, click here. [Jun 05]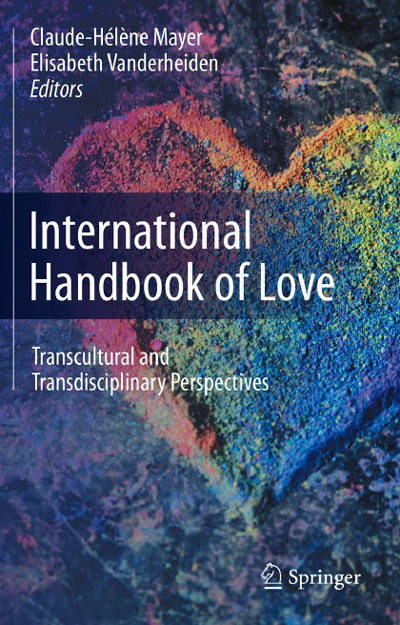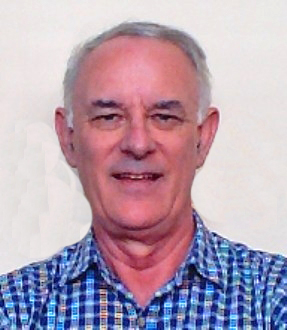 ---
Oceania News Bulletin
Reports from the regions of Oceania Marist province include an item from St Raphael's School, Tabago, Bougainville, benefiting from Australian Br Charlie Randle's 'Cycling for Children'. Click here or go to Members' Page. [Jun 02]