November 2018 news
Click here for News 2008 to 2017
---
---
Sorrow and Promise
Catholic Religious Australia are encouraging religious throughout the nation, as congregations and communities, to mark Sunday, Dec 02, as a day of 'sorrow and promise' for sexual abuse.
To download their 20-page liturgy booklet, click here. [Nov 30]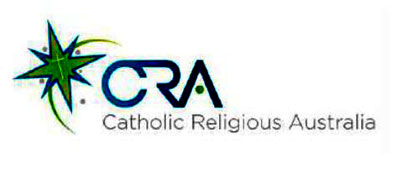 ---
Fathers and sons go bush
The annual sleep-out for fathers and sons of Villa Maria primary school was held in the monastery grounds, Nov 24-25.
A sea of tents arose on Saturday afternoon, with bush tucker, evening entertainment, and an open-air Mass for families celebrated by parish priest, Fr Kevin Bates.
A good time was had by all. [Nov 27]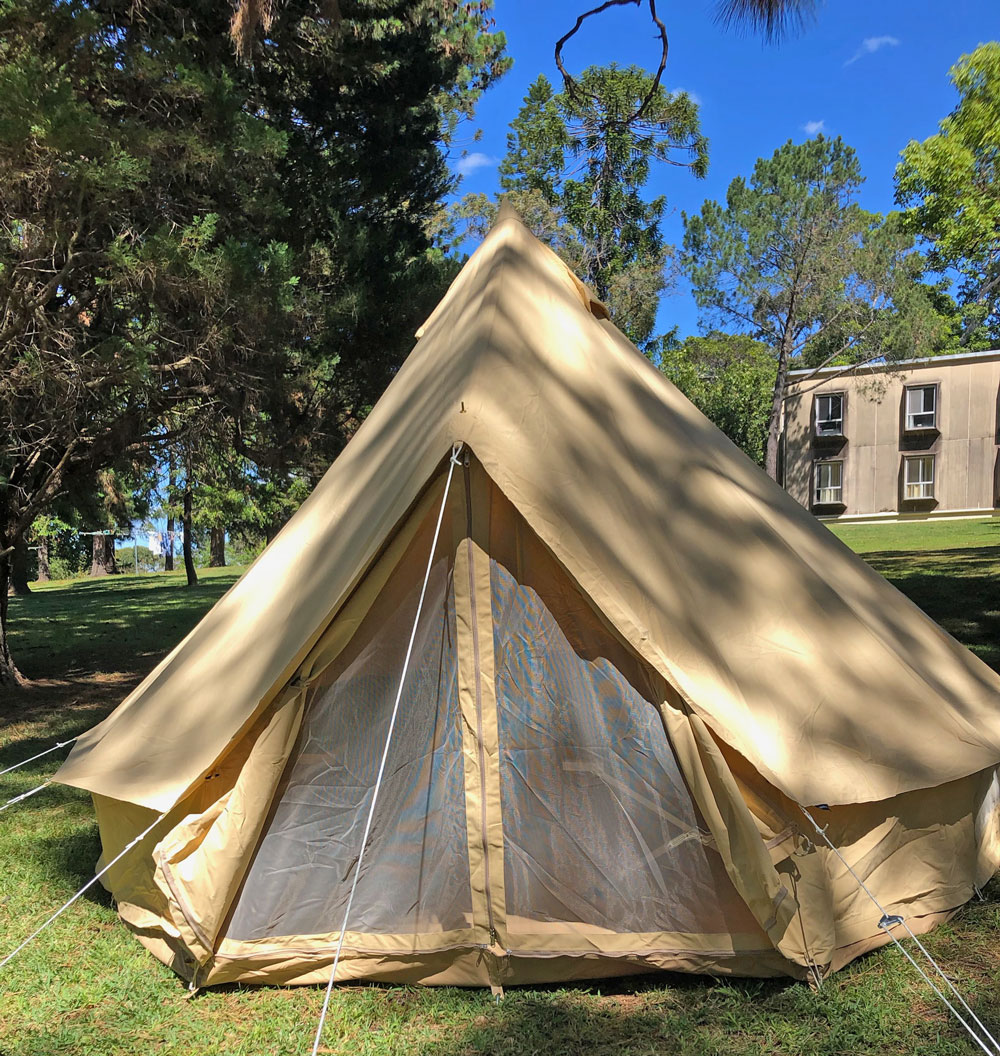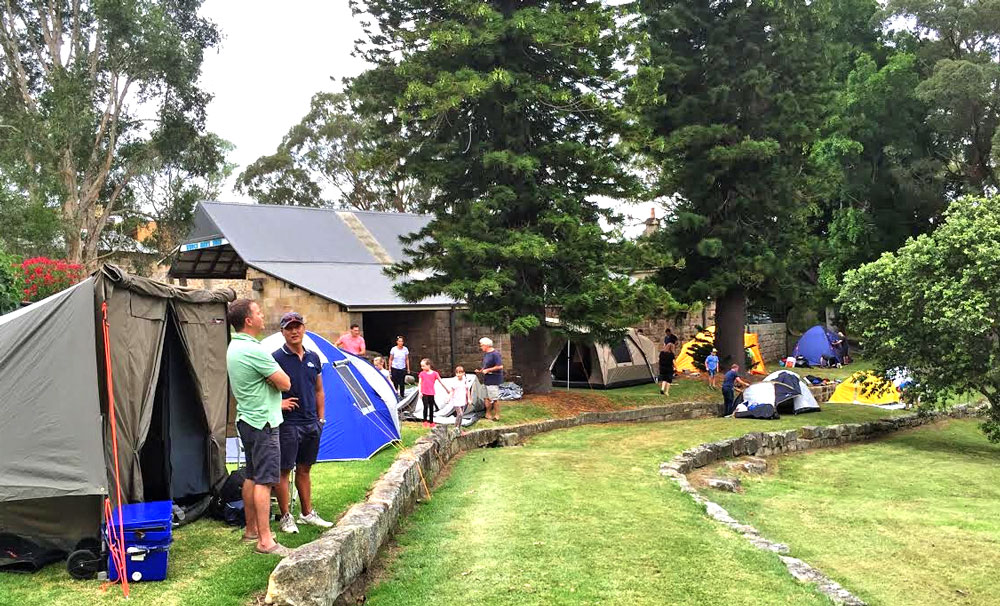 ---
International novices gather
Ten young men have met in Davao, Philippines, to prepare for their year of preparation for Marist vows.
The Marist International Novitiate community for 2019 will represent eight countries and six provinces and districts of the Society of Mary.
Above, the Marist International Novitiate community for 2019. From left, at front kneeling: Mark Emzee Lazaga (Philippines) and Seremaia Turagabeci (NZ). Standing: Lesley Kinani (Bougainville), Fr Joaquin Fernandez, formator (Spain), Fr Fernando Ingente novice master (Philippines), Joel Ama (Cameroon), Hemi Ropata (NZ), Clinton Kube (Cameroon), Leonard Wuiz Amora (Bougainville), Paul Crocker (Fiji), Fabrice Souga (Cameroon), Nik Rodewald (USA), Fr Jacob Aba formator (Solomon Islands).
---
Sudden passing of Br Terry Heinrich
Marists in Australia, Cambodia and worldwide are grieving the death today (Nov 20) of Marist Brother Terence Heinrich FMS (72). Br Terry had come to Sydney from Cambodia several weeks ago for some medical attention, but his death at the Marcellin (Randwick) community of Marist Brothers was sudden and unexpected.
A popular and highly-esteemed educationalist in Australia, Br Terry is better known over the past twenty years for his pioneering work amongst physically-disabled Cambodian children.
Br Terry's non-formal primary education project in Phnom Penh, Cambodia, was established in1998 with help from the Marist Mission Centre and AusAID. It was visited by MMC's 'The Other Half' exposure groups in the early 2000's where Br Terry was a welcoming and engaging host.
We offer our deep sympathy to the Marist Brothers of Australia and to Br Terry's family and many friends, especially the disabled youngsters of Cambodia. May he rest in well-deserved peace. [Nov 20]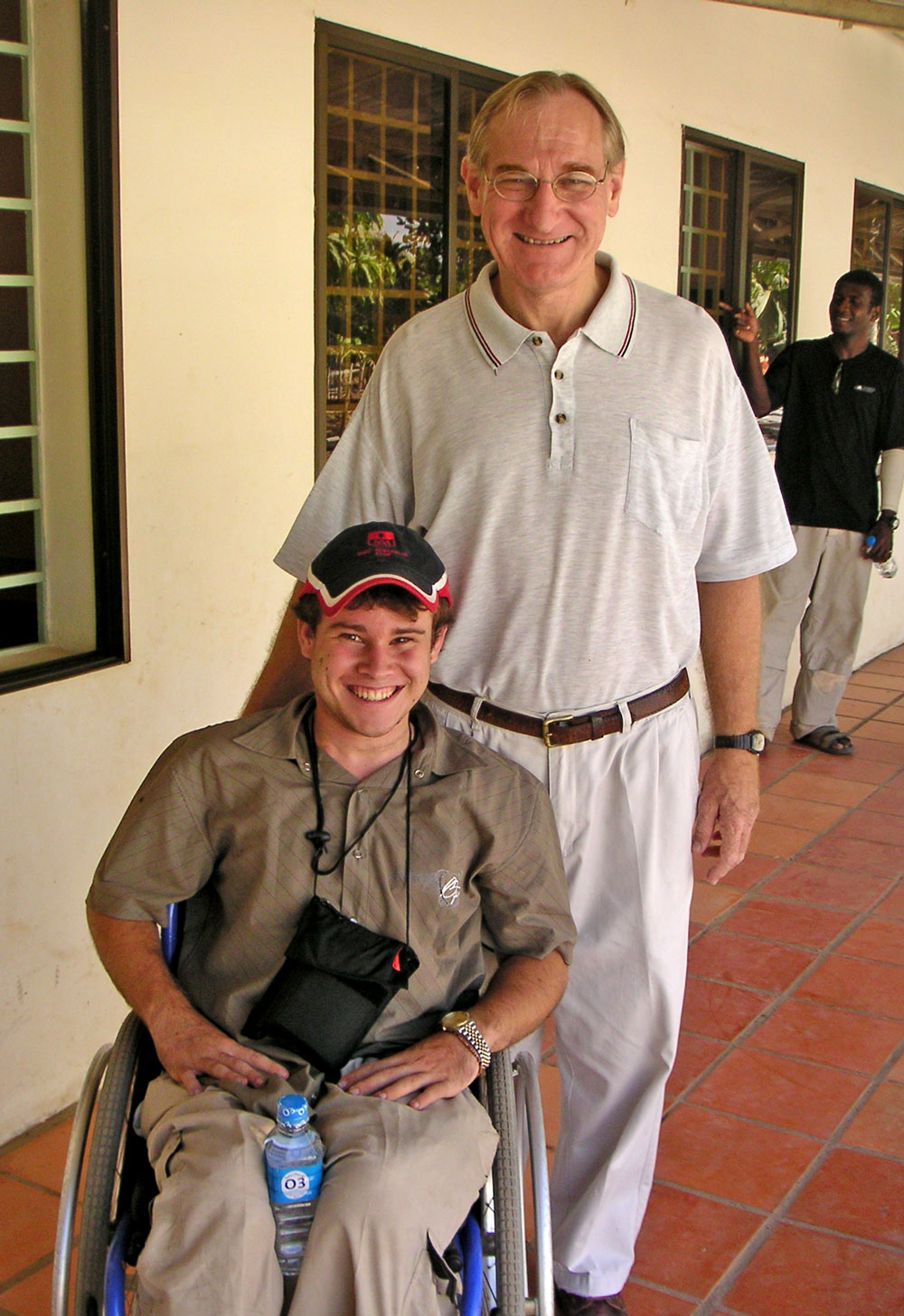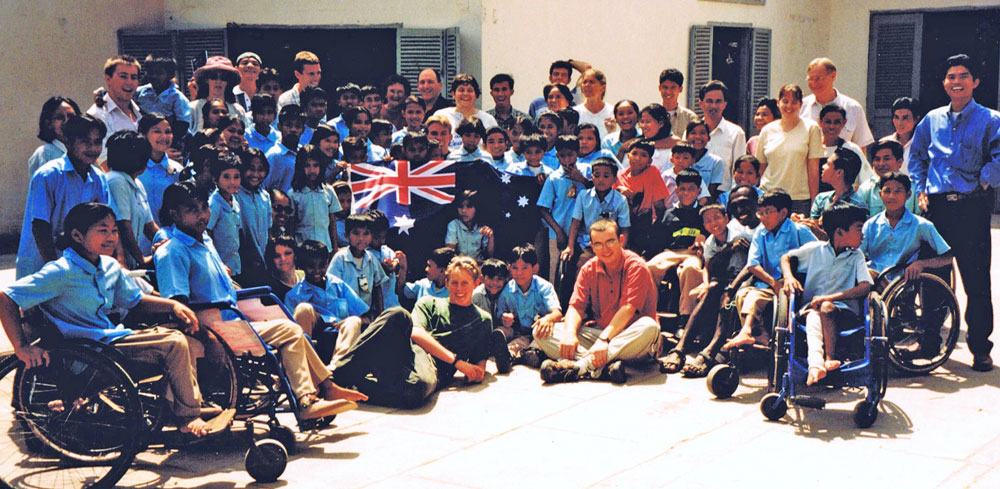 Above: Br Terry Heinrich with Brisbane TOH-er and former pupil, Sam Hodge, at Lavalla school, Phnom Penh, in 2005. | Br Terry (at back, near far right) with Lavalla youngsters and TOH-ers in 2000.
Below: TOH-ers with Br Terry at Lavalla in 2001 | ... with Khmer amputee, Stephen Beun, at MMC office, Sydney, in 2004 | Lavalla school, Cambodia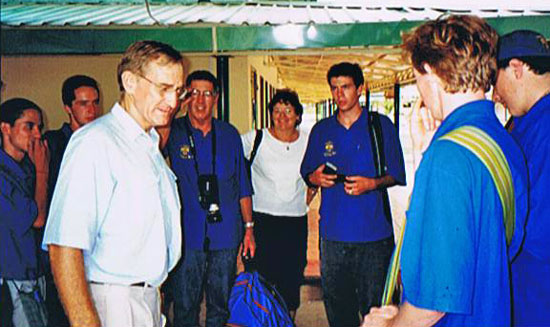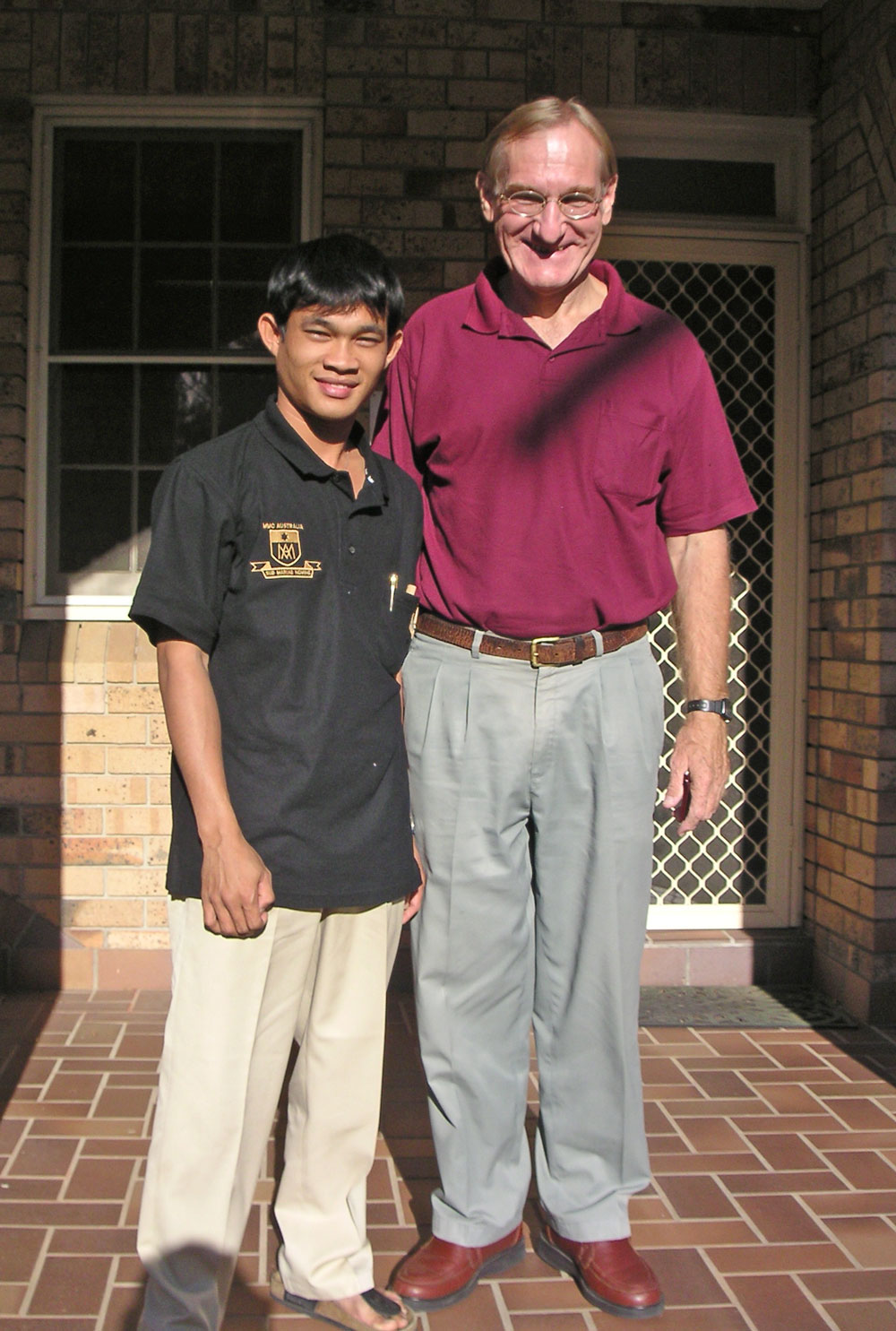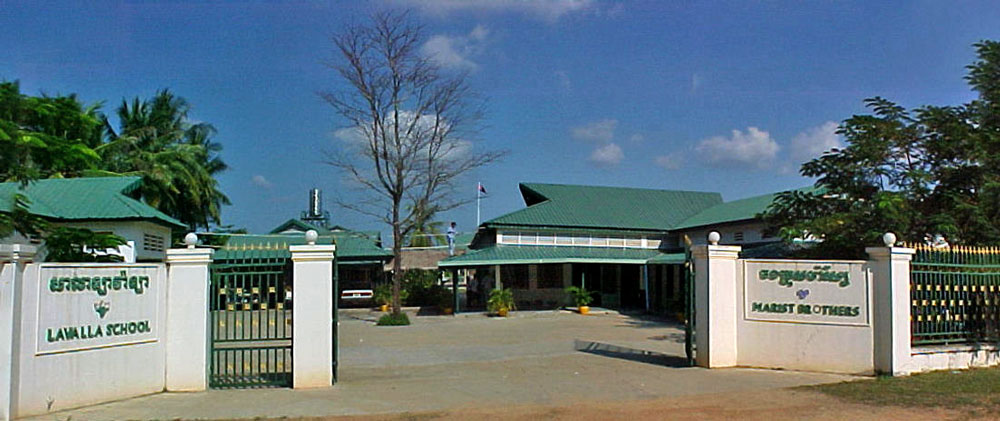 ---
New face at St Anne's
Bouncing back from a recent convalescence, Vanuatu-born Marist, Fr Willy Melteras, is including Mass at St Anne's Nursing Home, Hunters Hill, in his pastoral work.
Since ordination in 2013, Fr Wills ('Wills' to his mates) has been assistant-pastor at Holy Name of Mary parish, a position now held by Tongan confrere, Fr Aliki Langi.
Members of the Villa Maria community, where Fr Willy now resides, provide a weekly Mass at St Anne's. [Nov 19]
---
Colin biography options
ATF publications recently announced its four format options for the purchase of Fr Justin Taylor's biography of Marist Founder, Jean-Claude Colin.
Fr Justin is pictured below at one of the book's launches held in Auckland and Wellington this week.
To check ATF's order options, click here and scroll to 'Format' [Nov 17]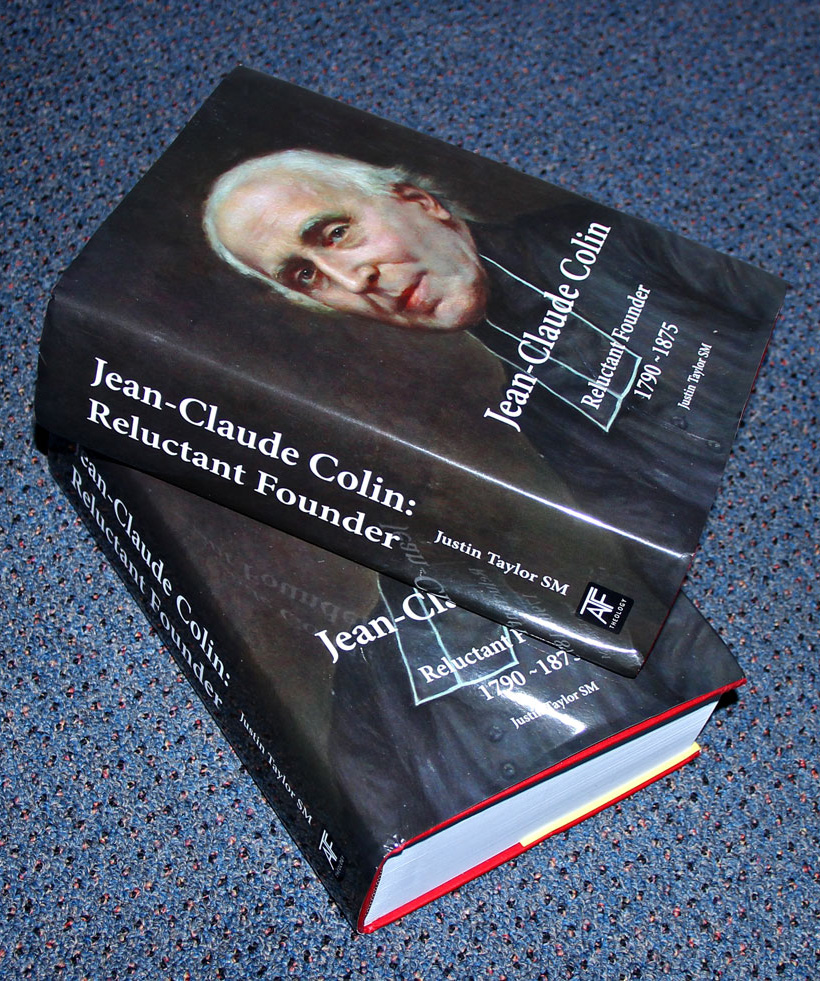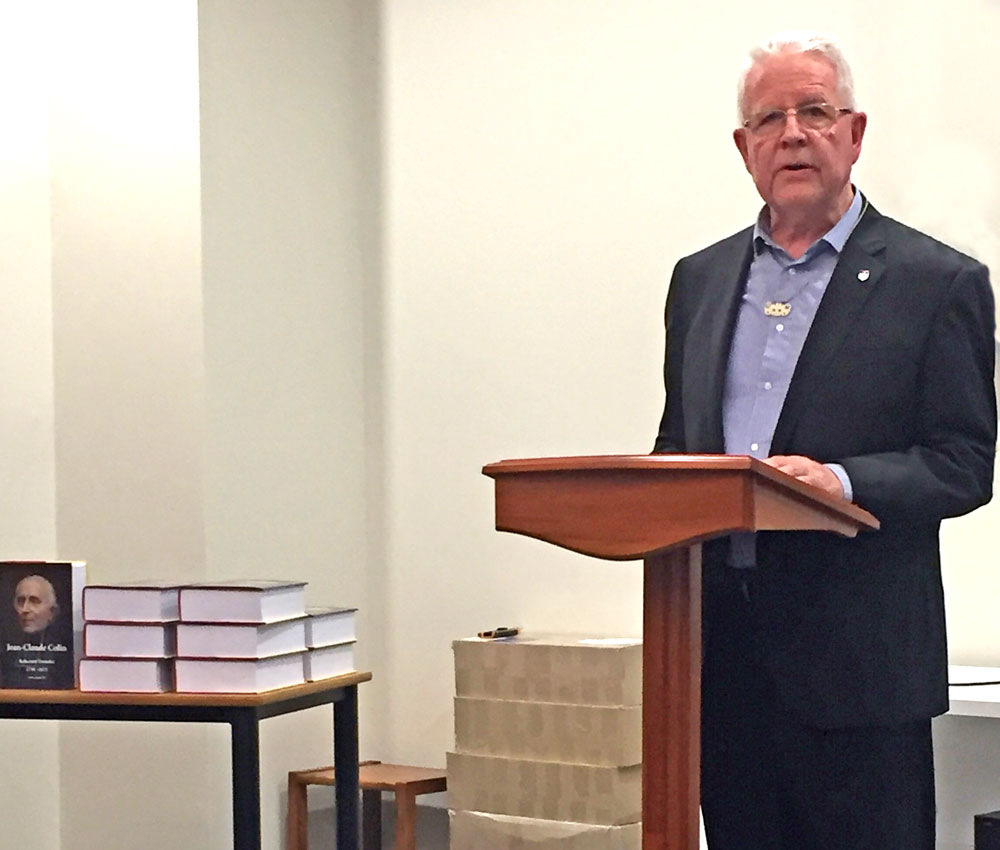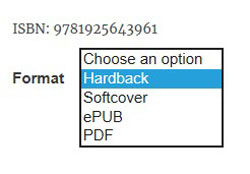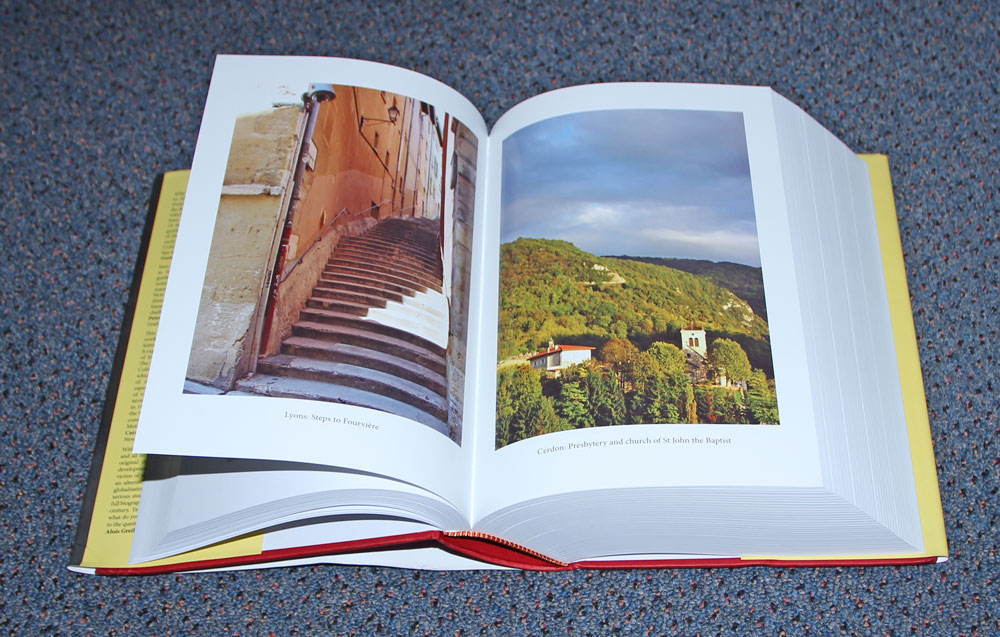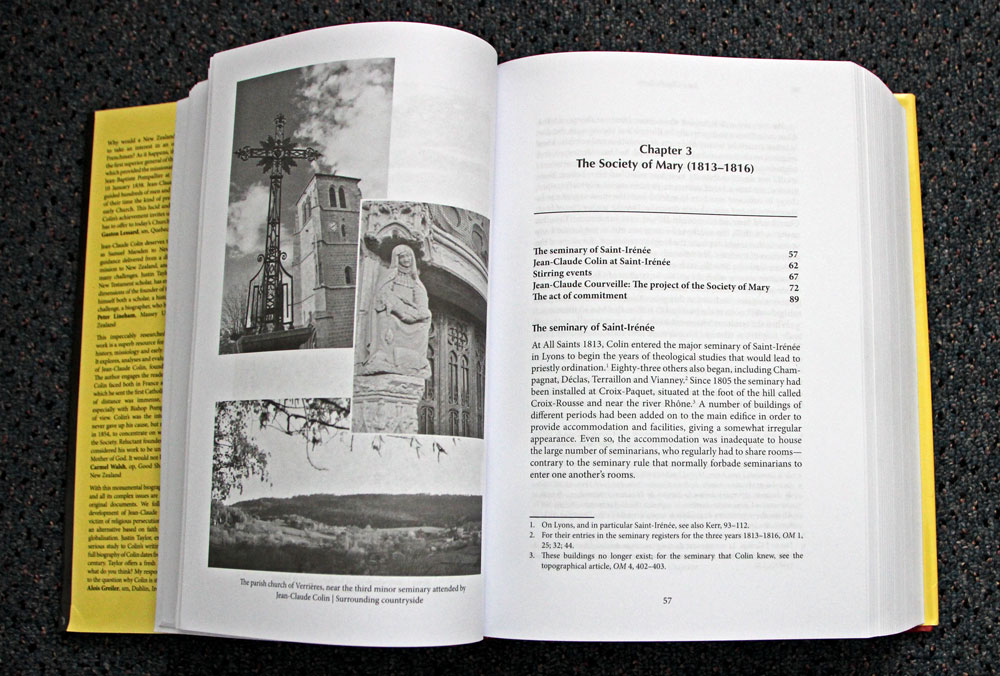 ---
'A skip in our step'
Members of the Catholic Sudanese community were welcome guests at the 10 am parish liturgy of Villa Maria church, Hunters Hill, on Nov 11.
At the suggestion of Fr Jim Carty who has a regular ministry with the community at its Blacktown, Sydney, gatherings, the colourful group brought their characteristic song and dance to the parish Mass.
One parishioner commented: 'They were amazing, and the emotional and mental connections made between the local parish folk and the South Sudanese group were palpable... we left Mass with a skip in our step and lots of love in our hearts.' [Nov 12]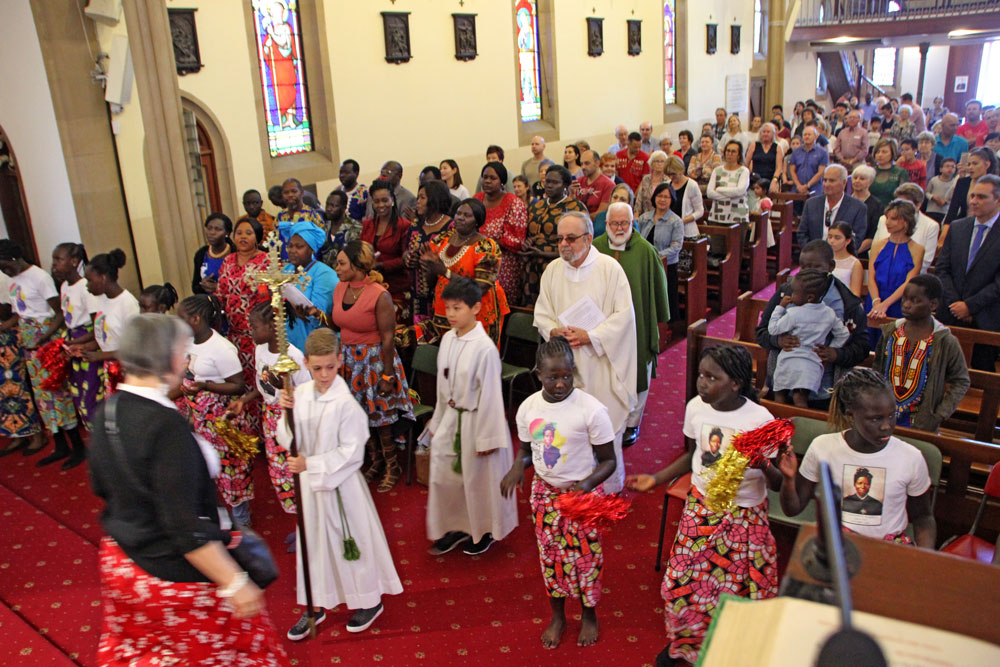 Above: A vibrant note was added to the regular parish Mass at Holy Name of Mary ('Villa Maria') church, as the Sudanese Catholic community joined the Sunday Eucharist,
Below: Parish priest, Fr Kevin Bates, welcoming the visiting community | Fr Jim Carty adds to the welcome | President of the Sudanese Australian Catholic Community, Mr Akoko Akok, addresses the congregation.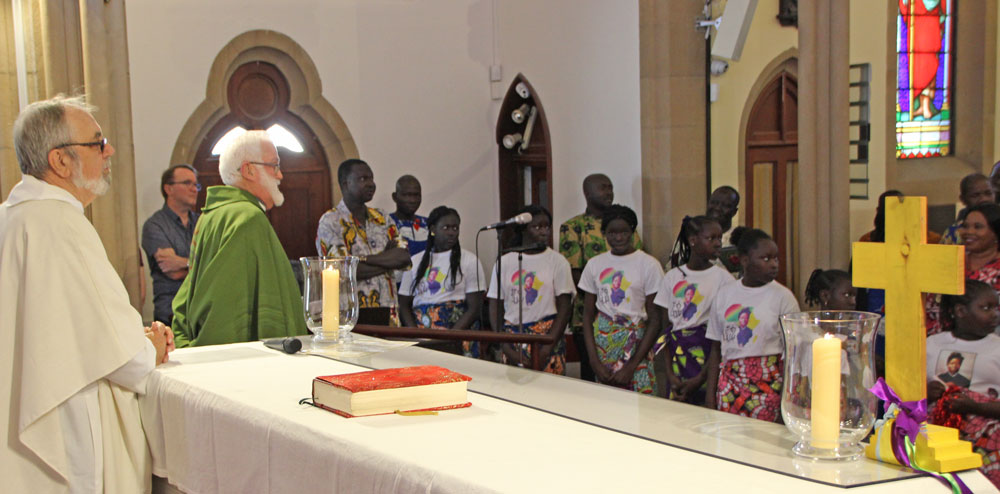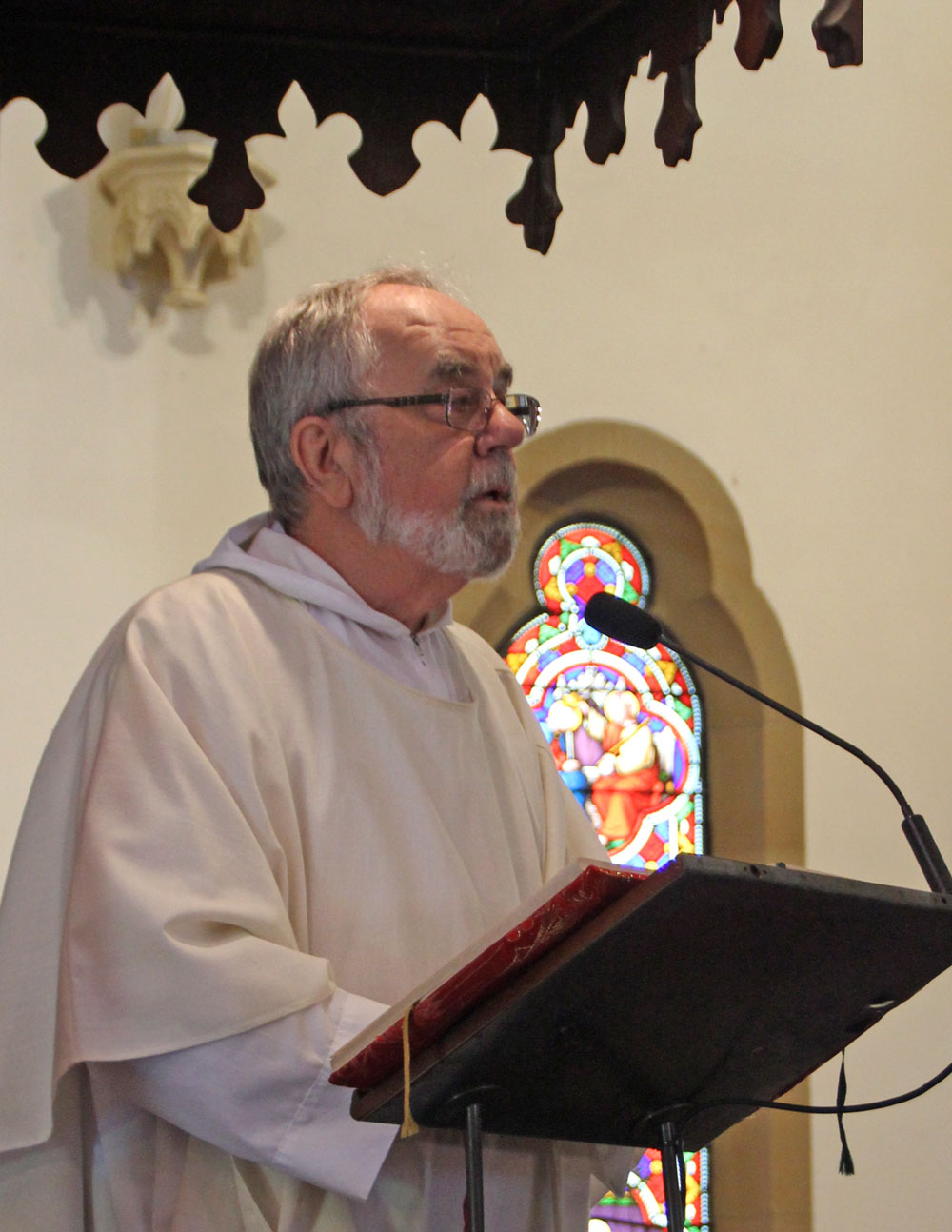 ---
---
Brisbane retreat
Santa Teresa Spirituality Centre, Ormiston, was the venue for the second Provincial retreat, Nov 04-09.
The retreat in the centre's picturesque setting was led by Fr Tom Ryan SM, for mostly Brisbane-based Marists. [Nov 10]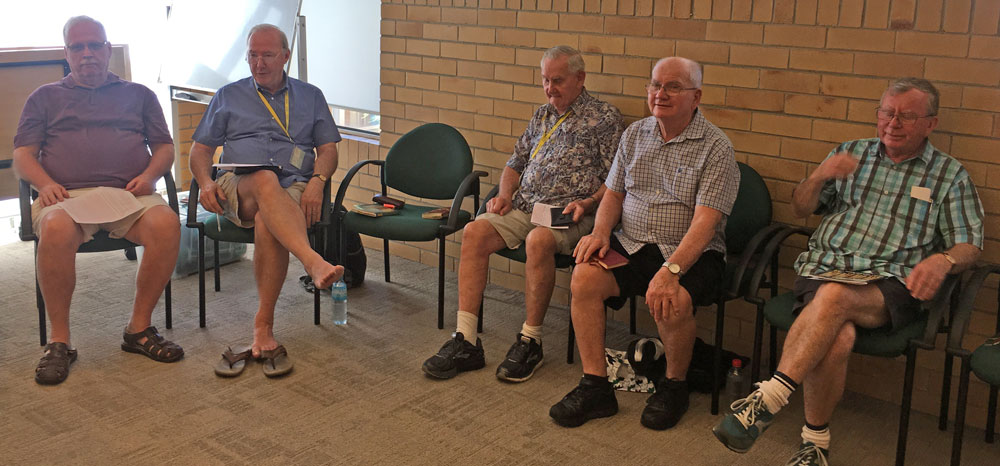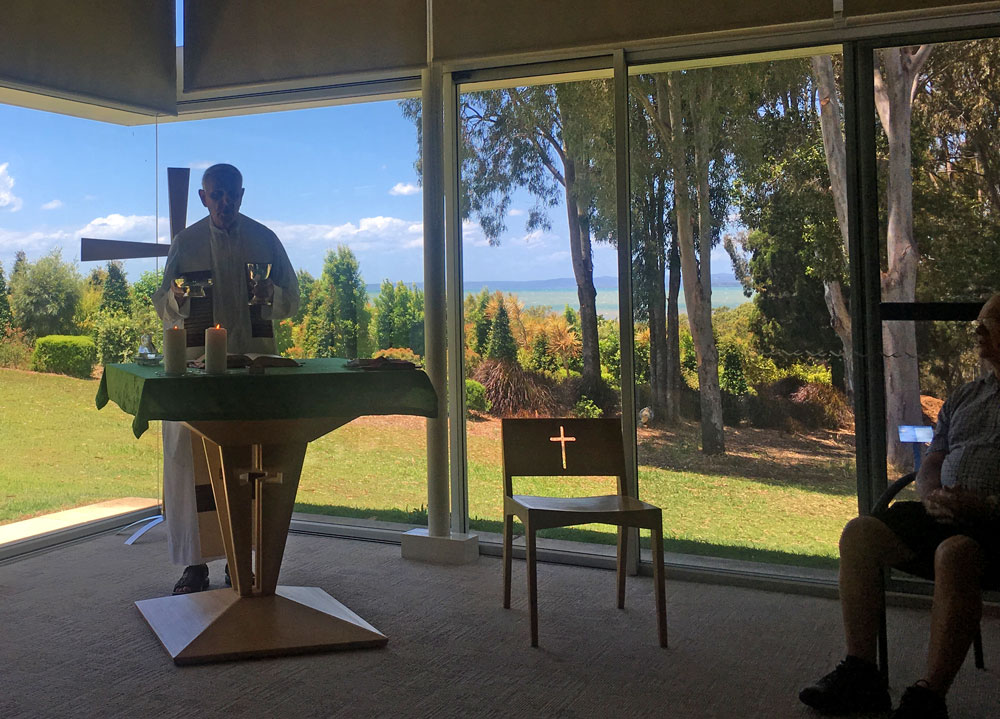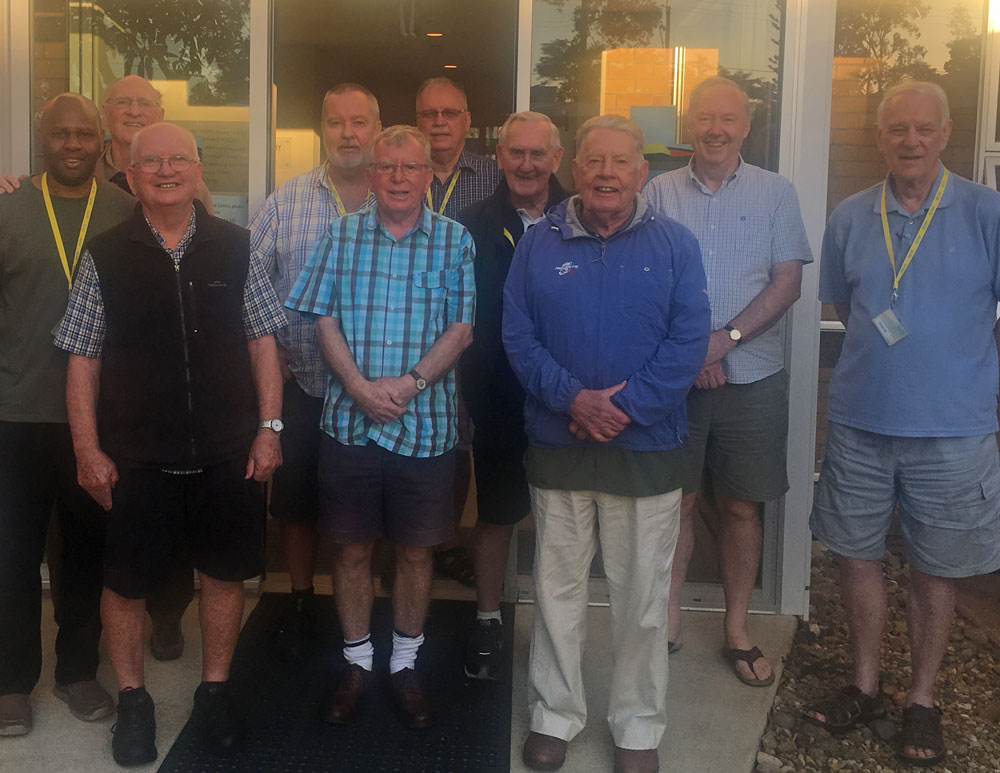 ---
Villa Maria school, 150 years
The parish primary school of Holy Name of Mary, Hunters Hill/Woolwich, celebrated its sesquicentenary on Oct 28.
In addition to the Eucharist celebrated by Frs Kevin Bates and Aliki Langi, a large mosaic cross was unveiled, acknowledging "150 years of Catholic primary school education in Hunters Hill". [Nov 10]
Below: Scenes from the sesquicentenary event, which included an historical display and the presence of former students, including Bishop Geoffrey Robinson, pictured below with parish priest, Fr Kevin Bates.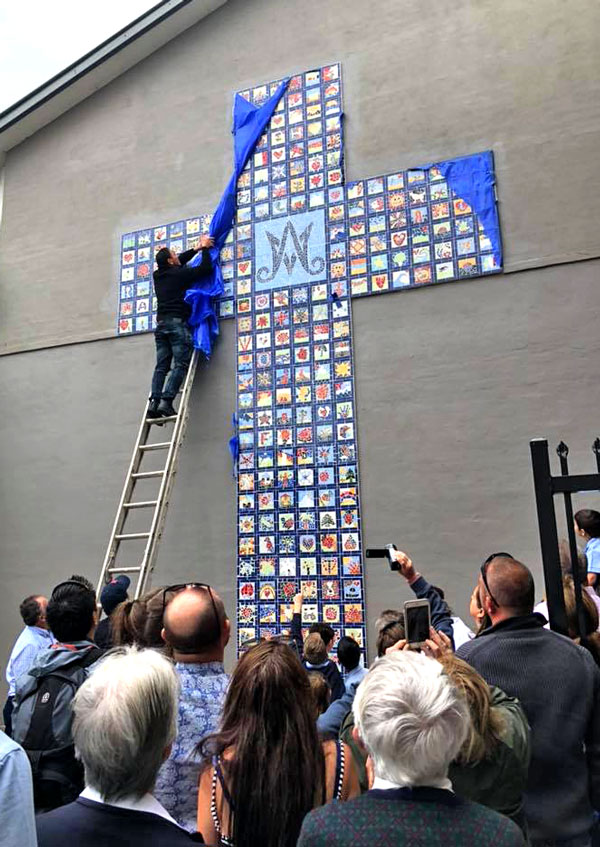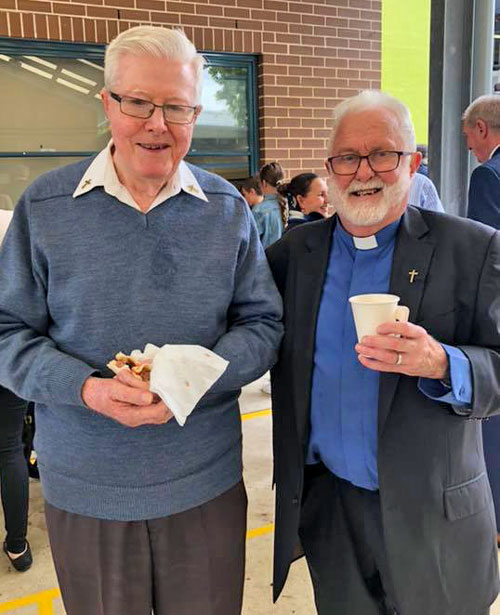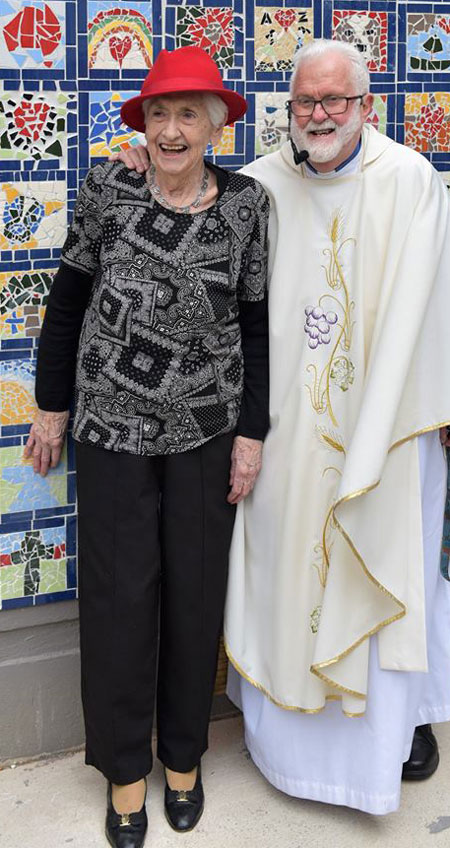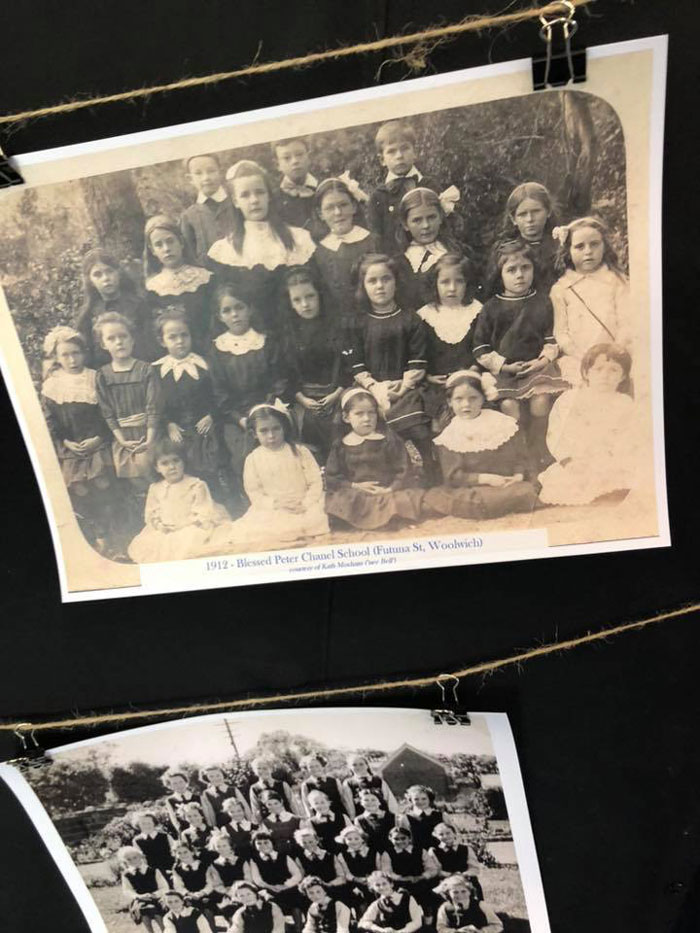 ---
Deacon Kenneth
In a ceremony on Nov 03 in Rome, Marist seminarian, Kenneth Njong Akua, was ordained deacon by Bishop Tom Burns, SM. Bishop of Menevia, Wales.
Venue was the parish church of Santa Francesca Cabrini, adjacent to Casa di Maria, the international theologate of the Marist Fathers, where Kenneth has studied in recent years.
Congratulations, Deacon Kenneth!. [Nov 08]
Above: Scenes at the diaconate ceremony | Deacon Kenneth with Bishop Tom Burns and superior-general, Fr John Larsen.
Below: African confreres and friends entertain | Australians present were Sr Vivienne Goldstein SM, picture with Bishop Tom, and Fr Tony Kennedy, Rector of the Marist theologate.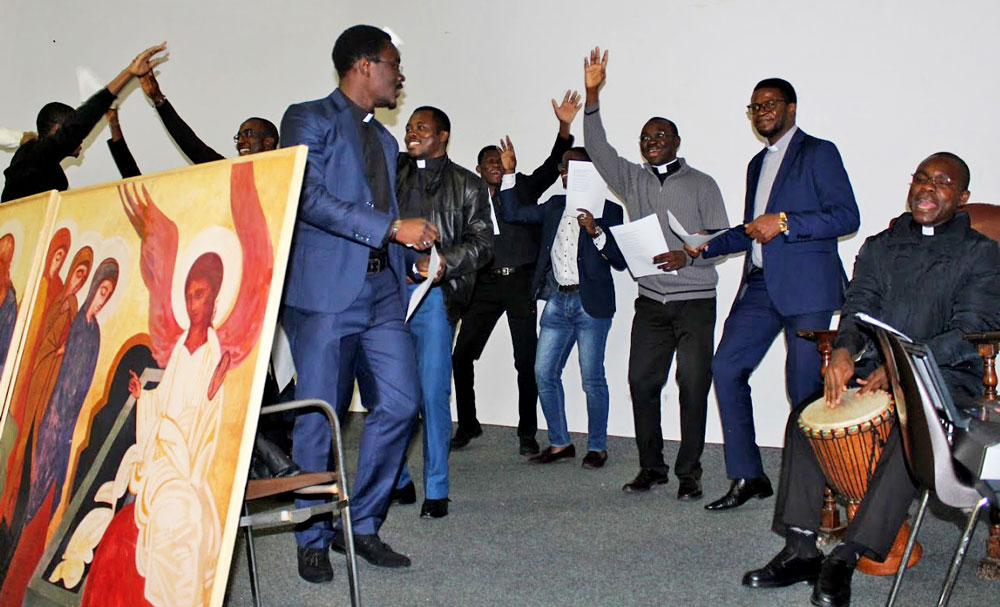 ---
Latest Marist newsletters
Recent Marist newsletters from Africa, Europe and Marist Laity International are now available. Click below...
[Nov 06]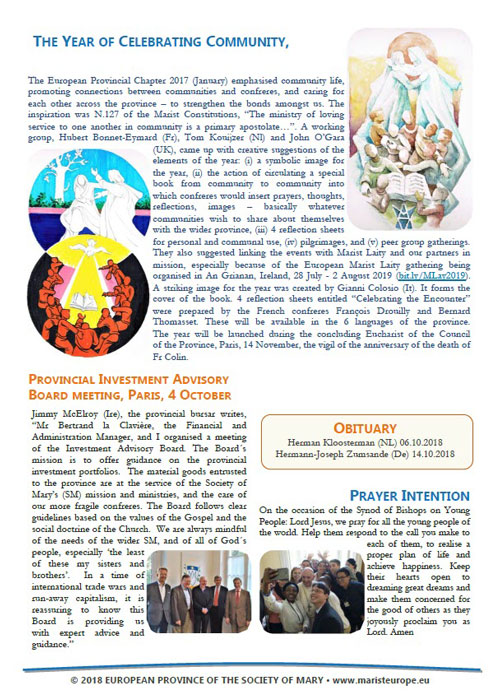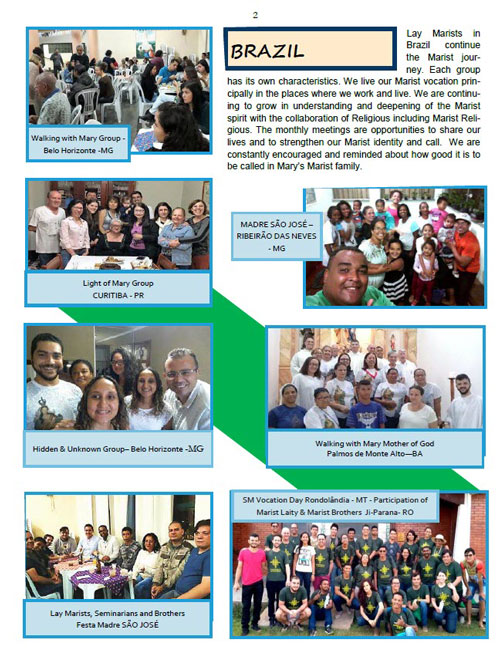 ---
Fr Paul Glynn's 90th
Marists gathering at Hunters Hill for the Holy Souls prayer on Nov 02 (see below) stayed on to celebrate with author and missionary, Fr Paul Glynn, for the cutting of his 90th birthday cake.
Fr Paul leaves for Nara Prefecture, Japan, on Nov 08 where he has been invited to join the Catholic community of Tomigaoka for the fiftieth anniversary of their church built by his brother, the late Fr Tony Glynn. The first Mass at the Tomigaoka church was celebrated by Fr Tony on Nov 11, 1968. Fr Paul will offer Mass there on Nov 11, 2018. [Nov 05]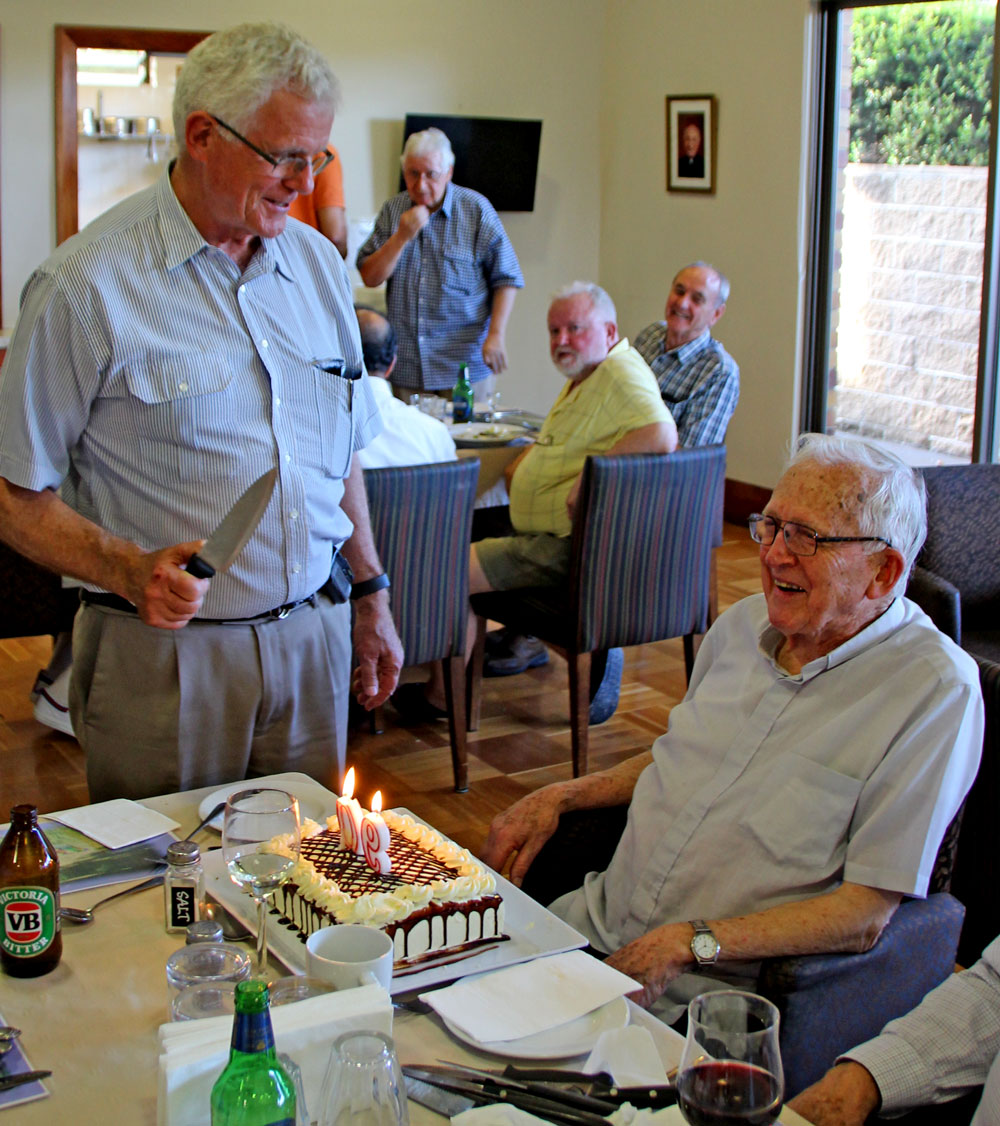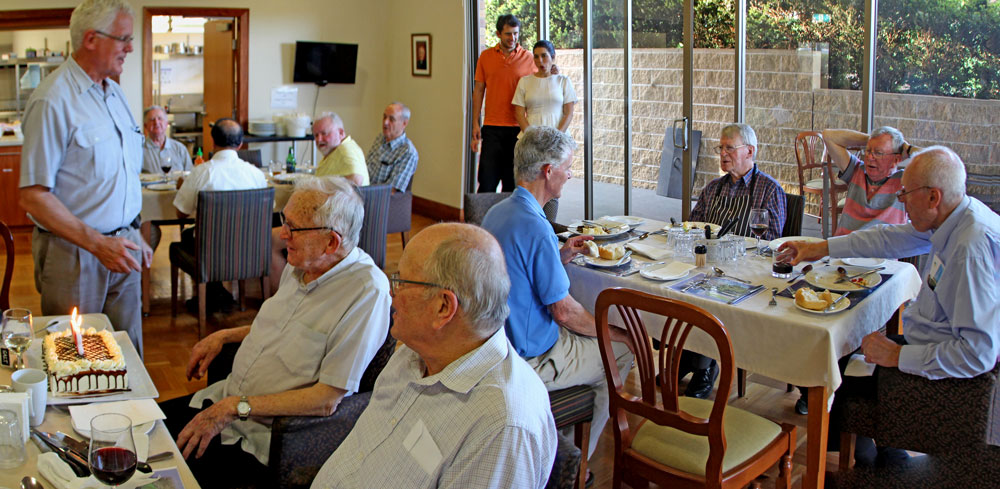 ---
Holy Souls remembered
In concurrent moments of Evening Prayer, two groups of Marists remembered the Holy Souls at Hunters Hill on Nov 02.
While the Maryvale/Montbel gathered in their modern chapel, other confreres and family assembled in Villa Maria's historic mission cemetery not far away in the monastery grounds.
Click here to download Evening Prayer for the Holy Souls (keep it for next year!). [Nov 02]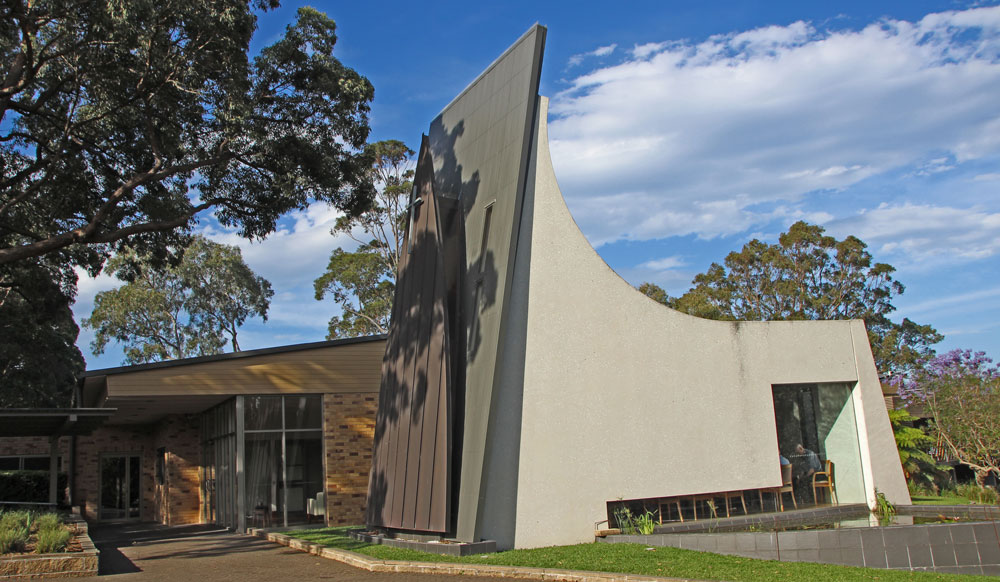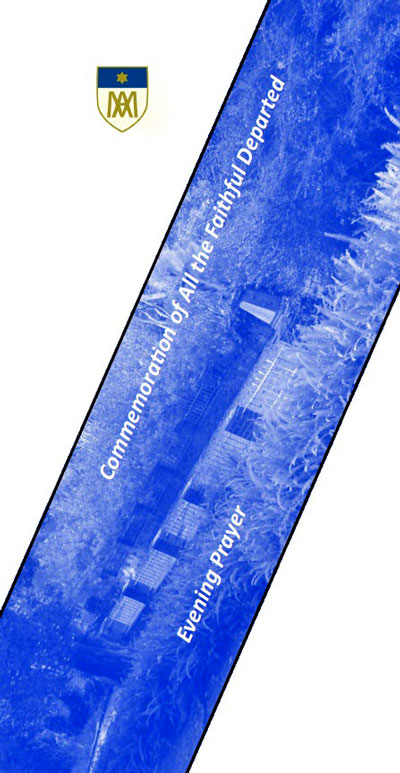 ---
Superior-General's reflection
Fr John Larsen's November reflection on the month of the Holy Souls is on the Members page.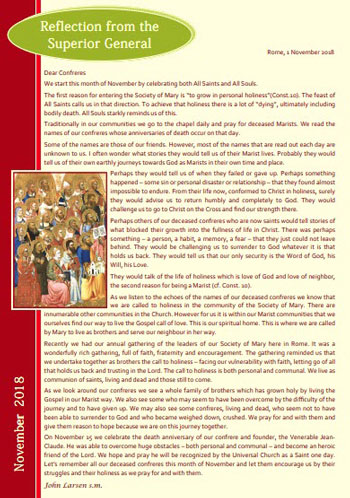 ---