---
September news
Colin calendar: 2021
Colin calendar 2022 order form: click here

Click here for News 2008 to 2017 | For News 2018 to 2020 click here
---
Passing of Fr Kevin Kerley
Veteran missionary, Fr Kevin Kerley SM, OAM, 93, died peacefully on the morning of Sep 29 at Twilight Aged Care facility, Hunters Hill, NSW.
When ex-patriates fled from Bougainville during its violent crisis times in the 1990s Fr Kevin laboured throughout in the face of frightening confrontations on the troubled Pacific island. In recognition of this he was awarded the Order of Australia medal in 2014.
His funeral will take place on Oct 08, with Mass of Christian Burial at Holy Name of Mary church, Hunters Hill, followed by interment in the Villa Maria mission cemetery. COVID restrictions will still be in place at this time. May he rest in peace.
For more on Fr Kevin's life, click here. [Sep 29]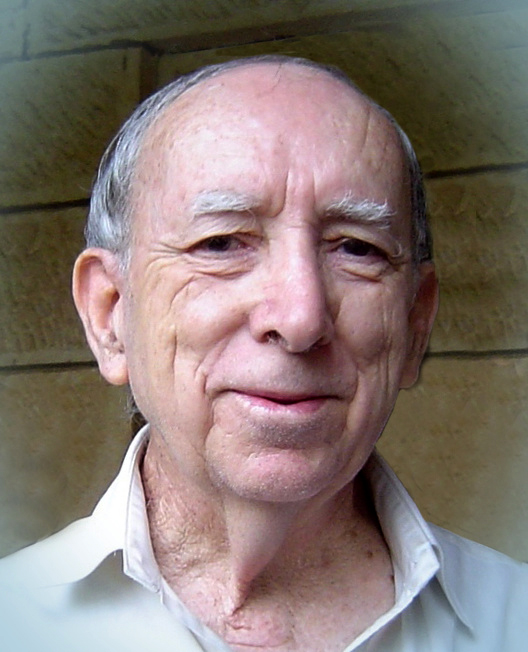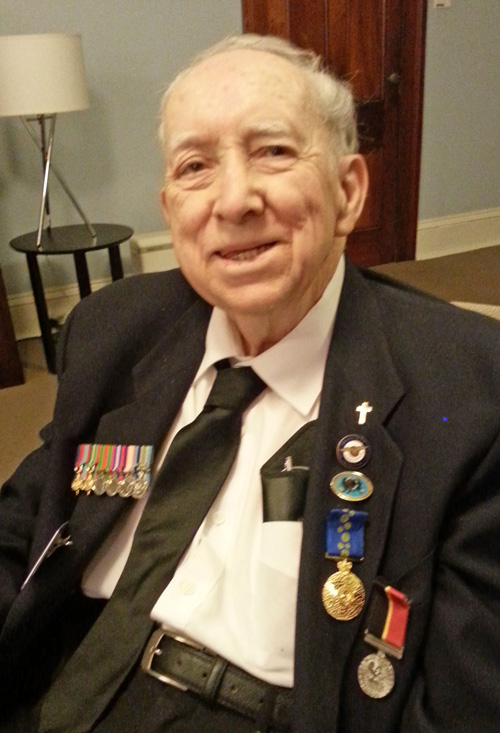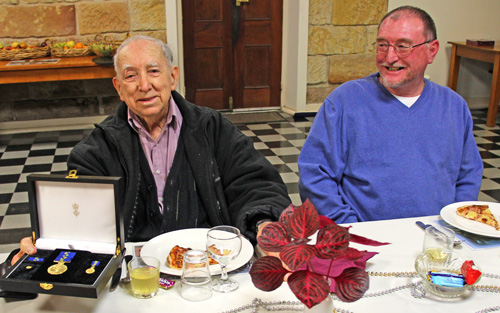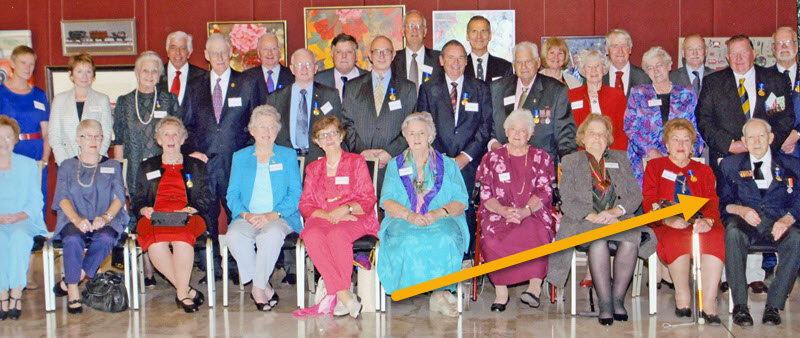 Above: Fr Kervin Kerley SM, OAM | At the time of his 2014 investiture in the Order of Australia | ... with confrere, Fr Paul Pearce SM. | ...with the investiture group at Government House, Sydney.. Below: 'KK' as confreres knew him during his days at Hunters Hill.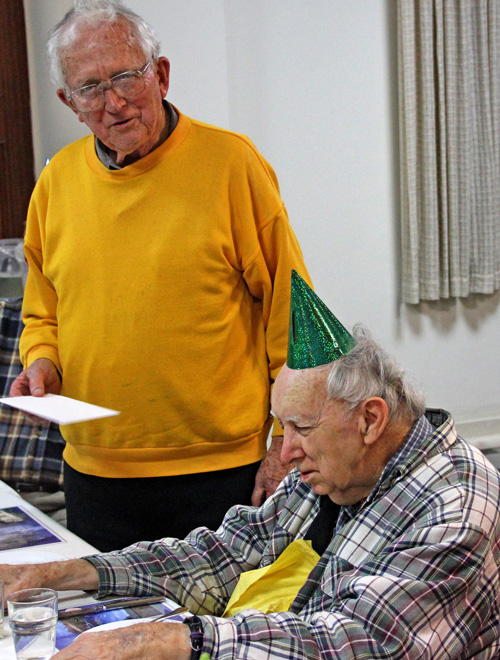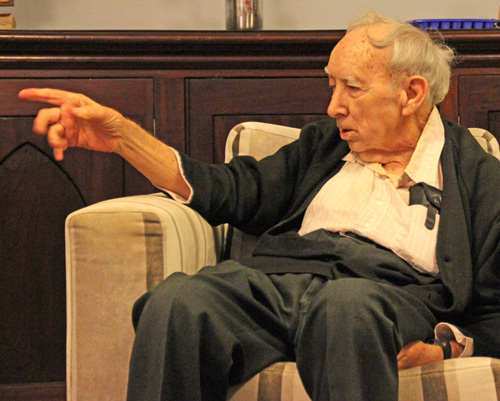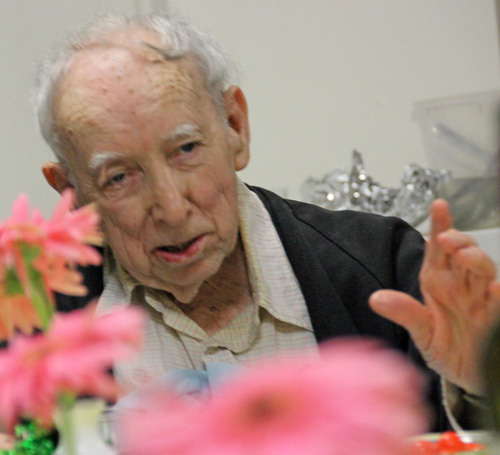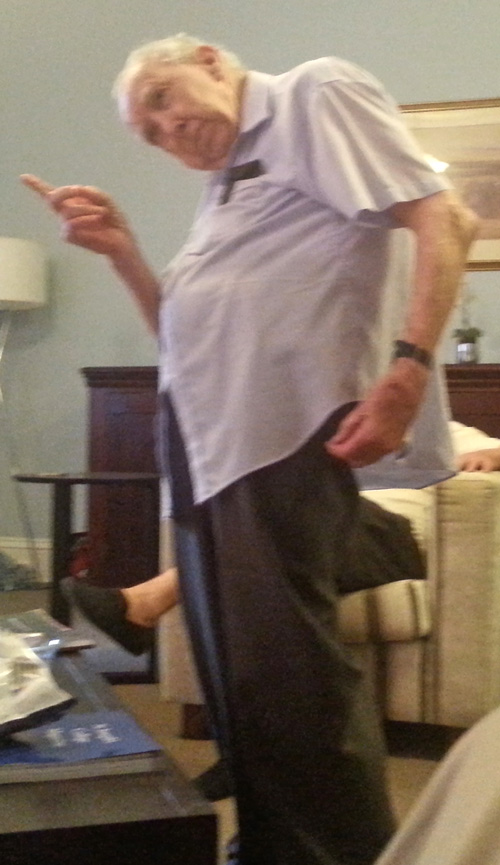 ---
From Rome, the latest SM Bulletin reports on the reappointment of Fr Yvan Mathieu as provincial of Canada, the change from Province to District in Mexico, 175th celebrations in southern France, as well as the activities of the General Administration team members. Click here or go to Members' Page. [Sep 24]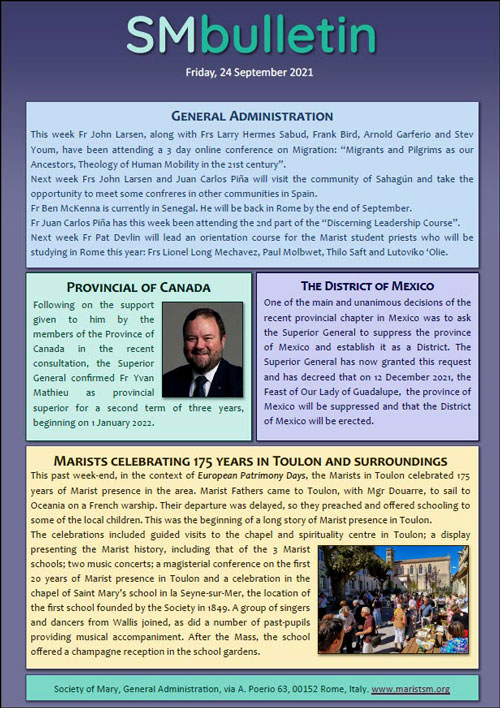 ---
First Marist professions
On Sep 24 the Society of Mary recalls the religious profession of the first Marists in 1836 and the election of Jean-Claude Colin as its first superior-general.
The event, taking place in the chapel of La Capucinière, Belley, France, followed the approval of the priests' branch of the Society of Mary by the mission-minded Pope Gregory XVI. [Sep 24]

Above: The sanctuary steps on which the first Marists knelt on Sep 24, 1836. Below: The chapel of La Capucinière, Belley | The signatures of the first Marists, amongst which are those of Jean-Claude Colin, Marcellin Champagnat and Peter Chanel.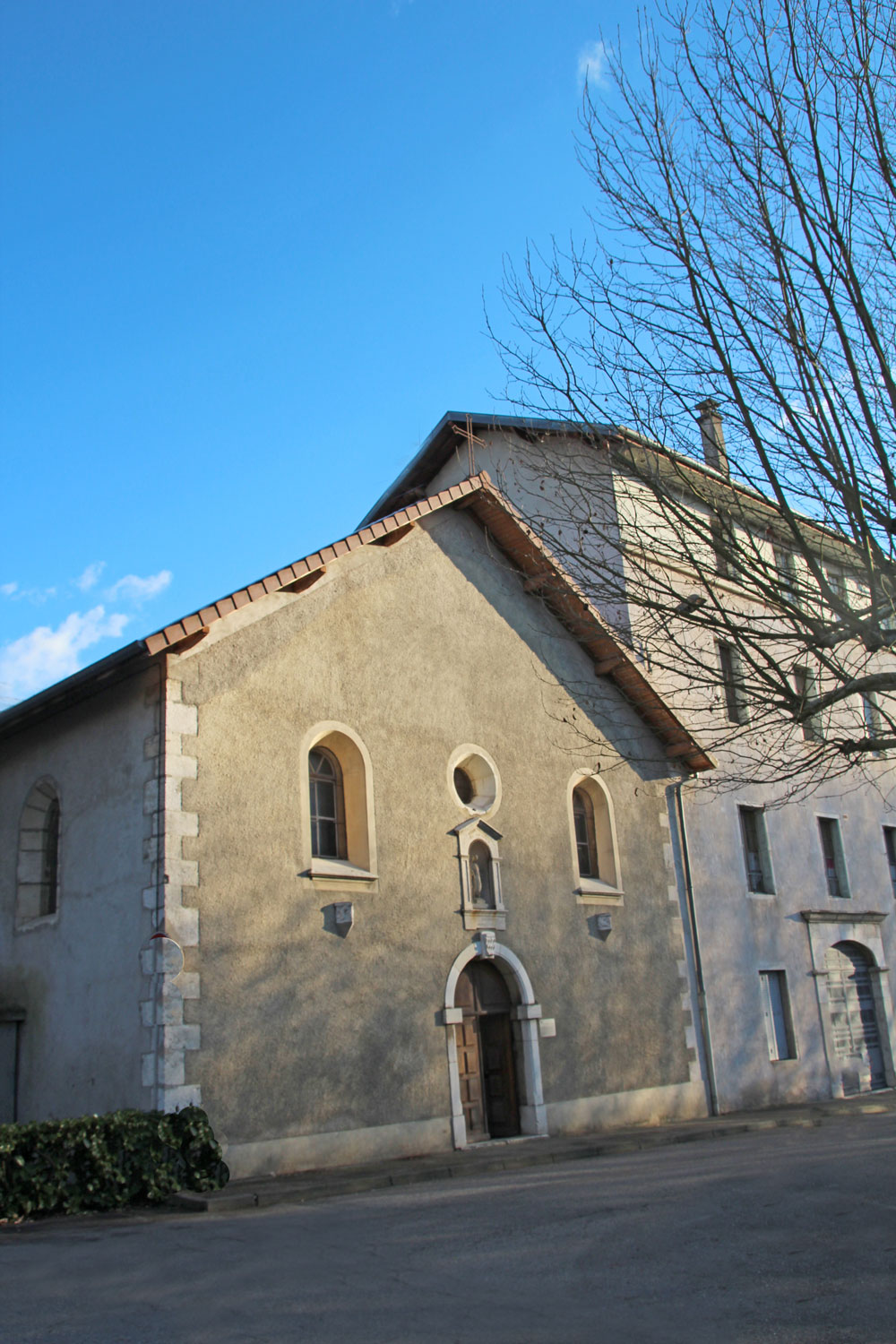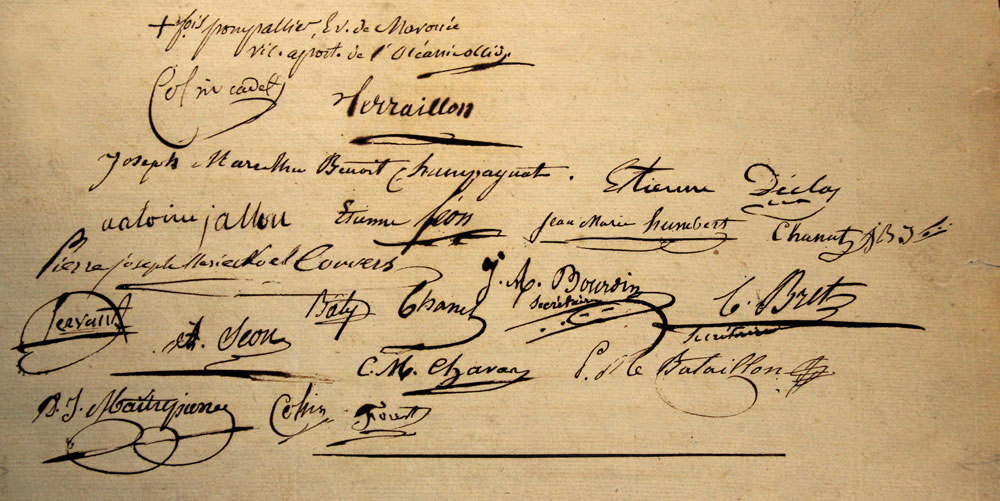 ---
Montbel retreat
A five-day 'morning retreat' has been presented by Fr Tom Ryan SM to the community of Montbel, Hunters Hill, from Sep 20 to 24.. The planned provincial retreat was cancelled due to the pandemic so Fr Tom prepared five talks for his confreres, and invited Marists from other communities to join by Zoom video, phone or recorded sessions.
Topics included the spirituality of Marist Founder, Jean-Claude Colin, Mary and St Joseph. [Sep 24]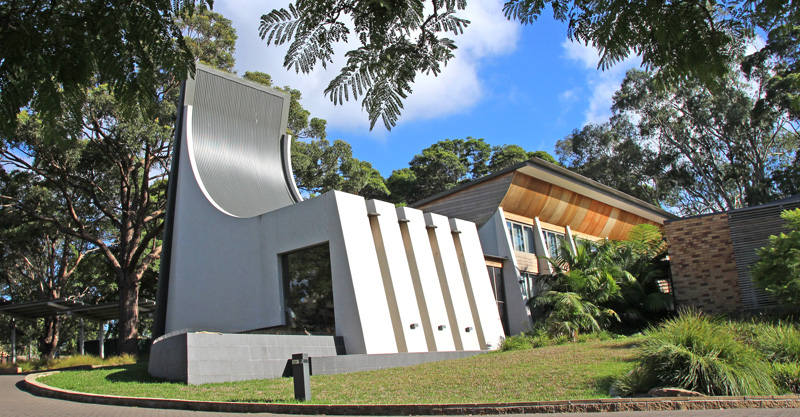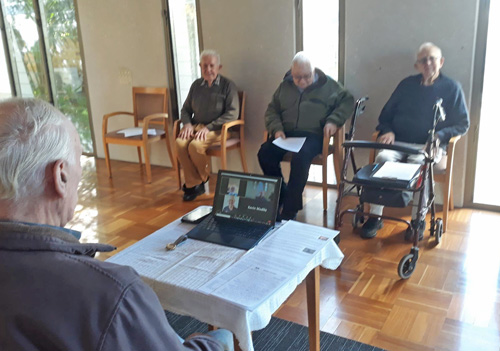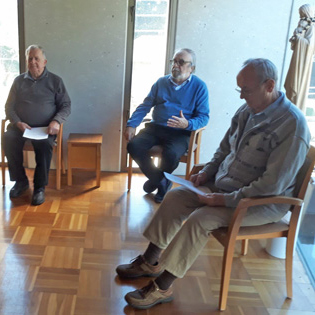 Above: The chapel of Montbel, Hunters Hill, NSW. | Fr Tom Ryan with Montbel retreatants. Below: Fr Tom presenting morning talks by Zoom to four other retreatants.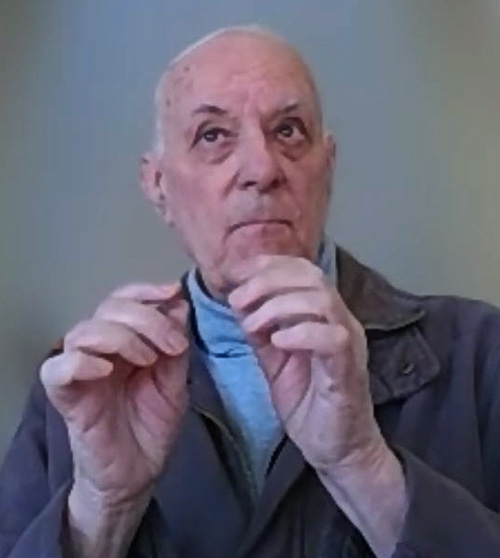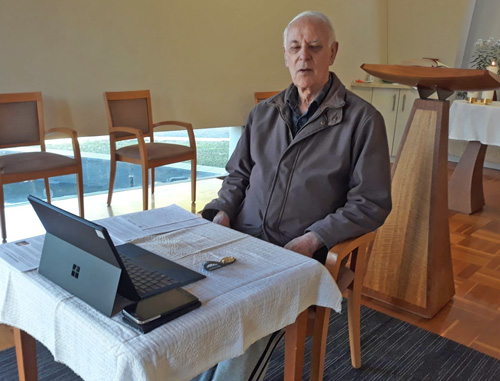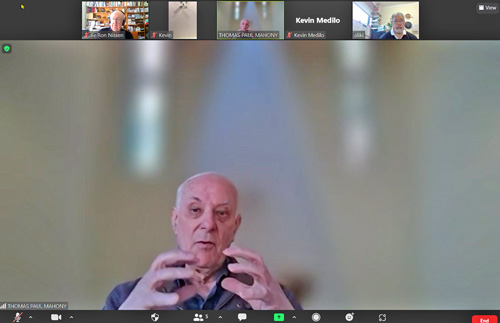 ---
MMC Newsletter
The Spring issue of the Marist Mission Centre Newsletter is now available. Click here or go to Members' Page. [Sep 21]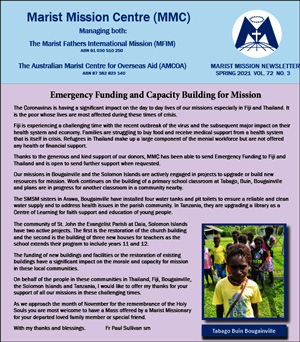 ---
Ormiston retreat
Marists from the Brsbane region gathered recently at St Teresa's Spirituality Centre, Ormiston, for their annual retreat led by Fr Paul Chandler O Carm. They are pictured below in the modern facility of St Teresa's and its picturesque grounds. [Sep 19]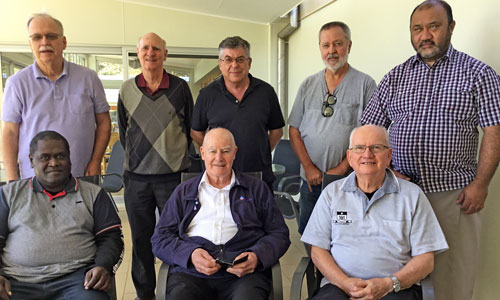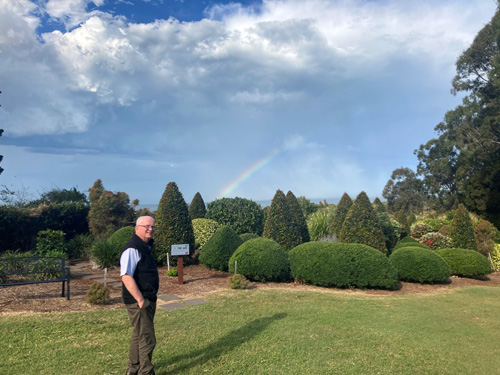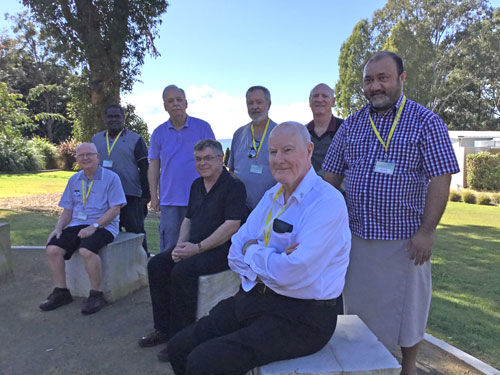 ---
SM Bulletin
From Rome this week's SM Bulletin reports on the Marists' return to Burundi, arrival of theology students in Rome and the new mission in Australia: click here or go to Members' Page. [Sep 19]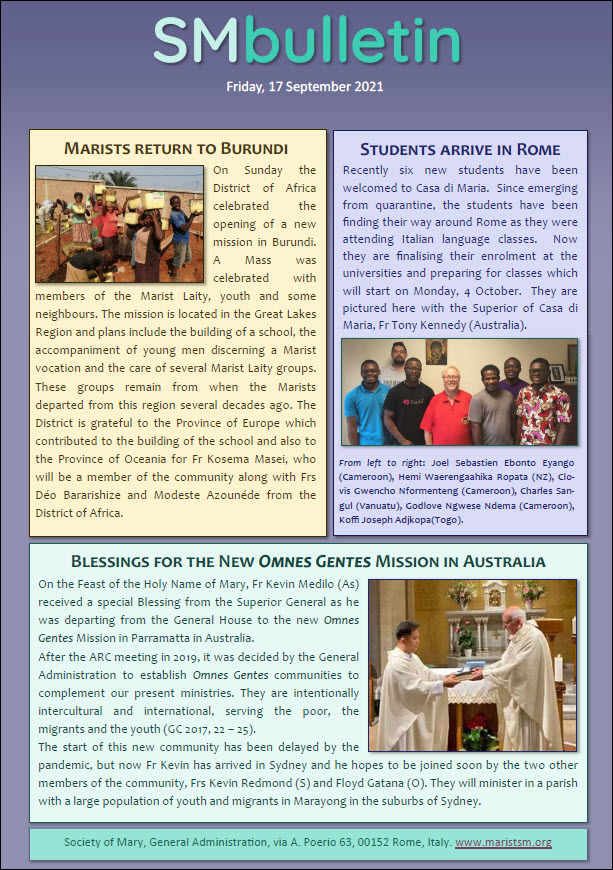 ---
Fr Kevin Medilo en route Down Under
Days before his departure for Australia Filipino Marist, Fr Kevin Medilo, was farewelled from Rome during Holy Name of Mary celebrations at the Marist General House.
Fr Kevin was commissioned by Superior-General, Fr John Larsen, for a new mission in Sydney's multi-cultural western suburbs where he will lead an international team as soon as pandemic conditions allow. He is expected in Sydney on Sep 15 where he will enter COVID quarantine.
Fr Kevin is pictured below with Fr John Larsen during the Eucharist in Villa Santa Maria chapel and with fellow member of the Marist Asia District, Fr Lionel Mechavez. Welcome Down Under, Fr Kevin! [Sep 14].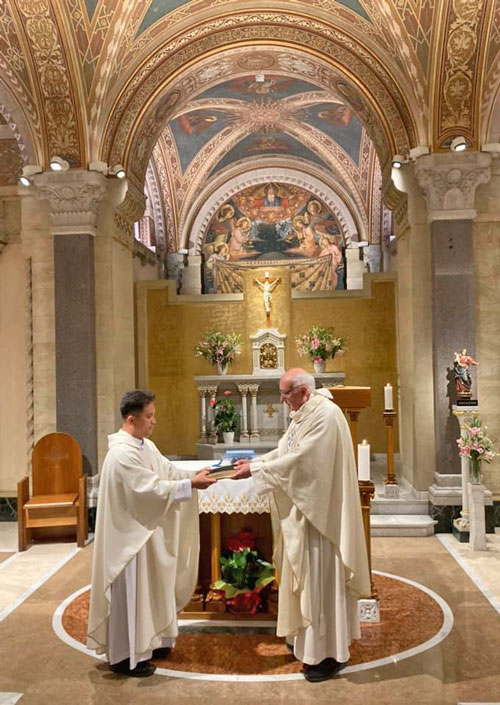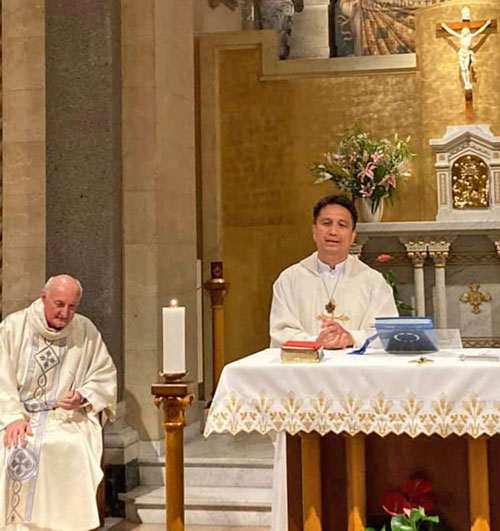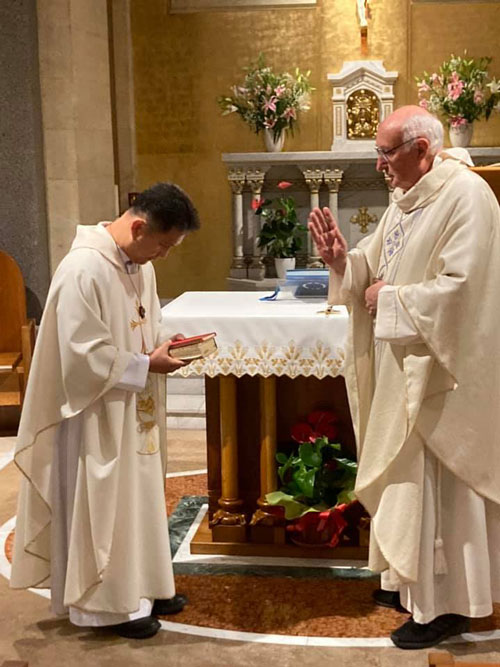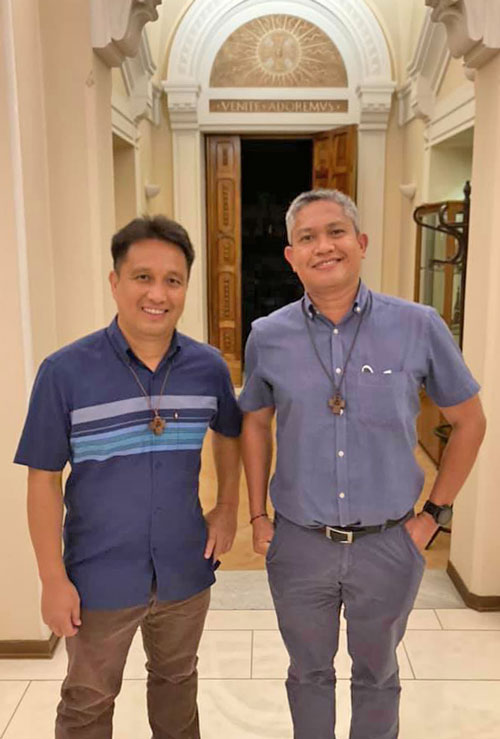 ---
Euroinfo
From Paris, the latest Euroinfo reports on recent happenings in the Marist European province and beyond. Click here or go to Members' Page. [Sep 14]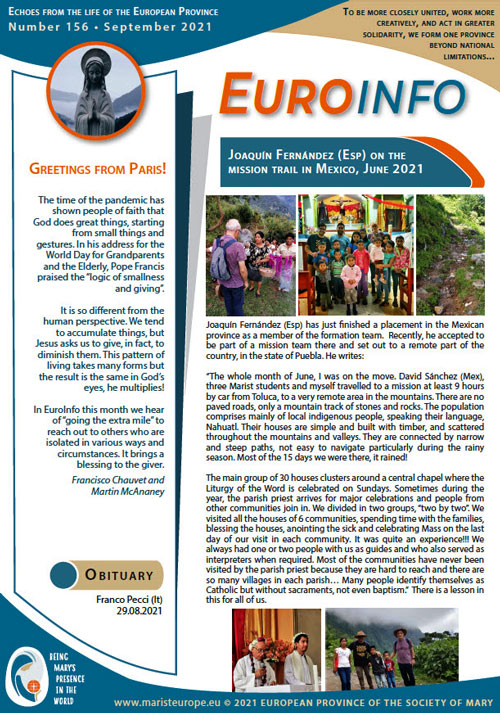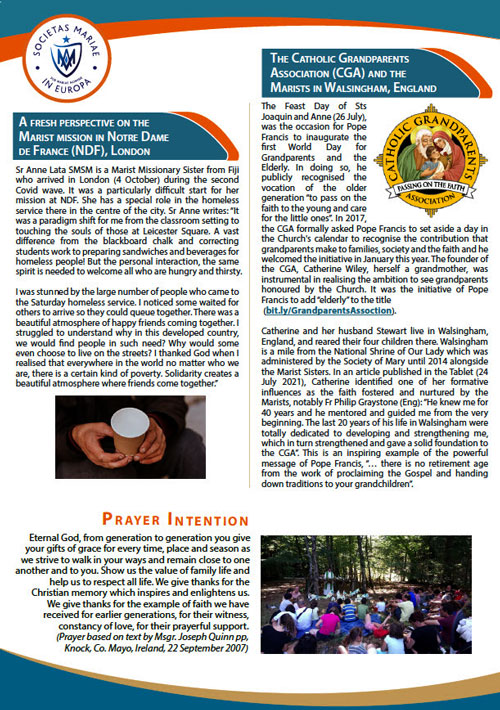 ---
HNM Laity Zoom
Once again Marist Laity Australia hosted a Zoom prayer session for members of the Marist Family, attracting participants from Europe, North and South America, Asia and the Pacific. The Sep 11 celebration marked the vigil of the Marist patronal Feast of the Holy Name of Mary and was led by MLA's co-leaders, Margaret Woods and Andrew Dumas. Earlier online gatherings, in July and August, commemorated the Fourvière Pledge and the Solemnity of the Assumption.
A similar event for the Holy Name of Mary was held in New Zealand on Sep 12 coordinated by Marist Laity NZ's Bev McDonald. [Sep 13]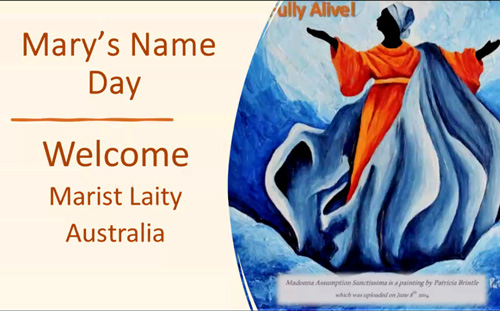 ---
SM Bulletin
The latest SM Bulletin reports on the four young Marists preparing for final profession, the 2022 international novitiate venue in Tuscany and New Zealand's Marist national shrine: click here or go to Members' Page. [Sep 13]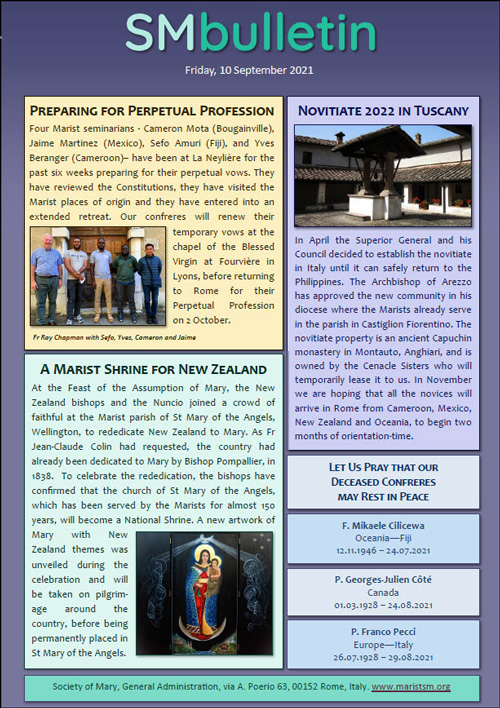 ---
Safeguarding Sunday
The Catholic Church will mark Safeguarding Sunday on Sep 12. The day seeks to acknowledge the immense damage caused by the sexual abuse of children within Catholic contexts.
While this event was previously known as Child Protection Sunday, the new name of Safeguarding Sunday reflects the Church's focus on the protection and support of all people, especially children and adults at risk. A series of resources have been developed by the Australian Catholic Bishops Conference to commemorate this important day. These may be found on the ACBC website: click here, [Sep 10]
---
Roman celebration
Australian Marists were part of an event in Rome to mark the recent commencement of the Season of Creation. Marist Assistant-General, Fr Ben McKenna, is pictured below with members of the Marist Sisters' leadership team, from left, Sr Anne McCabe and fellow Australians, Srs Grace Ellul (leader) and Vivienne Goldstein. [Sep 09]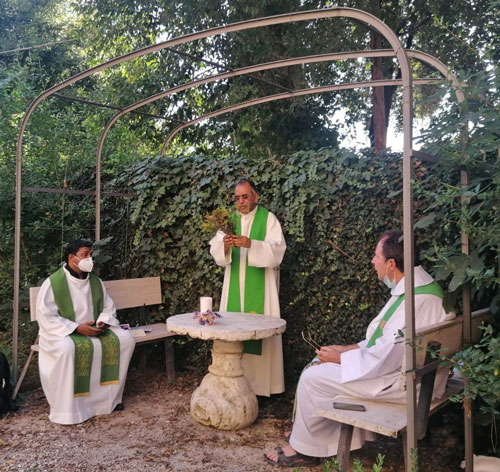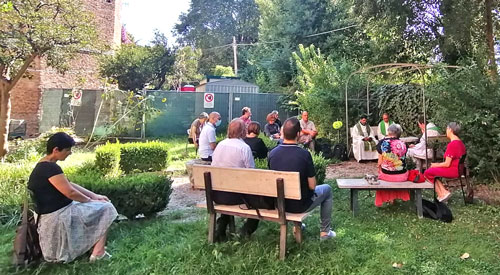 ---
Laity's invitation for HNM
Marist Laity Australia invites participation in their Zoom prayer on Sat, Sep 11 (7 pm Australian Eastern time) to mark the feast of the Holy Name of Mary. Sep 12 is the patronal feast day of the Society of Mary.
They add: 'We invite you to join us to celebrate in person... to pray, sing, reflect and discuss together. This online zoom forum enables us to enter conversation and dialogue with each other. To listen to the word of God, not just within ourselves but other Marists from across the world.
'We encourage you to celebrate with your family and community members around a meal and prayer.' To register click here.
Marist Laity New Zealand have also issued an invitation for their Holy Name of Mary Zoom prayer: 'Anyone connected with the Marist Family is warmly invited to join Marist Laity NZ on Sun, Sep 12 at 4 pm NZ (2 pm Australian Eastern time) on Zoom for prayer and sharing for the Feast of Mary's Holy Name.' The service is simple and will last about half an hour at most. To join this Zoom on Sunday click here. [Sep 09]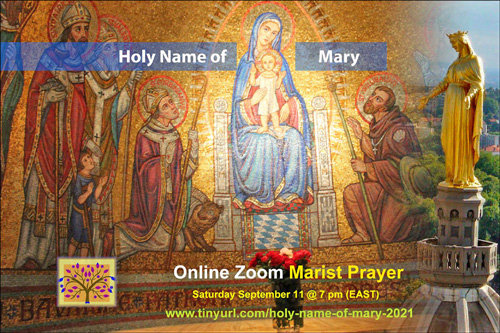 ---
Superior-General's reflection
As the feast of the Holy Name of Mary approaches, Superior-General, Fr John Larsen SM, invites fellow Marists to follow Mary's example of welcome and hospitality within each community, He also sends the letter of Bishop Jean-Paul Vesco OP (diocese of Oran, Algeria), Building Fraternity.
For Fr John's reflection: click here or go to Superior-General's page. For Building Fraternity: click here. [Sep 04]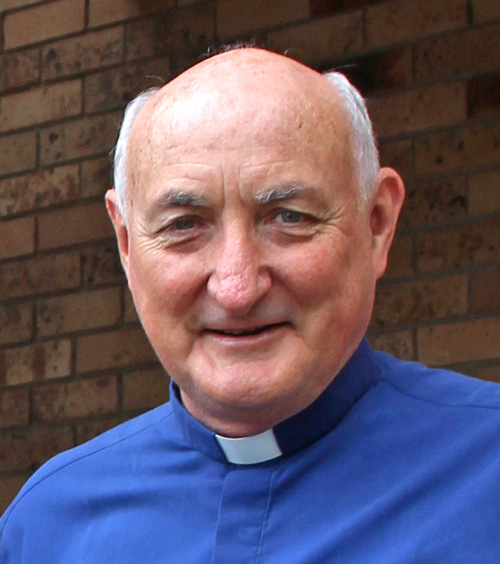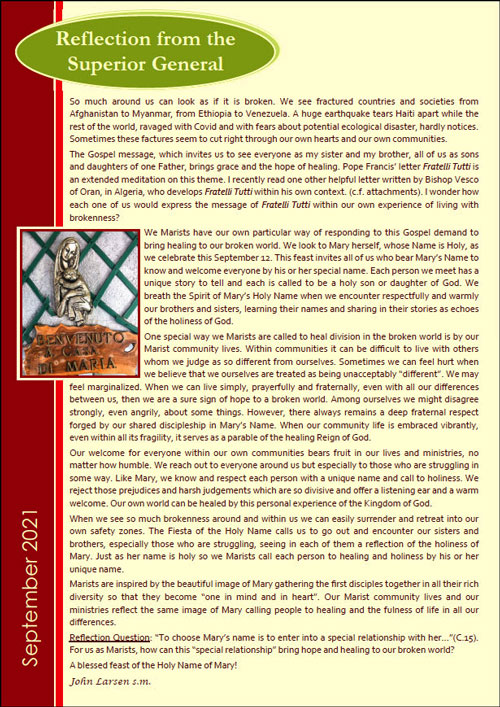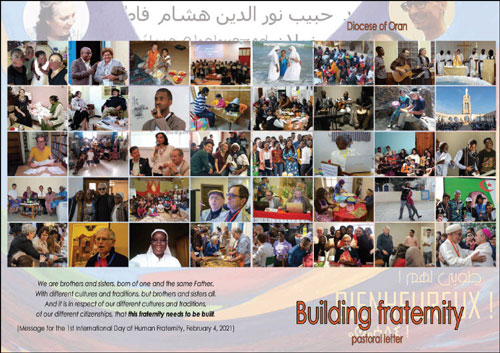 ---
Fr Hoppy's newsletter
From Tarijia, Bolivia, Fr John Hopkinson SM sends his latest circular letter, reflecting on the work of Misioneros Maristas during the pandemic, a recent visit to Palma Flor in the Amazonian region of Bolivia and his golden anniversary celebration. Click here. [Sep 04]
Pictured below: Fr Hoppy with the people of Palma Flor and with his Marist community celebrating fifty years of priesthood.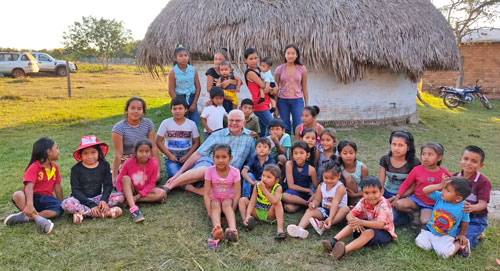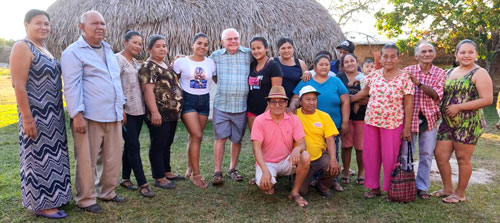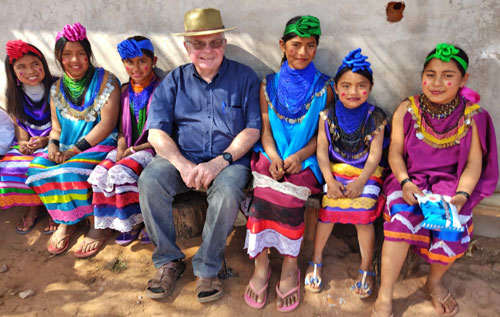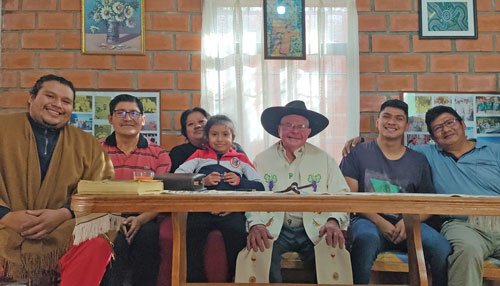 ---
Season of Creation
The Laudato Si' Movement office reports on Pope Francis' involvement with the beginning of 2021's Season of Creation: 'More than a hundred Laudato Si' animators from Italy gave His Holiness a handmade 'Abraham's tent' on Sep 01 World Day of Prayer for the Care of Creation, to mark the start of the ecumenical Season of Creation.
'Following Pope Francis' general audience, the animators presented Pope Francis with the tent, a symbol of the 2021 Season of Creation, as communities around the world united around the season's theme, 'A home for all? Renewing the Oikos of God.'
For Pope Francis' address, click here. [Sep 02]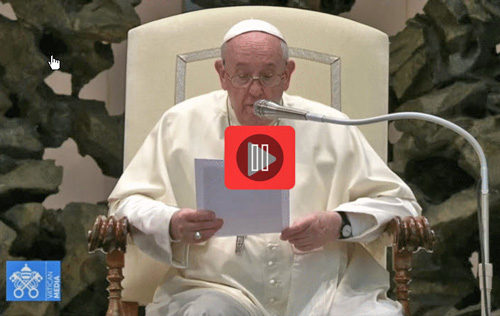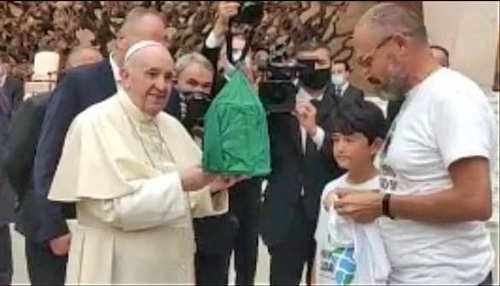 ---
Holy Name of Mary resources
Two resources for prayer to mark the coming feast of the Holy Name of Mary (Sep 12) are now available on the Colin website. The feast is the patronal celebration for the Society of Mary. Click for: Mass liturgy | Paraliturgy or go the Resources/Liturgy page of the Colin website: click here. [Sep 01]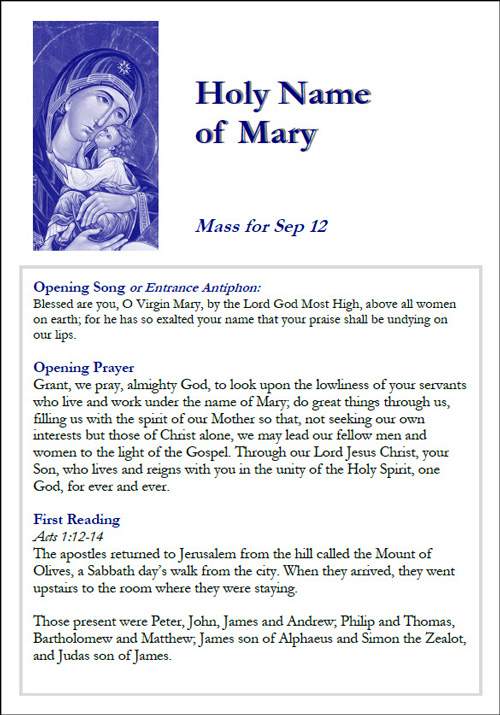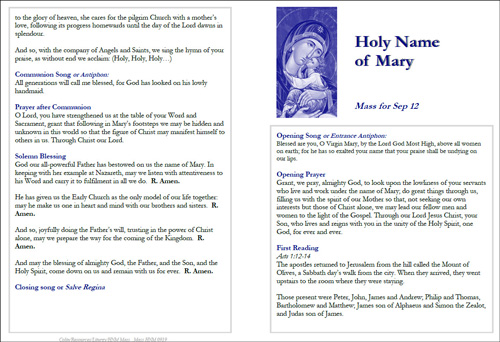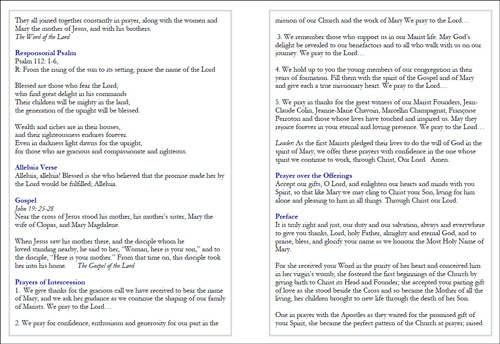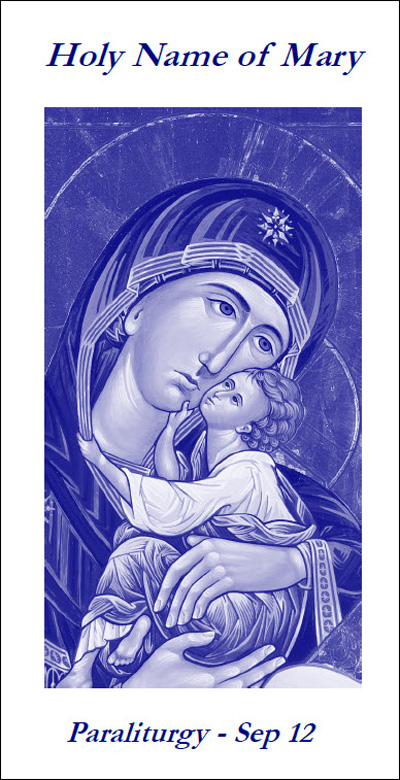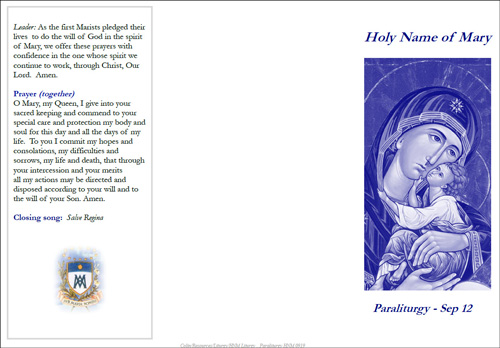 ---
Oceania News Bulletin
News from the Marist Oceania Province for August includes further updates on the Council of the Province, the Friendship Fellowship Week in Hohola, PNG, and ecological initiatives at Marist College, Suva. For the Bulletin click here or go to Members' Page. [Sep 01]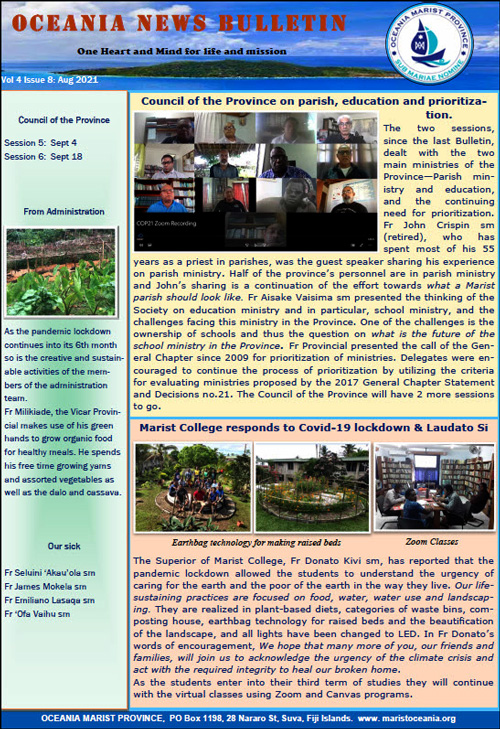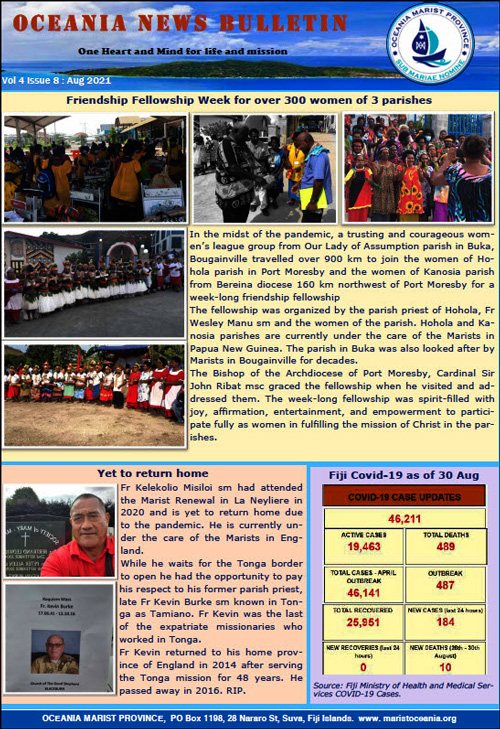 ---